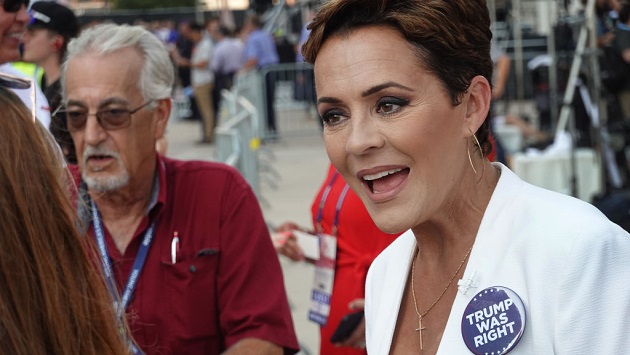 (PHOENIX) — Kari Lake is set to launch a Senate campaign next month, three sources familiar with the matter confirmed to ABC News.
One of the sources said Lake has been eyeing mid-October to jump in the race. News of her plans was first reported by Politico.
Her entry would mark the latest twist in the race for Sen. Kyrsten Sinema's seat. Sinema, who late last year left the Democratic Party to become an independent, has not yet said if she plans on running for reelection, while Democratic Rep. Ruben Gallego has cleared a path to his party's nomination.
Democrats currently hold a 51-49 majority in the Senate, in part with Sinema's support.
Lake generated a wave of enthusiasm among the GOP base in 2022 with her hard-line campaign for Arizona's open governor's mansion.
She lost to now-Gov. Katie Hobbs, a Democrat, but she has falsely blamed her defeat on baseless claims of voter irregularities — even as she failed in her legal challenge to the results.
She has continued to be a visible presence on the conservative circuit in key states like Michigan and Iowa, which helped maintain her ties to primary voters.
"It's time Arizona has a true conservative fighter in the U.S. Senate. The people of Arizona want Kari Lake to stay in this fight and are calling on her to run and she's very likely to answer that call," said Caroline Wren, a senior advisor to Lake.
Lake would likely be the favorite in the GOP primary. Pinal County Sheriff Mark Lamb is already running, and Blake Masters, who lost the 2022 Arizona Senate race to Democratic incumbent Mark Kelly, is reportedly weighing his own bid.
Arizona is among the handful of Democratic-held Senate seats that Republicans are targeting in 2024, along with seats in Montana, Ohio, West Virginia, Pennsylvania, Wisconsin and Michigan.
Copyright © 2023, ABC Audio. All rights reserved.