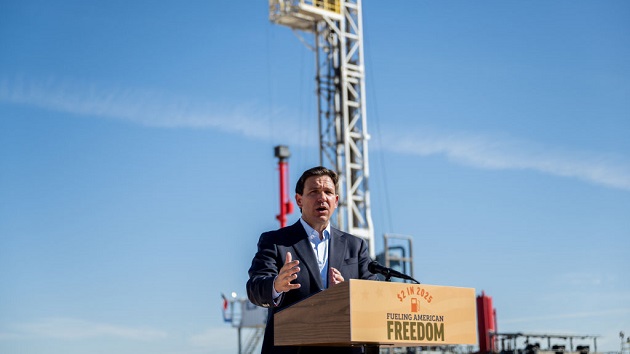 (MIDLAND, Texas) — Speaking at an oil rig site on Wednesday in Midland, Texas, Florida Gov. Ron DeSantis unveiled his energy plan for the U.S. if he is elected president, saying he would focus on building up American "dominance" while seeking to undo the policies of President Joe Biden's administration.
DeSantis' plan includes opposition to federal policies to redirect the auto industry toward manufacturing more electric vehicle; withdrawing from the Paris climate agreement to counteract the warming of the Earth — a deal that conservatives say harms business without properly regulating China or India; and streamlining the environmental review process for energy and infrastructure projects.
DeSantis blamed the Biden administration for the rising cost of gas and energy, even as the president and his aides have repeatedly touted what they say are efforts otherwise, such as tapping the national Strategic Petroleum Reserve.
The governor's goal is to lower the price of gas to $2 per gallon in 2025.
Currently, the average U.S. gas price — which can fluctuate widely — stands at 3.88 per gallon, according to Triple AAA.
"We have it within our power to give America a new birth of freedom, a new birth of opportunity and a new era of prosperity," DeSantis said in his remarks. "Our energy dominance is one of the keys to unlocking that future for the American people."
DeSantis' policy rollout comes on the same day that Biden announced the launch of "American Climate Corps," which is described as "a workforce training and service initiative" for more than 20,000 Americans "that will ensure more young people have access to the skills-based training necessary for good-paying careers in the clean energy and climate resilience economy."
Several climate activists and Democratic lawmakers have called on Biden to create a federally funded jobs program to support climate and conservation projects.
More broadly, Biden has focused as president on fossil fuel alternatives. "We're going to invest a great deal of that money into infrastructure and into green infrastructure. … We're going to own the electric market," he said at a 2020 ABC News town hall.
During his remarks on Wednesday, DeSantis connected the need for America to be energy-independent to national security, emphasizing the importance of not relying on countries like China.
"Energy security, energy independence and energy dominance [are] a key part of our nation's national security," he said.
DeSantis invoked China and Russia as threats to America's energy production.
"We will use our energy dominance to deny our enemies revenue, we will bankrupt their ability to threaten America and we will help our allies become less reliant on our adversaries," he said.
DeSantis, who has played down the effects of climate change, contended that there's been an attempt to stoke "fear" around the issue.
Asked by reporters if he would eliminate the Department of Energy, DeSantis said yes but maintained that he would still keep the department's core functions regarding nuclear energy while adding that the department's other functions have not made the country "better off."
"I think it's been a bureaucracy that hasn't produced for the American people and if Congress would be willing to do that, we would make that happen, yes."
In a sit-down interview in Midland with ABC New Live Prime anchor Linsey Davis, he was pressed about his previous push for electric vehicle production in his state. He said that was because of a settlement with Volkswagen but "I would never support mandating the production of EVs. I think that should be driven by the market."
DeSantis' energy plan marks the fourth policy rollout since his campaign launched in late May. DeSantis' latest policy plan comes as he continues to trail former President Donald Trump in both national and state polls. In one recent CNN survey, 52% of Republicans and Republican-leaning independent voters said they support the former president, while only 18% supported DeSantis.
Copyright © 2023, ABC Audio. All rights reserved.