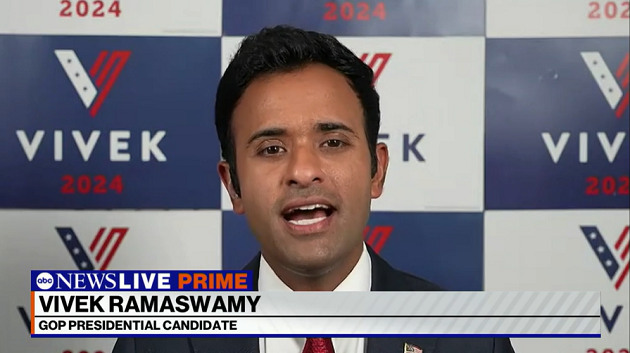 (WASHINGTON) — In a new interview with ABC News' Linsey Davis on ABC News Live Prime, GOP presidential candidate Vivek Ramaswamy discussed his views on climate change, race and racism in America and why he would not consider being former President Donald Trump running mate if Trump beats him for their party's 2024 nomination.
An entrepreneur and commentator before launching his White House bid, Ramaswamy has seen his poll numbers rise this year — though he still trails far behind Trump, the front-runner — and has raised his profile in part through provocative and controversial comments, including calling for changing the U.S. Constitution to raise the voting age.
"My goal is to speak the truth," he told Davis.
On climate change
Ramaswamy, who has called himself an environmentalist while also being a staunch proponent of fracking and using fossil fuels in addition to carbon-free energy like nuclear, explained his position on climate change and policies to address rising global temperatures, telling Davis in the interview on Monday night that he believes the "climate change agenda" is a "hoax … more about pushing global equity" and deferring to China.
"I think that with due respect … 'Do you believe in climate change?' is not really a meaningful question because climate change has existed as long as the Earth has existed," he said. "Do I believe it is a fact that global surface temperatures are rising over the course of the last century of the last half century? Yes, I think that that is an established fact."
But, as president, he would not take action to address the warming of the planet, he said.
"The thing I'm going to do is actually drive human adaptation and mastery of changes in the climate through technological advances. I think that requires more, not less, use of fossil fuels more not less use of nuclear energy," he said.
He also argued that cold temperatures kill more people than warm temperatures.
According to the Environmental Protection Agency, "more than 19,000 Americans have died from cold-related causes since 1979, according to death certificates," compared with "more than 11,000 Americans [who] have died from heat-related causes" in that same period.
However, research has also suggested that both excessive heat and freezing cold are closely tied to heart attacks.
More broadly, a report earlier this year found that man-made climate change — driven by the use of fossil fuels — was the main driver of dangerous heat waves in Europe and North America.
Doctors recommend taking excessive heat warnings seriously. There are hundreds of deaths each year in the U.S. due to excessive heat, according to CDC WONDER, an online database, and scientists caution that the actual number of heat-related deaths is likely higher.
But Ramaswamy told Davis: "The right answer to all temperature-related deaths is more plentiful and abundant access to fossil fuels."
White supremacy not a 'top 50 problem' in US
Elsewhere in the interview, Davis raised a moment from the campaign trail when Ramaswamy questioned the existence of white supremacy in the United States at a stop in Iowa in August — supposing that he may meet a unicorn sooner than a white supremacist.
"Are you really trying to say that white supremacists don't exist?" Davis asked.
"Of course racism exists, but I do not think it is a top 50 problem in the United States of America. There was a point in our national history where we demanded a comprehensive response to racial inequality in this country. But, Linsey, that moment has now long past," Ramaswamy said.
He was pressed by Davis in light of past mass shootings by "self-identified white supremacists," such as the gunman who attacked a predominantly Black church in South Carolina in 2015.
"I want to end all of this violence. But the part of the problem is we're fostering more animus," Ramaswamy said.
He has been vocal about what he contends is a counteractive focus on race, including through affirmative action and race-conscious policies that seek to address longstanding disparities in areas like university admissions.
"I think the right way to stop discrimination on the basis of race is to stop discriminating on the basis of race, to borrow from [Supreme Court Chief Justice] John Roberts. That has to be the path forward. I share the view of reviving colorblind meritocracy."
Ramaswamy said in Iowa in August that Juneteenth, which marks the emancipation of slaves in the U.S., is a "useless holiday" federalized "under political duress." Weeks earlier, he posted a video saying "Happy Juneteenth" and "we ought to celebrate how far we've come as a country."
"I'm just curious how you get to have it both ways," Davis said.
"Well, look, I believe in finding the positives wherever they exist," Ramaswamy said, adding: "I'd like to redefine and reorient it towards actually standing for American ideals that we aspire to."
Not interested in being VP
"I think that the right role for me to play is be the next president of the United States of America. That's the only way I'm going to be able to unite this country," Ramaswamy said when asked if he would hypothetically be Trump's vice presidential pick — an option Trump has suggested he would consider.
"I've said it in multiple forums that I would not take that job," Ramaswamy told Davis.
"I'll take him as my mentor, an adviser," he said.
ABC News' Emily Shapiro contributed to this report.
Copyright © 2023, ABC Audio. All rights reserved.