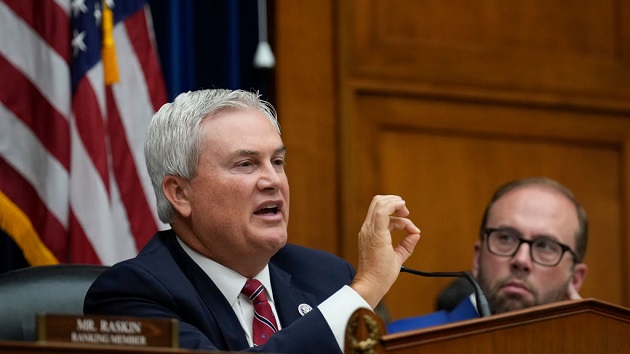 (WASHINGTON) — The House Oversight Committee will be launching a Republican-led probe into the federal response to the Maui wildfires, claiming Biden had "failed" in that effort when it came things such as government aid and housing assistance.
In a letter to Federal Emergency Management Agency leadership signed solely by House Republicans, Rep. James Comer, chairman of the House Oversight Committee, and Rep. Pete Sessions, the subcommittee chairman, are demanding information on the recovery and what steps have been taken by the agency.
"To ensure locals are receiving the assistance they need, and taxpayer dollars being used effectively, the House Committee on Oversight and Accountability is taking action and seeking information from FEMA on all ongoing recovery efforts in Maui," Comer and Sessions wrote in a statement.
The chairmen said in the letter that President Joe Biden has "built his entire reputation on empathy and compassion" but "failed" in the response to the wildfires.
The letter comes as the 2024 presidential election heats up and many Republicans work to cast Biden as slow to respond to the Maui wildfires. Biden has faced criticism from some Republicans — including front-runner Donald Trump — who said he did too little during the first days after the fires broke out. The White House responded, saying Biden acted quickly and stayed in touch with local officials and emergency teams in Hawaii. He later visited with first lady Jill Biden.
The probe will look into what support local Maui and Hawaii officials requested and how that support was delivered. Government spending and housing assistance will be investigated as well.
One of the concerns mentioned in the letter is reports that FEMA employees stayed at luxury hotels and resorts during their response in Lahaina. FEMA said staffer were told it was "necessary to temporarily house FEMA employees in such locations so they could be close enough to Lahaina to effectively perform their duties," according to the letter. Also, staffers were told FEMA paid reduced rates at these locations, it said in the letter.
The committee wants answers from FEMA by Sept. 29. The letter was signed by 15 House Republicans.
On Sept. 8, Biden authorized an increase in the level of federal funding for Public Assistance projects undertaken in the state to 90% of coverage, unless otherwise authorized for 100%.
More than 7,400 people were placed in temporary housing on Wednesday, according to FEMA.
More than 5,090 households have been approved for individual assistance. Nearly $84 million in federal assistance has been approved for survivors, which includes housing and other needs assistance as well as Small Business Association disaster loans.
Environmental Protection Agency in Lahaina and Upcountry areas affected by the fires have also been conducting air sampling tests and hazardous material removals in the disaster area in an effort to clear the region for rebuilding efforts.
Copyright © 2023, ABC Audio. All rights reserved.