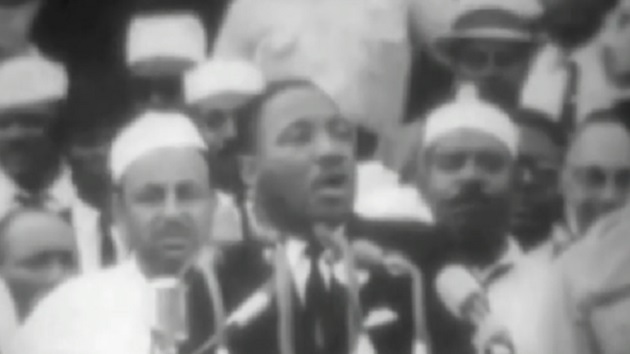 (WASHINGTON) — Martin Luther King Jr.'s only grandchild was among those who gathered on the National Mall Saturday to honor the 60th anniversary of the March on Washington, a prominent moment in the Civil Rights Movement that saw him deliver his historic "I Have a Dream" speech.
Yolanda Renee King, 15, told the crowd that if she could speak to her grandfather today, she would say, "I am sorry we still have to be here to rededicate ourselves to finishing your work."
"Sixty years ago, Dr. King urged us to struggle against the triple evils of racism, poverty and bigotry," she said. "Today, racism is still with us. Poverty is still with us. And now gun violence has come for our places of worship, our schools and our shopping centers."
Yolanda Renee King noted another challenge during her remarks that her generation "cannot escape" — climate change.
"When people say my generation is cynical, we say cynicism is a luxury we cannot afford," she said. "I believe that my generation will be defined by action, not apathy."
Yolanda Renee King was one of dozens of speakers to address the crowd before the march from the Lincoln Memorial to the Martin Luther King Jr. Memorial. She was joined at the podium by her parents — Martin Luther King III and Arndrea Waters King.
Her mother spoke of growing weary in their civil rights activism, but proclaimed, "We will keep climbing."
"We are here to liberate the soul of the nation, the soul of democracy from those forces who would have us all go backwards and perish rather than go forward as sisters and brothers," Arndrea Waters King said. "We will never betray those who marched for us, fought for us, lived for us, died for us. We are the children and the grandchildren of their struggles, and we will be worthy of their sacrifices."
"This is about freedom. This is about peace. This is about love This is about our children," she continued. "We are not here for commemoration. We are here for a rededication to the fight for a future where at long last America's practice will be as good as its promise."
Martin Luther King III, one of Martin Luther King Jr. and Coretta Scott King's four children, spoke of his parents' dedication to "embracing love and lifting up the goodness in people."
"We need us all to be engaged. Dad would probably say, now is the time," he said. "We must preserve, protect and expand democracy. We must ensure that voting rights is protected for all people. We must ensure that our women and children are treated fairly. We must end gun violence. Then maybe one day we will be a great nation."
Martin Luther King III said some may be asking the same question his father asked in the late 1950s: "How long will it be?"
"How long? Not long. Because the moral arc of the universe is long but bends toward justice," he said, echoing his father's words from a 1968 speech. "How long? Not long. Because God Almighty is still on the throne. Let's not give up. Let's not give in. Let's not give out. We must move forward to make this nation the nation that it ought to be for all of God's children."
A multicultural coalition of more than 100 groups was expected to gather in Washington, D.C., on Saturday in what organizers said wasn't a commemoration of the 1963 march but a continuation of the fight for civil rights and equality.
Among those to address the crowd before the march were civil rights leader Al Sharpton, who helped organize the march with the Kings; Andrew Young, a former Congressman and aide of Martin Luther King Jr.; civil rights attorney Ben Crump; Jonathan Greenblatt, the CEO of the Anti-Defamation League; Assistant Attorney General Kristen Clarke; and House Minority Leader Rep. Hakeem Jeffries (D-N.Y.).
Celebrities including TV host Nick Cannon and comedian Sacha Baron Cohen also spoke.
Copyright © 2023, ABC Audio. All rights reserved.