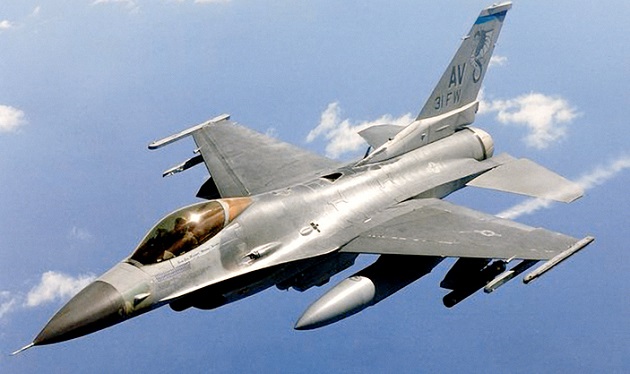 (WASHINGTON) — The United States will be training Ukrainian pilots how to operate F-16 fighter aircraft after all, but only in support of the Netherlands and Denmark that will take the lead in the training of Ukrainian pilots.
The Pentagon on Thursday announced that beginning in October the U.S. will provide F-16 training to a small number of Ukrainian pilots and maintenance teams in addition to the much larger number that will be trained in Europe.
Pentagon Press Secretary Brig. Gen. Pat Ryder told reporters that "several" Ukrainian pilots and "dozens" of Ukrainian aircraft maintenance personnel will begin training at Morris Air National Guard Base in Tucson, Arizona, after they receive English training in September at Lackland Air Force Base in San Antonio, Texas.
"Although some Ukrainian pilots have English language skills we are anticipating that all the pilots coming to the United States will require some level of additional English language instruction, given the complexities and the specialized English that's required to fly these aircraft," said Ryder.
The number of pilots and personnel that will be participating in the program will be determined by Ukraine.
Both the Netherlands and Denmark have taken the lead in not only providing training to Ukrainian pilots on how to fly the American-made F-16 fighter but will also provide an undetermined number of the aircraft to Ukraine which has long desired the jet as a solution to achieve air superiority over Ukraine.
The Biden administration had resisted Ukraine's calls for the F-16, citing Pentagon assessments that providing the advanced fighters to Ukraine was not an immediate weapons necessity for Ukraine in its fight against Russia and that missile air-defense systems were more of a priority.
Pentagon officials had said that providing Ukraine with F-16s was under consideration as a long-term defense option and cited the high costs of providing new aircraft and the significant time investment in training F-16 pilots that could take as long as 18 months.
But in a turnaround in late May, the Pentagon said it would support European countries that wanted to provide F-16 aircraft and train Ukrainian pilots to fly the fighters. That significant change was prompted by increasing momentum among European allies pressing for the move and the realization that as the war in Ukraine continued it was now time to look at modernizing Ukraine's air force for the long term.
Since May, U.S. officials have stressed that the Netherlands and Denmark would be in the lead and would develop a training program whose details have only come to fruition over the last week. Those officials also said that any U.S. role would be limited and they have emphasized that the aircraft would not help Ukraine with its current counteroffensive.
Senior U.S. military officials have also been on the record that the F-16 will not be an immediate game changer on the battlefield.
Just last week, Gen. David Hecker, the top U.S. Air Force commander in Europe and Africa, told reporters that in the short term F-16s would "help a little bit" but it would not be a "silver bullet."
Hecker said that F-16s are preferable to Russian-made Mig-29s being flown by Ukraine because they're inter-operable with all the new ordnance the U.S. is giving Ukraine, but "it's not going to be the silver bullet that all of a sudden they're going to start taking down SA-21 (air defense systems) because they have an F-16."
And he cautioned it will take some time for Ukrainian pilots to get proficient with the F-16 so "that's not going to happen overnight" and could possibly take four to five years. He explained "you can get proficient on some weapons systems fairly quickly but ones like F-16's, that takes a while to build."
Earlier this week, Sabrina Singh, the deputy Pentagon press secretary, had told reporters that the U.S. was open to the idea of training Ukrainian pilots on F-16s if European countries reached capacity.
However, she could not provide a definition of how many pilots might constitute capacity for the Netherlands and Denmark.
Ryder also wouldn't provide a number, but said the U.S. wasn't going to wait for the Netherlands and Denmark to reach capacity to begin providing additional training.
"We know that as the Danes and the Dutch prepare to train those pilots that at a certain point in time in the future, capacity will be reached. So, preemptively acknowledging that and leaning forward in order to to assist with this effort is the impetus for why we're doing this now," said Ryder.
The duration of the training for the "several" pilots is going to depend on their skill level — skilled pilots who'll need upgrade training could last five months, it might be eight months for a brand new F-16 pilot.
Ryder wouldn't get into when F-16 deliveries to Ukraine might begin though the conventional wisdom is sometime next year even though Denmark's Prime Minister said over the weekend that the first Danish F-16s could arrive by New Year's.
Copyright © 2023, ABC Audio. All rights reserved.