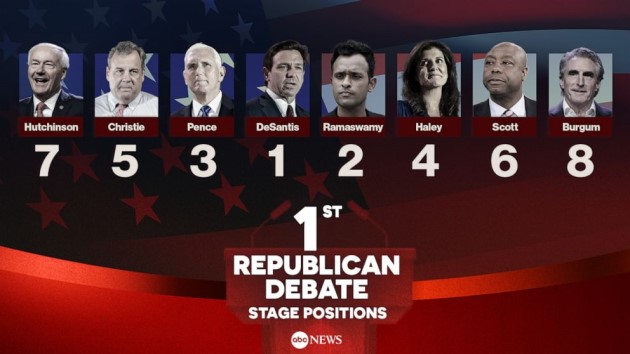 (NEW YORK) — The first Republican debate of the 2024 presidential primary was held in Milwaukee on Wednesday night.
Eight candidates qualified for a spot on the stage: North Dakota Gov. Doug Burgum, former New Jersey Gov. Chris Christie, Florida Gov. Ron DeSantis, former U.N. Ambassador Nikki Haley, former Arkansas Gov. Asa Hutchinson, former Vice President Mike Pence, entrepreneur Vivek Ramaswamy and South Carolina Sen. Tim Scott.
Missing from the event was the primary's early front-runner: former President Donald Trump, who declined to participate and instead released a pre-recorded interview with Tucker Carlson.
ABC News and FiveThirtyEight live-blogged every major moment and highlight from the debate, aired on Fox News, with FiveThirtyEight providing analysis and a closer look at the polling and data behind the politicians. PolitiFact made real-time fact checks of key statements.
Here's how the news developed. All times Eastern:
Aug 23, 8:34 PM EDT
Which issues are Republican voters most concerned about?
Before tonight's debate kicks off, FiveThirtyEight, The Washington Post and Ipsos partnered to ask Republican voters about how they might vote in the upcoming Republican presidential primaries. Specifically, we asked 4,968 likely Republican voters which issues are most important to them when deciding which candidate to vote for in the primaries, using Ipsos's KnowledgePanel.
We offered respondents a list of 16 issues and allowed them to select up to three. Of the topics that we asked about, voters were most concerned about "getting inflation or increasing costs under control" (53 percent of respondents selected this issue), something Republican voters have been concerned about since at least the 2022 midterms, according to a previous FiveThirtyEight/Ipsos poll. Other issues that were top of mind for voters were "controlling immigration" (36 percent), "someone fighting against liberalism and the woke agenda" (25 percent) and "ability to beat Joe Biden" (25 percent).
If tonight's debate touches upon those top issues, voters might get some clarity on who they are considering voting for when primary season comes around.
-Analysis by Holly Fuong of FiveThirtyEight
Aug 23, 8:30 PM EDT
The facts about the 2024 GOP hopefuls
At PolitiFact, this is our fifth presidential cycle. We've published more than 23,000 fact-checks since launching in 2007, all using our Truth-O-Meter, which rates claims on a scale from True to Pants on Fire false for the most ridiculous claims.
If PolitiFact is new to you, there are a couple of rules of the road.
First, we don't fact-check every claim every candidate says. We couldn't … we'd be dead.
We focus on claims that are particularly interesting, in the news or obviously potentially wrong. Our grading scale tries to measure both the literal truth and how voters might interpret a politicians' words. So if Pence tonight claims that he and Trump "achieved energy independence" in their first three years in office, it can be more complicated to fact-check than you think.
In Pence's case, yes, the United States did produce more energy than its citizens consumed during the Trump/Pence White House, but that was built on more than a decade of improvements in shale oil and gas production, as well as renewables. And the U.S. did not produce more gasoline than it consumed (which is maybe what you were thinking about). And if that's not enough, even though the U.S. didn't use all the energy it produced, it still imported a substantial amount of energy to serve domestic markets.
So far in this cycle, we've published 52 fact-checks of the GOP candidates. Our checks tend to follow the polling of the race. We've fact-checked Trump 17 times, DeSantis 14 times, Pence six times, Haley and Tim Scott each five times, and so on. We'll be drawing on those previous fact-checks, as well as the thousands of other claims we've vetted, throughout the night.
-Aaron Sharockman, PolitiFact
Aug 23, 8:25 PM EDT
Why is the debate in Wisconsin?
I flew to Milwaukee earlier this week to talk to some local voters and learn more about why the GOP decided to have its first presidential debate of the 2024 cycle in the state.
-Analysis by Galen Druke of FiveThirtyEight
Aug 23, 8:21 PM EDT
DeSantis's campaign shake-ups
DeSantis remains Trump's closest challenger, but his support has been dropping over the past several months: He currently trails the former president by nearly 40 percentage points in our national polling average.
With that drop have come some shake-ups in the DeSantis campaign. The campaign has laid off around one-third of its 92-person staff, with the latest cuts coming in July, according to ABC News. Changes stretched all the way to the top: DeSantis replaced his campaign manager with his governor's office chief of staff. On top of that, some of his top donors have voiced concerns, saying they want DeSantis to recruit more major donors and take a more moderate approach on social issues.
All of that has made this debate crucial for DeSantis, both in terms of trying to chip away at Trump's lead and proving to his supporters that he actually has a shot. He's recruited a veteran debate coach and is getting advice from a supportive super PAC, according to The New York Times. That advice? Rather than attack the front-runner, DeSantis should "take a sledgehammer" to Ramaswamy who, unlike DeSantis, is rising in the polls. DeSantis won't just be trying to win the debate tonight: He's also aiming to push back against the rolling tide of news that hints at a flailing campaign.
-Analysis by Monica Potts of FiveThirtyEight
Aug 23, 8:19 PM EDT
Why DeSantis, Ramaswamy will literally be center stage
DeSantis and Ramaswamy, both newcomers to the presidential debate stage, will appear front and center on Wednesday night.
That's because where candidates will stand was determined by how they are faring in the polls.
More seasoned politicians, such as Pence or Christie, have been placed closer to the outer rim because of their more middling numbers so far. Hutchinson and Burgum will stand on either end.
-ABC News' Alexandra Hutzler
Aug 23, 8:16 PM EDT
Which candidates are winning the money race?
Money isn't the be-all-and-end-all of political campaigns — but it sure helps, especially during the early phases of a primary. And in the 2024 pocketbook primary, the leaders so far are Trump (who raised $17.7 million in April, May and June) and DeSantis (who raised $20.1 million). These figures are striking, but you also have to account for how much time each candidate has been in the race. For instance, DeSantis jumped in in late May, so he had much less time in which to raise that money than Trump. Here's a chart of who raised the most in the second quarter on a prorated basis.
But there's also important context that those topline fundraising numbers don't tell you. For instance, Burgum's and Ramaswamy's totals aren't as impressive as they look — most of their fundraising came from their own wallets rather than from grassroots donors. Burgum self-funded $10.1 million of his $11.8 million haul, and Ramaswamy self-funded $5.0 million of his $7.7 million total.
On the other end of the spectrum, Scott is in better financial shape than his $5.9 million raised would suggest. That's because he has more than $21 million cash on hand, thanks to money he carried over from his high-rolling Senate campaigns.
-Analysis by Nathaniel Rakich of FiveThirtyEight
Aug 23, 8:14 PM EDT
Who's dishing out for advertisements?
One challenger to Trump has surged ahead — in ad buys, at least. Scott announced an $8 million ad buy this month. The bulk of that, $6.6 million, will go toward TV advertisements in early primary states Iowa and New Hampshire, according to the Washington Post. That's on top of the $40 million ad buy planned by a super PAC supporting Scott that was announced last month.
Trump and DeSantis, the two front-runners, had dominated in early ad spending. But challengers like Scott have stepped up as they've tried to qualify for debates and raise name recognition in early voting states. Super PACs supporting Haley and Burgum have also increased spending recently. Stand for America Fund, Inc., which is aligned with Haley, spent $2.3 million on ads so far in August, while Best of America, which backs Burgum, has spent $2.1 million, according to reporting from NBC News.
Meanwhile, Trump-supporting PACs have spent millions on the former president's legal fees as the number of indictments filed against him has risen to four. That will leave less money for spending on ads going forward, but Trump remains the top campaign fundraiser.
-Analysis by Monica Potts of FiveThirtyEight
Aug 23, 8:00 PM EDT
Trump has a huge lead in the endorsement primary
In 2016, Trump was the ultimate outsider candidate — he didn't receive a single endorsement from a sitting senator, representative or governor until after he had already won New Hampshire, South Carolina and Nevada. This year, though, he already has a ton of elite support. According to the FiveThirtyEight endorsement tracker, he has 343 endorsement points — nearly eight times as many as DeSantis, who is in second place.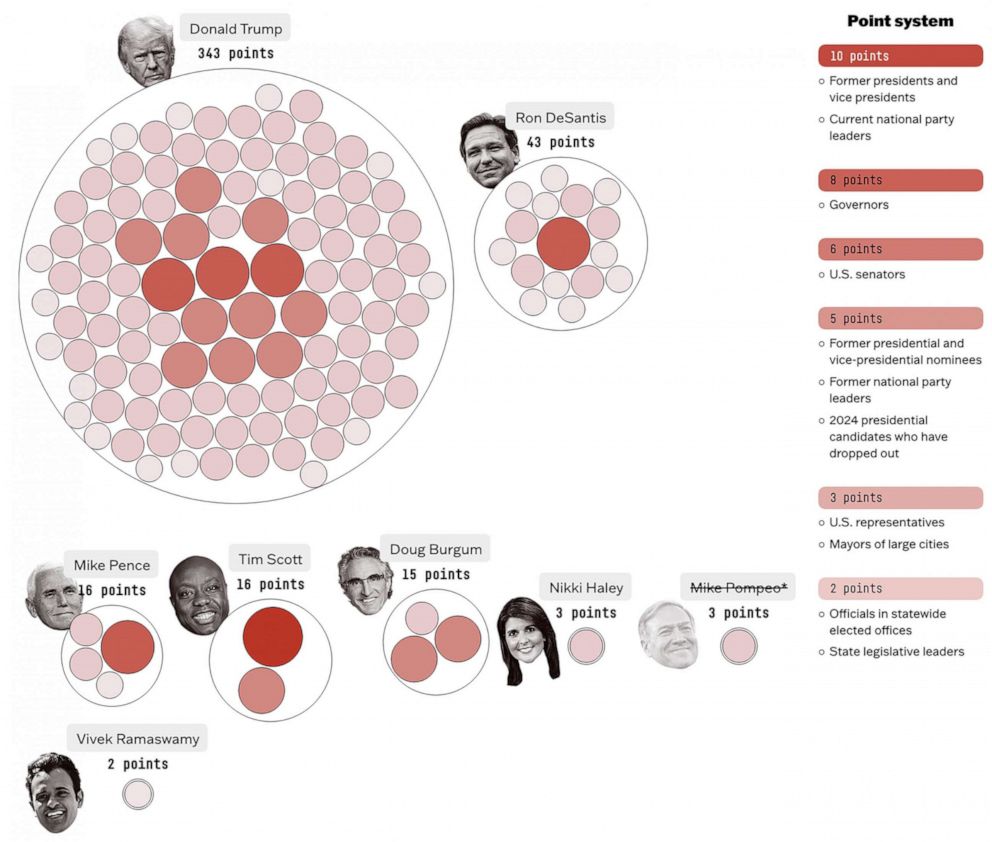 The 2016 race notwithstanding, endorsements have historically been very predictive of who eventually wins a party's nomination. The candidate with the most FiveThirtyEight endorsement points on the day before the Iowa caucuses has won 11 of the last 17 Republican and Democratic primary fights without an incumbent president. And when that candidate has a dominant endorsement lead, they win even more often: Endorsement leaders who had collected more than 15 percent of the estimated available endorsement points before Iowa won nine times out of 10. And Trump already has 17 percent of all available endorsement points with five months left until Iowa.
-Analysis by Nathaniel Rakich of FiveThirtyEight
Aug 23, 7:58 PM EDT
Why debates can move the polls
Recent election cycles have shown how debates can substantially alter a candidate's trajectory. The debates won't always do this, of course, and early primary polls remain relatively predictive of who will end up winning a party's nomination. However, a candidate can earn a real polling bounce from a debate — or fall into a valley.
Primary polls are inherently more volatile than general election polls. In a general election, most voters already lean toward one party, so only a small part of the electorate is likely to shift its views over the course of a campaign. But in a primary, voters in one party may be open to multiple candidates because most contenders will share similar views on a number of issues. As a result, exposure to an unfamiliar candidate could prompt voters to begin considering that contender, while a strong or weak performance by a candidate they do know could make them look elsewhere.
For example, early in the 2012 cycle, Texas Gov. Rick Perry appeared to be now-Sen. Mitt Romney's most serious opponent for the Republican nomination. But in a September 2011 debate, Perry defended a Texas policy that gave undocumented immigrants access to in-state college tuition. The backlash from the GOP base came swiftly, as Perry fell out of contention in the polls, well before a later debate in which he — oops — forgot the name of the third of three federal agencies that he aimed to dismantle as president. Four years later, former tech executive Carly Fiorina had very little support early in the 2016 Republican race, but in August 2015 she stood out in an "undercard" debate. Her polling numbers improved and she made the main stage in subsequent debates, giving her a platform that eventually led Texas Sen. Ted Cruz to make her his vice presidential pick in a last-ditch attempt to rally support against Trump in the 2016 primary.
-Analysis by Geoffrey Skelley of FiveThirtyEight
Aug 23, 8:10 PM EDT
What Trump has said about not attending the debate
Trump teased for months whether or not to attend the first GOP primary debate, citing along the way his yawning leads in early national and statewide polls.
"Why would I allow people at 1 or 2% and 0% to be hitting me with questions all night?" he said in an interview in June with Fox News anchor Bret Baier.
When he ultimately decided to not appear on stage on Wednesday, it was precisely that lead he cited.
"The public knows who I am & what a successful Presidency I had," Trump wrote on social media, adding, "I WILL THEREFORE NOT BE DOING THE DEBATES!"
It also appears unlikely that Trump will attend the second debate hosted next month by The Ronald Reagan Presidential Foundation & Institute, the administration of which Trump has feuded with in the past.
"He's not going to be in California," senior Trump campaign adviser Chris LaCivita said on the conservative "Ruthless" podcast Wednesday. "Well, first of all, with President Trump, you know, he could change his mind at any moment. Right. But I think he said the other day, he should take his history for face value when he said debates, right? And you should just assume that he won't until he does."
-ABC News' Tal Axelrod
Aug 23, 7:56 PM EDT
Tucker Carlson set to ask Trump about 2020 election, Epstein
Tucker Carlson posted a teaser of his interview with Trump on X, featuring a montage of questions he asked the former president, including, "Do you think [Jeffrey] Epstein killed himself … sincerely?" (Federal officials have said Epstein died by suicide while in custody.)
In the interview, the conservative commentator feeds into Trump's false claims about the election. After being asked if he's worried the election could be "stolen" from him again Trump claims, "Oh, they could. [Senate Minority Leader] Mitch McConnell was trying to get senators to impeach me."
-ABC News' Lalee Ibssa and Soo Rin Kim
Aug 23, 7:43 PM EDT
Meet your PolitiFact contributor
Your humble fact-checker is reporting for duty. I'm Aaron Sharockman, the executive director of PolitiFact. We're excited to help sort out fact from fiction during tonight's debate. I'm not omniscient — in case you're wondering. PolitiFact has a team of more than 30 fact-checkers that has been scrutinizing the candidates' remarks for months. And wouldn't you know it, candidates tend to repeat themselves on debate night. I'll be popping in when we see something that warrants more context or a correction.
-Aaron Sharockman, PolitiFact
Aug 23, 7:59 PM EDT
Voters remain dissatisfied with the economy
Why are voters so dissatisfied with Biden's economy?
That's one of the questions that will shape the 2024 race as Republicans gear up to select a presidential challenger. Right now, only 36 percent of American adults approve of Biden's handling of the economy, according to an AP-NORC poll from Aug. 10-14. Similarly, a Fox News poll from Aug. 11-14 found that only a quarter of American voters say Biden's policies have made the economy better. Some of this is affected by partisanship: A large majority of Republicans disapprove of his handling of the economy, but Democrats aren't over the moon either, with only about two-thirds approving, according to the AP poll.
It's tempting to think this is all a hangover from last summer's doldrums, when inflation peaked at 9.1 percent last June. Consumer prices might be the most obvious way that everyday Americans interact with the economy. Inflation today is still 3.2 percent higher compared to this time last year, which means prices are still above what they were before the pandemic. The fact that the job market remains strong, with unemployment at historic lows and wages rising, hardly makes an impact when people feel like they're spending more every time they go to the grocery store and are struggling to pay down debts amid high interest rates. But the truth is, Americans' view of the economy overall was low when Biden took office during the wobbly beginnings of the COVID-19 recovery, and has never risen above 50 percent.
What do people want from federal policy? They support measures such as taxing the wealthy and corporations more — more than three-quarters of all Americans approve, including 90 percent of Democrats and 63 percent of Republicans, according to an Ipsos/Reuters poll. As it happens, that policy is part of Biden's Inflation Reduction Act, his signature inflation-fighting legislative win, but less than half of Americans say they know about the bill.
Biden is working to promote the Inflation Reduction Act and other legislative accomplishments as part of "Bidenomics," but the fact that there's a gap between what Biden is doing about the economy and how people feel about it leaves plenty of room for Republican attacks. Indeed, DeSantis has promised to roll back Biden's economic policies. And the polling so far suggests that, even if the economy improves even more in the next year, Biden might not get credit for it.
-Analysis by Monica Potts of FiveThirtyEight
Aug 23, 7:38 PM EDT
Memorable moments from debates past
A hallmark of the American electoral process, debates are considered a key showcase for candidates seeking to hold the nation's top office.
Memorable moments include Ronald Reagan's witty response to questions about his age and Kamala Harris' challenge to Joe Biden on segregation and race, which prompted the viral line: "That little girl was me."
But not all debate highlights are positive. Richard Nixon's sweating, Al Gore's relentless sighing and Rick Perry's "oops" gaffe were considered costly to their campaigns.
"These are the only times we see them side by side," one expert told ABC News. "They provide opportunities for candidates to either help themselves or hurt themselves."
-ABC News' Alexandra Hutzler
Aug 23, 7:30 PM EDT
Who's campaigning hardest in the early states?
This debate might be going out to a national audience, but the 2024 Republican presidential primary will be decided on a state-by-state basis — and because they're the first to vote, Iowa, New Hampshire, South Carolina and Nevada will have an outsized impact on the race.
We've been collecting data on how many times each candidate has visited each early state, and there are some revealing trends. For one thing, the candidates seem to think Iowa and New Hampshire are much more important than South Carolina and Nevada. They've visited the first two more than 90 times each but South Carolina only 30 times and Nevada only four times. In addition, some candidates seem to be putting all their eggs in either New Hampshire's or Iowa's basket. For example, Christie and Hurd are focusing almost exclusively on New Hampshire — perhaps the famously independent Granite State will prove more receptive to their anti-Trump brand. Hutchinson, meanwhile, is focusing on Iowa.
Overall, Ramaswamy and Haley have paid the most visits to early states — though that's partly because they announced their campaigns earlier than most other candidates.
-Analysis by Nathaniel Rakich of FiveThirtyEight
Aug 23, 7:23 PM EDT
Early state check-in: South Carolina
Trump maintains a lead of 28 percentage points over his nearest competitor in South Carolina, according to the latest polls.
Haley and Scott, the two candidates from South Carolina, are both polling higher in South Carolina than they are nationally, according to our polling average. Trump is polling about 7 points lower in South Carolina than in national polls.
Only one pollster, the Manhattan Institute has tested the favorability of Republican candidates in South Carolina since July 1. That survey found Scott and DeSantis had the highest net favorability in the state (+56 and +55 percentage points, respectively), and Trump and Haley close behind (+39 and +33 points, respectively). Pence had a net favorability of +1 point, and Christie was underwater by -36 points.
Economic issues are most important to Republican primary voters in South Carolina, according to a July survey from Fox Business/Beacon Research/Shaw & Co. Research. Fifty-one percent of Republican voters said economic issues would be most important for deciding their vote. Twelve percent each said immigration issues, social issues and foreign policy were most important.
In an August survey by National Public Affairs, 40 percent of South Carolina Republican voters said that Trump wouldn't lose their support even if he did not show up to the debate. Twelve percent said that they support Trump, but if he didn't debate they would be open to or definitely supporting someone else, 32 percent said they wouldn't vote for Trump regardless, 9 percent said they probably wouldn't watch the debate anyway and 6 percent were unsure.
-Analysis by FiveThirtyEight
Aug 23, 7:21 PM EDT
Early state check-in: New Hampshire
Trump maintains a lead of 30 percentage points over his nearest competitor in New Hampshire, according to the latest polls.
Christie and Scott are both polling about 5 points higher in New Hampshire than they are nationally, according to our polling average. Trump is polling about 10 points lower in New Hampshire than in national polls.
In a July survey from the University of New Hampshire, only 36 percent of New Hampshire Republican voters said they have definitely decided who they will vote for. Forty-five percent said they are leaning to someone, and 17 percent said they are still trying to decide. Voters who said they plan to vote for Trump are most likely to say they are definitely decided (76 percent), whereas voters who said they plan to vote for DeSantis are most likely to say they are leaning to someone but not definitely decided (72 percent). Fifty-three percent of voters who said they plan to vote for Christie said they are still trying to decide who to vote for.
Scott and Ramaswamy have the highest favorability among New Hampshire Republicans. Pence, Hutchinson and Christie are all underwater.
New Hampshire Republicans are more interested in economic issues than social issues, according to a late June poll by Saint Anselm College. Seventy-five percent of registered Republican primary voters said they would prefer the 2024 election be dominated by debate over economic issues, while just 15 percent said they would prefer social issues.
-Analysis by FiveThirtyEight
Aug 23, 7:18 PM EDT
Early state check-in: Iowa
Trump maintains a lead of 25 percentage points over his nearest competitor in Iowa, according to the latest polls.
DeSantis and Scott are both polling higher in Iowa than they are nationally, according to our polling average. Trump is polling about 10 points lower in Iowa than in national polls.
According to a July poll from J.L. Partners/DailyMail.com, only 51 percent of Iowa Republicans said their mind was made up. Forty-three percent said they could still be persuaded to support another candidate. Voters who said they plan to vote for Trump were the most likely to say their mind is made up, with 80 percent saying so compared with 37 percent of those who said they plan to vote for DeSantis and 11 percent of those who said they plan to vote for Scott.
Scott and DeSantis have the highest net favorability among Iowa Republican voters. Pence, Christie and Hutchinson are underwater.
In an early state poll from the Manhattan Institute conducted in July, Iowa Republicans are split on whether electability is important. Forty-six percent of Iowa Republican voters say that it is most important for Republican candidates to win elections and be in power, even if that means compromising or moderating their positions, while 45 percent said it is most important for candidates to stay true to their principles, even if that means losing elections.
Iowa Republicans also think that skipping primary debates shows weakness more than strength, according to a July Fox Business/Beacon Research/Shaw & Co. Research survey. Fifty-nine percent of Republicans said skipping the debate shows weakness, while 27 percent said it shows strength.
-Analysis by FiveThirtyEight
Aug 23, 7:14 PM EDT
Candidate favorability vs. President Biden
If you're trying to gauge which Republican primary candidate would perform best against Biden in next year's general election — their "electability" — their favorability ratings are a helpful signal. According to FiveThirtyEight's polling averages, Biden is viewed favorably by 41.6 percent of U.S. adults and unfavorably by 53.9 percent, for a net rating of -12.3 percentage points. That compares to a net favorability rating for Trump of -16.5 points (39.7 percent favorable and 56.2 percent unfavorable). Given those numbers, a reasonable observer might expect Biden to beat Trump in the popular vote in 2024, all else being equal. (Of course, it never is).
Many of the other candidates — like Ramaswamy and Scott — have higher net favorability than Biden. But that doesn't mean they'd actually perform better against the incumbent president in a general election. Candidates' net favorability tends to decline as more people know them. To get a sense of how popular some of the less-known candidates are, we can use a regression model to quantify the relationship between name recognition and net favorability and then estimate what each candidate's net favorability rating should be based on how many people know them. Then, we can compare the actual number to that benchmark and get a better sense of who is overperforming or underperforming. On this metric, Scott and Ramaswamy score the best of the non-Trump field, with current net ratings that are 5 and 6 percentage points, respectively, higher than we would predict for them. Christie, meanwhile, trails the field with a net favorability rating 15 percentage points lower than his benchmark.
-Analysis by G. Elliott Morris of FiveThirtyEight
Aug 23, 7:18 PM EDT
RNC to pitch early voting with ad featuring Trump, other candidates
The Republican National Committee will release an ad during the debate Wednesday night promoting early voting — a method that some in the GOP acknowledge they have fallen behind on in recent years.
Included in the ad are RNC Chairwoman Ronna McDaniel, former Vice President Pence and former President Trump, who promotes the party's new early voting effort launched earlier this year.
The party is also planning to have a Bank Your Vote booth in Milwaukee on Wednesday, with absentee ballot request forms from all 56 states and territories.
The GOP has struggled to regain parity with Democrats on early voting after Trump baselessly lambasted the method as ripe for widespread fraud, without providing evidence for his claims.
-ABC News' Tal Axelrod
Aug 23, 7:29 PM EDT
Will Biden debate the GOP victor? His team is noncommittal — for now
President Joe Biden's reelection campaign was noncommittal Wednesday when asked if he would debate the ultimate GOP presidential nominee.
"We have not had a conversation about that at all," Biden campaign co-chair Cedric Richmond told reporters during a press conference Wednesday. "I'm sure one day we will. But it's not today and I don't have any news on that. But what we're going to continue to do is continue to govern because Vice President [Kamala] Harris and President Biden have a job to do and they take it serious. So when we have news on that, we'll let you know."
Biden and his allies have gone after the entire Republican primary field, tying them all to the "MAGA" brand of former President Trump.
However, the future of presidential general election debates is up in the air after the Republican National Committee last year voted to quit the Commission on Presidential Debates, the non-partisan group that has put on general election debates since 1988.
Biden's campaign also defended its decision to not engage in any Democratic primary debates, boasting that the president, as the incumbent, is the presumed nominee despite facing challenges from Robert F. Kennedy Jr. and Marianne Williamson.
-ABC News' Tal Axelrod
Aug 23, 7:29 PM EDT
Biden says he'll try to watch some of the debate, doesn't have high expectations
President Joe Biden said earlier Wednesday that he will try to watch some of the debate that could help determine who his opponent will be next year.
Yet when asked by a reporter what his "expectation" is, Biden simply responded, "I have none," with a laugh.
Trump, the primary front-runner so far, is not appearing at Wednesday's debate, lowering the chances that Biden's general election opponent will be on stage.
-ABC News' Tal Axelrod
Aug 23, 7:06 PM EDT
How to evaluate the debate like a pro
In the aftermath of a debate, it can be hard to figure out the actual impact of a viral moment or heated exchange. Here are some data-driven approaches that can help cut through the noise:
First, ignore "instant polls" that ask questions only among people who watched the debate. That group is not likely to represent the feelings of the broader population. Instead, look for post-debate polls — (like ours with Ipsos and the Washington Post) — that ask questions among the same group of Americans both pre- and post-debate.
Second, in the days following the debate, look at data that captures attention to candidates, such as trends in search results or media coverage, to determine which candidate made the biggest splash. Media attention is crucial for candidates who aren't well known to gain traction in the polls and with donors.
Finally, look for changes in horse-race polls in the week or two after the debate. There is a lot of noise in primary polls (especially this time around) and it can take some time for changes in public opinion to be reflected in our polling average.
The big thing to remember is that what's important to journalists and television pundits may not be what's important to the public, and we have to wait for pollsters to ask them how they feel.
-Analysis by G. Elliott Morris of FiveThirtyEight
Aug 23, 7:05 PM EDT
Larry Elder, Perry Johnson contend they are not going down without a fight
They didn't qualify for the debate stage. Now, they're vowing to take legal action.
Holding his own press conference outside the debate venue earlier Wednesday, Elder said he would file a formal complaint with the Federal Election Commission if wasn't allowed on stage — which he later followed through on.
ABC asked him if he still plans on watching or attending the debate if they don't respond, to which he said: "I'll be there, one way or the other, but I'm going to be up on that stage, trust me. If I were a betting person, and I'm not, I would bet the forum that Larry Elder is going to be on that debate stage."
Johnson is planning to file two lawsuits against the GOP, he said in an interview with ABC News Radio National Correspondent Steven Portnoy.
Ahead of the debate, Johnson's team was spotted across the street from the Fiserv Forum wearing "Perry vs Everybody" shirts.
On Tuesday, McDaniel told ABC News Senior Congressional Correspondent Rachel Scott that the party was not trying to spite candidates who did not reach their requirements.
"They've got time for other debates and they can still continue to work towards California in September," McDaniel said. "This has nothing to do with them. We just stuck to our rules."
-ABC News' Kendall Ross, Gabriella Abdul-Hakim and Isabella Murray
Aug 23, 7:01 PM EDT
Burgum will debate, already fundraising off injury
Burgum's debate appearance was in doubt after he suffered an injury while playing pick-up basketball with his staff.
Just hours before the start time, he announced he'll be on stage after all.
I'm in pic.twitter.com/DZqLf3Yxik

— Doug Burgum (Text "DOUG" to 70177) (@DougBurgum) August 23, 2023
His team is already fundraising off the incident, selling T-shirts with a silhouette of a cowboy hat-clad Burgum playing basketball — a twist on the famous Nike Air Jordan "Jumpman" logo.
Earlier in the day, the governor was visibly emotional as he discussed the pain he was feeling with ABC News.
"I'm someone who's never taken prescription pain meds and I'm not doing that today. Even though people said that'd be a good idea. Because I'd rather … I mean so many Americans make so many sacrifices, think law enforcement, think of military, what they do for all of us," he said.
"I mean, if you're gonna lead this country, you got to be able to stand on one leg for two hours. You know, it's not, it's not 'Dancing with the Stars.'"
-ABC News' Alexandra Hutzler and Oren Oppenheim
Aug 23, 6:49 PM EDT
Check in on our polling average
As you watch the debate, keep an eye on which candidates separate themselves from the crowd. That's because right now, the Republican presidential primary is not so much a race for first place as it is for second and third. FiveThirtyEight's latest average of national GOP primary polls has Trump at 52 percent of the vote among likely Republican primary voters. DeSantis is a distant second at 15 percent, Ramaswamy is at 10 percent, Pence and Scott are at 4 percent, and Haley and Christie are at 3 percent. Everyone else is below 1 percent.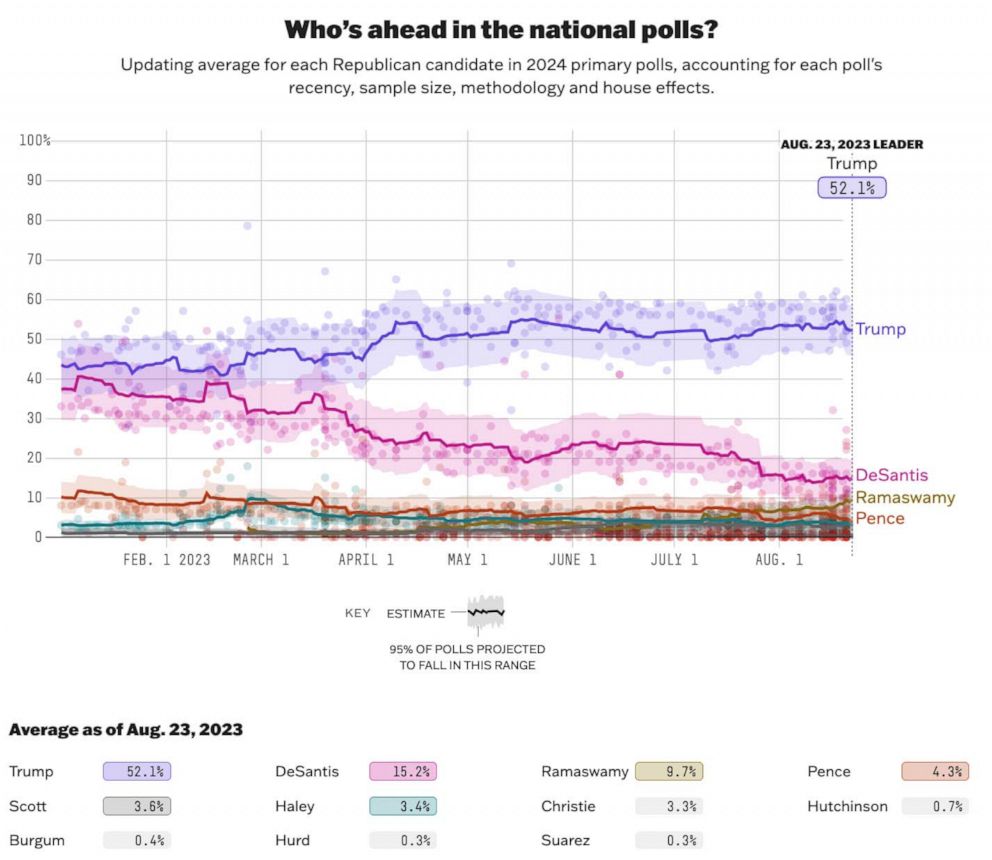 Trump's lead will be very hard for the other candidates to close — so their best hope at this point is to stay in the game, in case Trump drops out (unlikely as that seems right now) or something else changes. DeSantis is currently in position to be the would-be front-runner if Trump drops out, but depending on debate performances and other factors, he could wind up in a close race with one of the other candidates currently clustered in that 5-10 percent range.
-Analysis by G. Elliott Morris of FiveThirtyEight
Aug 23, 6:51 PM EDT
Biden campaign drives 'Dark Brandon' mobile billboard outside venue
Hours before eight Republicans take the debate stage, Democrats appear to be going on offense around the site of the event.
The Biden campaign rolled around a mobile billboard around Milwaukee's Fiserv Forum which depicts "Dark Brandon" — President Joe Biden's satirical alter ego.
The Biden campaign is rolling around a "Dark Brandon" mobile billboard around the site of tonight's Republican debate in Milwaukee. pic.twitter.com/E0lIJt35Hw

— Fritz Farrow (@FritzFarrow) August 23, 2023
The billboard hits Republicans on their abortion positions, particularly their support for restricting the procedure.
-ABC News' Fritz Farrow
Aug 23, 6:50 PM EDT
Trump surrogates swarm the debate in his absence
Trump campaign surrogates like Rep. Marjorie Taylor Greene, R-Ga., have been spending the day on media row touting Trump's policies to various news outlets. She has plans to host a post-debate analysis show with Rep. Matt Gaetz, R-Fla., on conservative outlet Right Side Broadcasting Network.
Donald Trump Jr. and Kimberly Guilfoyle have also been live-streaming for his podcast outside the debate arena since Wednesday afternoon, joined by other Trump surrogates like Greene, Gaetz, and Kari Lake.
On the podcast, Donald Trump Jr., Guilfoyle and various surrogates sought to downplay the debate, calling the stage a "VP debate," a "kids' table" at a Thanksgiving dinner, and a "secretary of education debate."
Other candidates have criticized the former president for declining to face them and make his pitch to voters in Milwaukee.
Lake on the Donald Trump Jr. podcast also said she spoke with the former president earlier on Wednesday afternoon about the pre-taped Tucker Carlson interview scheduled to be released Wednesday, saying it will be a "good interview." She said the elder Trump sounded "really good" in the afternoon but told her that "things are going to get worse before they get better."
-ABC News' Soo Rin Kim and Lalee Ibssa
Aug 23, 6:53 PM EDT
Candidates prepare for their first debate in unique ways
As Republican candidates gear up for the debate, many have specific rituals they'll be doing in preparation.
A campaign adviser for Haley said she will be listening to music, "lots and lots of music: Joan Jett, Queen, Def Leppard and [the] Go-Gos, to name a few."
DeSantis has spent today with his wife, Casey, and their three children, though a campaign spokesman offered few details about how the family has spent their time.
Hutchinson posted a photo of himself preparing with notepad and laptop in hand.
"Some last minute studying and prep for tomorrow! It's important to show up and be ready to answer the tough questions, you deserve nothing less than a leader ready to lead on day one," Hutchinson captioned the photo online.
Pence will plan to spend time in prayer before the debate, while Scott took a tour of the debate stage, which he posted a video of, along with encouragements from his family, to X, formerly known as Twitter.
Others prepared physically, earlier this week.
Ramaswamy posted videos to X of himself playing tennis and him and his wife doing floor exercises in a gym throughout the lead-up week.
Burgum was playing a stress-relieving pickup game of basketball on the eve of the debate, according to a campaign press secretary, when he sustained an Achilles injury that called into question his ability to participate in the event.
He will be participating, albeit on crutches, per a photo posted to his X account.
-ABC News' Gabriella Abdul-Hakim, Libby Cathey, Abby Cruz, Will McDuffie and Olivia Osteen
Aug 23, 6:42 PM EDT
How tonight's debate participants qualified
Recent initial primary debates have involved a lot of candidates — 17 for Republicans in 2016 and 20 for Democrats in 2020 — across two debates, either on the same night or across two evenings. To lead off the 2024 cycle, Republicans will have a more intimate affair, with eight contenders taking the stage tonight. That number could've been slightly larger, however, as nine GOP candidates met the RNC's debate qualification criteria for polls and donors. But Trump isn't participating, having refused to sign a mandated loyalty pledge promising to support the eventual GOP nominee in the general election, so there will be only eight lecterns on stage.
Eligible participants either earned 1 percent support in three national polls or at least 1 percent in two national polls and two polls from the first four states voting in the GOP primary (each coming from separate states), based on surveys that meet certain criteria for inclusion. They also attracted donations from at least 40,000 unique contributors, with at least 200 donors from 20 or more states and/or territories.
Meeting these criteria was straightforward for most of the candidates, as by the end of July, seven (including Trump) had enough qualifying polls and donors to make the stage. Lagging behind, Pence became the eighth eligible contender when his campaign announced on Aug. 7 that he brought in enough unique donors. Hutchinson had enough surveys in hand by late July, but he only announced on Sunday that he had reached the 40,000 donor mark, coming in just under the deadline.
But there was last-minute drama, as businessman Perry Johnson and Miami Mayor Francis Suarez each said they had qualified, only for the RNC to leave them off its final list of participants. Johnson in particular may have a bone to pick, as he claimed that the RNC initially indicated that he had enough polls, and our analysis suggests he did, too. Larry Elder, who along with Johnson hasn't met FiveThirtyEight's criteria for being considered a major candidate, also claimed he had made it,> but one of the polls he cited did not have a large enough sample size to meet the RNC's criteria. Johnson and Elder announced yesterday that they were suing the RNC. Suarez, Johnson, Elder and Hurd all had enough donors to make the stage but, controversially or not, lacked the polls in the end.
-Analysis by Geoffrey Skelley of FiveThirtyEight
Aug 23, 6:38 PM EDT
Where the abortion issue stands ahead of the debate
After winning a 50-year fight to get Roe v. Wade overruled last year, the Republican Party faces tough questions on abortion access.
Should abortion be banned at conception or later? What exceptions should be allowed — and if there are exceptions, how should that be enforced? Which medical emergencies would qualify? And should these decisions be made at the federal or state level?
-ABC News' Anne Flaherty
Aug 23, 6:37 PM EDT
Trump won't be at the GOP debate. Will it matter?
Trump is snubbing the Republican National Committee and Fox News by counterprogramming the first GOP primary debate with an interview with Tucker Carlson.
Without the de facto GOP leader on stage, strategists are wondering how much the debate can shake up the race.
"For the trajectory of the entire primary, I don't think it matters that he's not there. I mean, probably no one remembers this debate after the next debate," said GOP strategist Rob Stutzman, a presidential campaign veteran.
-ABC News' Tal Axelrod
Aug 23, 6:37 PM EDT
What to watch for in 1st Republican primary debate
As several of the 2024 Republican presidential candidates are set to square off for the first time tonight, here are seven things to watch for during the debate.
-ABC News' Tal Axelrod
Copyright © 2023, ABC Audio. All rights reserved.