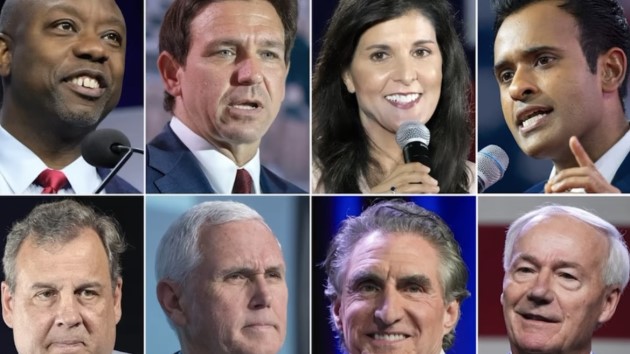 (NEW YORK) — The first Republican debate of the 2024 presidential primary will begin shortly in Milwaukee.
Eight candidates have qualified for a spot on the stage: North Dakota Gov. Doug Burgum, former New Jersey Gov. Chris Christie, Florida Gov. Ron DeSantis, former U.N. Ambassador Nikki Haley, former Arkansas Gov. Asa Hutchinson, former Vice President Mike Pence, entrepreneur Vivek Ramaswamy and South Carolina Sen. Tim Scott.
Missing from the event will be the primary's early front-runner: former President Donald Trump, who declined to participate and is instead releasing an interview with Tucker Carlson.
ABC News and FiveThirtyEight will be live-blogging every major moment and highlight from the debate, which begins at 9 p.m. EDT on Fox News, with FiveThirtyEight providing analysis and a closer look at the polling and data behind the politicians. PolitiFact will be making real-time fact checks of key statements.
Here's how the news is developing. All times Eastern.
Aug 23, 7:06 PM EDT
How to evaluate the debate like a pro
In the aftermath of a debate, it can be hard to figure out the actual impact of a viral moment or heated exchange. Here are some data-driven approaches that can help cut through the noise:
First, ignore "instant polls" that ask questions only among people who watched the debate. That group is not likely to represent the feelings of the broader population. Instead, look for post-debate polls — (like ours with Ipsos and the Washington Post) — that ask questions among the same group of Americans both pre- and post-debate.
Second, in the days following the debate, look at data that captures attention to candidates, such as trends in search results or media coverage, to determine which candidate made the biggest splash. Media attention is crucial for candidates who aren't well known to gain traction in the polls and with donors.
Finally, look for changes in horse-race polls in the week or two after the debate. There is a lot of noise in primary polls (especially this time around) and it can take some time for changes in public opinion to be reflected in our polling average.
The big thing to remember is that what's important to journalists and television pundits may not be what's important to the public, and we have to wait for pollsters to ask them how they feel.
-Analysis by G. Elliott Morris of FiveThirtyEight
Aug 23, 7:05 PM EDT
Larry Elder, Perry Johnson contend they are not going down without a fight
They didn't qualify for the debate stage. Now, they're vowing to take legal action.
Holding his own press conference outside the debate venue earlier Wednesday, Elder said he would file a formal complaint with the Federal Election Commission if wasn't allowed on stage
ABC asked him if he still plans on watching or attending the debate if they don't respond, to which he said: "I'll be there, one way or the other, but I'm going to be up on that stage, trust me. If I were a betting person, and I'm not, I would bet the forum that Larry Elder is going to be on that debate stage."
Johnson is planning to file two lawsuits against the GOP, he said in an interview with ABC News Radio National Correspondent Steven Portnoy.
Ahead of the debate, Johnson's team was spotted across the street from the Fiserv Forum wearing "Perry vs Everybody" shirts.
-ABC News' Kendall Ross and Gabriella Abdul-Hakim
Aug 23, 7:01 PM EDT
Burgum will debate, already fundraising off injury
Burgum's debate appearance was in doubt after he suffered an injury while playing pick-up basketball with his staff.
Just hours before the start time, he announced he'll be on stage after all.
I'm in pic.twitter.com/DZqLf3Yxik

— Doug Burgum (Text "DOUG" to 70177) (@DougBurgum) August 23, 2023
His team is already fundraising off the incident, selling T-shirts with a silhouette of a cowboy hat-clad Burgum playing basketball — a twist on the famous Nike Air Jordan "Jumpman" logo.
Earlier in the day, the governor was visibly emotional as he discussed the pain he was feeling with ABC News.
"I'm someone who's never taken prescription pain meds and I'm not doing that today. Even though people said that'd be a good idea. Because I'd rather … I mean so many Americans make so many sacrifices, think law enforcement, think of military, what they do for all of us," he said.
"I mean, if you're gonna lead this country, you got to be able to stand on one leg for two hours. You know, it's not, it's not 'Dancing with the Stars.'"
-ABC News' Alexandra Hutzler and Oren Oppenheim
Aug 23, 6:49 PM EDT
Check in on our polling average
As you watch the debate, keep an eye on which candidates separate themselves from the crowd. That's because right now, the Republican presidential primary is not so much a race for first place as it is for second and third. FiveThirtyEight's latest average of national GOP primary polls has Trump at 52 percent of the vote among likely Republican primary voters. DeSantis is a distant second at 15 percent, Ramaswamy is at 10 percent, Pence and Scott are at 4 percent, and Haley and Christie are at 3 percent. Everyone else is below 1 percent.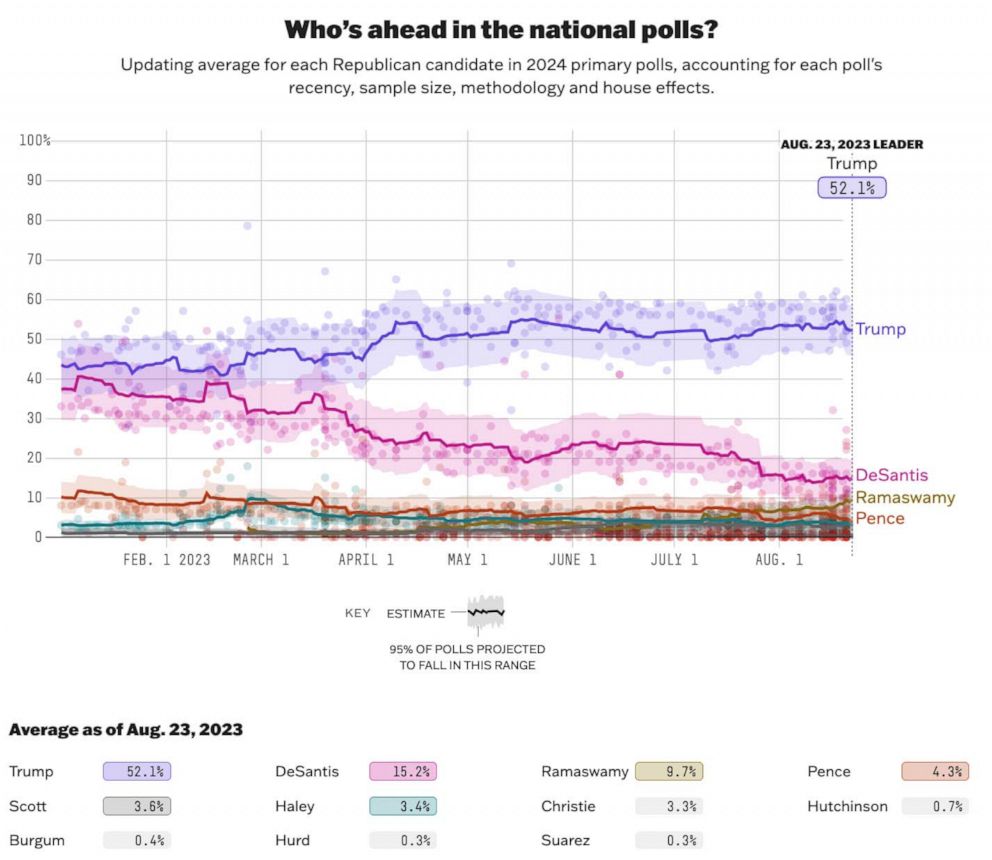 Trump's lead will be very hard for the other candidates to close — so their best hope at this point is to stay in the game, in case Trump drops out (unlikely as that seems right now) or something else changes. DeSantis is currently in position to be the would-be front-runner if Trump drops out, but depending on debate performances and other factors, he could wind up in a close race with one of the other candidates currently clustered in that 5-10 percent range.
-Analysis by G. Elliott Morris of FiveThirtyEight
Aug 23, 6:51 PM EDT
Biden campaign drives 'Dark Brandon' mobile billboard outside venue
Hours before eight Republicans take the debate stage, Democrats appear to be going on offense around the site of the event.
The Biden campaign rolled around a mobile billboard around Milwaukee's Fiserv Forum which depicts "Dark Brandon" — President Joe Biden's satirical alter ego.
The Biden campaign is rolling around a "Dark Brandon" mobile billboard around the site of tonight's Republican debate in Milwaukee. pic.twitter.com/E0lIJt35Hw

— Fritz Farrow (@FritzFarrow) August 23, 2023
The billboard hits Republicans on their abortion positions, particularly their support for restricting the procedure.
-ABC News' Fritz Farrow
Aug 23, 6:50 PM EDT
Trump surrogates swarm the debate in his absence
Trump campaign surrogates like Rep. Marjorie Taylor Greene, R-Ga., have been spending the day on media row touting Trump's policies to various news outlets. She has plans to host a post-debate analysis show with Rep. Matt Gaetz, R-Fla., on conservative outlet Right Side Broadcasting Network.
Donald Trump Jr. and Kimberly Guilfoyle have also been live-streaming for his podcast outside the debate arena since Wednesday afternoon, joined by other Trump surrogates like Greene, Gaetz, and Kari Lake.
On the podcast, Donald Trump Jr., Guilfoyle and various surrogates sought to downplay the debate, calling the stage a "VP debate," a "kids' table" at a Thanksgiving dinner, and a "secretary of education debate."
Other candidates have criticized the former president for declining to face them and make his pitch to voters in Milwaukee.
Lake on the Donald Trump Jr. podcast also said she spoke with the former president earlier on Wednesday afternoon about the pre-taped Tucker Carlson interview scheduled to be released Wednesday, saying it will be a "good interview." She said the elder Trump sounded "really good" in the afternoon but told her that "things are going to get worse before they get better."
-ABC News' Soo Rin Kim and Lalee Ibssa
Aug 23, 6:53 PM EDT
Candidates prepare for their first debate in unique ways
As Republican candidates gear up for the debate, many have specific rituals they'll be doing in preparation.
A campaign adviser for Haley said she will be listening to music, "lots and lots of music: Joan Jett, Queen, Def Leppard and [the] Go-Gos, to name a few."
DeSantis has spent today with his wife, Casey, and their three children, though a campaign spokesman offered few details about how the family has spent their time.
Hutchinson posted a photo of himself preparing with notepad and laptop in hand.
"Some last minute studying and prep for tomorrow! It's important to show up and be ready to answer the tough questions, you deserve nothing less than a leader ready to lead on day one," Hutchinson captioned the photo online.
Pence will plan to spend time in prayer before the debate, while Scott took a tour of the debate stage, which he posted a video of, along with encouragements from his family, to X, formerly known as Twitter.
Others prepared physically, earlier this week.
Ramaswamy posted videos to X of himself playing tennis and him and his wife doing floor exercises in a gym throughout the lead-up week.
Burgum was playing a stress-relieving pickup game of basketball on the eve of the debate, according to a campaign press secretary, when he sustained an Achilles injury that called into question his ability to participate in the event.
He will be participating, albeit on crutches, per a photo posted to his X account.
-ABC News' Gabriella Abdul-Hakim, Libby Cathey, Abby Cruz, Will McDuffie and Olivia Osteen
Aug 23, 6:42 PM EDT
How tonight's debate participants qualified
Recent initial primary debates have involved a lot of candidates — 17 for Republicans in 2016 and 20 for Democrats in 2020 — across two debates, either on the same night or across two evenings. To lead off the 2024 cycle, Republicans will have a more intimate affair, with eight contenders taking the stage tonight. That number could've been slightly larger, however, as nine GOP candidates met the RNC's debate qualification criteria for polls and donors. But Trump isn't participating, having refused to sign a mandated loyalty pledge promising to support the eventual GOP nominee in the general election, so there will be only eight lecterns on stage.
Eligible participants either earned 1 percent support in three national polls or at least 1 percent in two national polls and two polls from the first four states voting in the GOP primary (each coming from separate states), based on surveys that meet certain criteria for inclusion. They also attracted donations from at least 40,000 unique contributors, with at least 200 donors from 20 or more states and/or territories.
Meeting these criteria was straightforward for most of the candidates, as by the end of July, seven (including Trump) had enough qualifying polls and donors to make the stage. Lagging behind, Pence became the eighth eligible contender when his campaign announced on Aug. 7 that he brought in enough unique donors. Hutchinson had enough surveys in hand by late July, but he only announced on Sunday that he had reached the 40,000 donor mark, coming in just under the deadline.
But there was last-minute drama, as businessman Perry Johnson and Miami Mayor Francis Suarez each said they had qualified, only for the RNC to leave them off its final list of participants. Johnson in particular may have a bone to pick, as he claimed that the RNC initially indicated that he had enough polls, and our analysis suggests he did, too. Larry Elder, who along with Johnson hasn't met FiveThirtyEight's criteria for being considered a major candidate, also claimed he had made it,> but one of the polls he cited did not have a large enough sample size to meet the RNC's criteria. Johnson and Elder announced yesterday that they were suing the RNC. Suarez, Johnson, Elder and Hurd all had enough donors to make the stage but, controversially or not, lacked the polls in the end.
-Analysis by Geoffrey Skelley of FiveThirtyEight
Aug 23, 6:38 PM EDT
Where the abortion issue stands ahead of the debate
After winning a 50-year fight to get Roe v. Wade overruled last year, the Republican Party faces tough questions on abortion access.
Should abortion be banned at conception or later? What exceptions should be allowed — and if there are exceptions, how should that be enforced? Which medical emergencies would qualify? And should these decisions be made at the federal or state level?
-ABC News' Anne Flaherty
Aug 23, 6:37 PM EDT
Trump won't be at the GOP debate. Will it matter?
Trump is snubbing the Republican National Committee and Fox News by counterprogramming the first GOP primary debate with an interview with Tucker Carlson.
Without the de facto GOP leader on stage, strategists are wondering how much the debate can shake up the race.
"For the trajectory of the entire primary, I don't think it matters that he's not there. I mean, probably no one remembers this debate after the next debate," said GOP strategist Rob Stutzman, a presidential campaign veteran.
-ABC News' Tal Axelrod
Aug 23, 6:37 PM EDT
What to watch for in 1st Republican primary debate
As several of the 2024 Republican presidential candidates are set to square off for the first time tonight, here are seven things to watch for during the debate.
-ABC News' Tal Axelrod
Copyright © 2023, ABC Audio. All rights reserved.