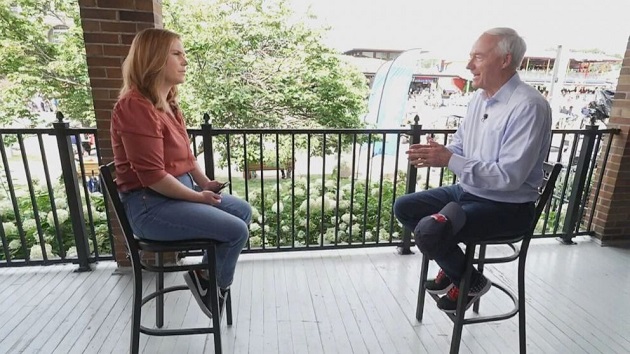 (DES MOINES, Iowa) — As former Arkansas Gov. Asa Hutchinson still works to make the debate stage in Milwaukee, he's urging other Republican candidates to do more to take on former President Donald Trump, who now faces four criminal indictments.
Asked by ABC News Correspondent MaryAlice Parks in a sit-down interview at the Iowa State Fair if the rest of the field should be more vocal — with Parks noting that just Hutchinson, former Gov. Chris Christie and former Rep. Will Hurd are condemning Trump on the trail — Hutchinson said, "They should" with "what's at stake for both our party and our country."
"They should speak the truth in reference to Donald Trump. He's dangerous for our country. He is self-centered. At this point, he's looking out for himself," Hutchinson said. "He's already set his agenda for a second term, which is to get even. It is about revenge. And this is not what we need in America."
"People need to be clear on it. They need to speak out about it. I understand that they want to be reticent because they don't want to offend any voter in this, but this is an unusual time, with a lot at risk. And you've got to speak clearly," he told Parks.
Hutchinson, who called for Trump to drop out after his first criminal indictment out of Manhattan, said the American people have an interest in seeing speedy trials for Trump as they're set to vote on someone who could be found guilty in a court of law.
"These issues need to be resolved. And so the prosecution is doing the right thing by saying, 'We've got to get this resolved and it shouldn't just simply wait till after the election,'" said Hutchinson, a formal federal prosecutor. "There's going to be all kinds of public relations happening and victimization playing by Donald Trump during the process, but all of this will be resolved based upon the facts and based upon the law in the courtroom, decided by a jury, and you just got to keep your focus on that."
Trump's legal team has requested that the judge overseeing his federal 2020 election interference case schedule his trial for April of 2026.
Will he make the debate stage?
With the debate just days away, and the deadline to qualify 48 hours prior, the former governor's chances of making the stage seem slim, despite the confidence he continues to project.
"I am gonna make the debate stage," he told Parks. "In fact, [I'm so] confident that we're starting to prepare for it."
The RNC is requiring candidates to reach at least 1% in select polls and to reach 40,000 unique donors — a level Hutchinson objects to for the first debate. Candidates also have to sign a pledge saying they will support the eventual nominee, which Hutchinson has shown trepidation towards but says he would sign because he doesn't think Trump will win.
"They don't budge. They have their criteria. And they have the pledge that they want, but obviously we shouldn't be supporting someone who could be convicted of a felony, a serious felony, and it puts us in a terrible position leading up to the convention with the uncertainty of how these trials are going to come out," he said.
Monday marked the fourth indictment of the former president, who already faces federal charges in the special counsel's Jan. 6 and classified documents probes, as well as the Manhattan DA's hush money case. Trump, who has decried the probes as political witch hunts, pleaded not guilty to all charges in the first three cases.
Prior to Trump, no former or current president had ever been indicted — a fact Hutchinson would likely point out on a national debate stage.
As of the end of this week, the Arkansas Republican has more than 32,000 donors, with limited time to make up the difference, according to his campaign. He has reached the polling requirement but is trailing his competitors, with a current average of 0.5% according to FiveThirtyEight.
Christie, meanwhile, passed the 40,000-donor threshold in July, despite jumping in the race two months after Hutchinson and both sharing the status of former governors. Hurd said Thursday he passed the 40,000 mark, after announcing his bid in late June. His team told ABC News they're "confident" he meets the polling requirement, but Hurd has said he won't sign the RNC loyalty pledge without revisions to the text.
Hutchinson insists it's still early in the campaign and hasn't suggested he'll drop out if he doesn't make the first debate.
"Places like Iowa or New Hampshire, they're late breaking. They're going to be December decisions as to who they're going to support," he told Parks. "So you want to make sure that you put kindling on the fire now and you're ready to go this fall when cold weather hits."
ABC News' Isabella Murray contributed to this report.
Copyright © 2023, ABC Audio. All rights reserved.