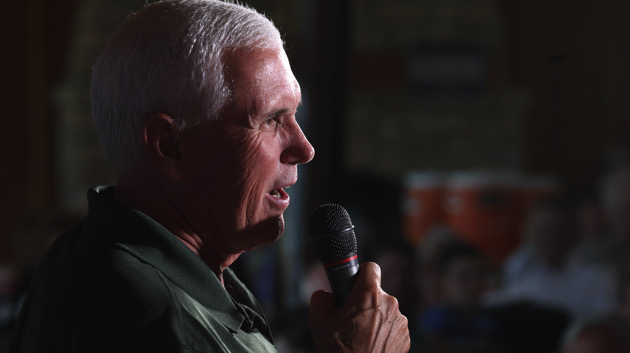 (INDIANAPOLIS) — Mike Pence on Wednesday, in his first reaction to Donald Trump's latest indictment — which Trump denies — said the 2020 election in Georgia was not stolen and that the American people should be told "the truth," drawing a further contrast between himself and his former running mate over the fallout from the last presidential race as he challenges Trump for the 2024 GOP nomination.
"Now this week comes another indictment regarding the former president's conduct in the days leading up to the close of our administration. I've said many times: I had hoped the judgement about those days will be left to the American people and to history. Such is not the case," Pence told a group of Republican state lawmakers at the National Conference of State Legislatures Summit in Indianapolis.
While Pence offered his standard line that Trump is entitled to the "presumption of innocence" in his four criminal cases, Pence forcefully rejected Trump's false claims that the 2020 election was stolen.
Late Monday, Trump and 18 of his allies were indicted in Georgia over efforts to overturn Trump's loss to Joe Biden in the battleground state.
Trump's campaign responded by calling the charges against him "un-American" and "wrong." He has denied all wrongdoing.
The former vice president on Wednesday did not directly comment on the accusations against Trump but made clear he disagreed with the continued focus on baseless 2020 election fraud claims.
"In these times, I want to say I think it's important that we hew to first principles and that we tell the truth to the American people. First principles are these: No one's above the law. And the president and all those implicated are entitled to the presumption of innocence that every American enjoys," Pence said.
"Secondly, with respect to what the former president and his allies have said for now more than two and a half years, and continue to insist at this very hour: The Georgia election was not stolen, and I had no right to overturn the election on Jan. 6," he added, to applause.
Pence went on to quote Georgia Gov. Brian Kemp from Tuesday, saying, "'Anyone with evidence of fraud has failed to come forward.'"
"And I'll always believe, by God's grace, I did my duty that day to see to the peaceful transfer of power under the Constitution of the United States and the laws of this country," Pence said, referring to Jan. 6, 2021, when he presided over the certification of the 2020 election results in a ceremonial role.
Since Pence and Trump left office, and since Pence has launched his 2024 campaign, he has increasingly highlighted his differences with Trump over Jan. 6.
While he touts other accomplishments during their administration, he has been vocal about disagreeing with the claim that he could have stopped the Electoral College certification, as Trump wanted.
"Should I have the privilege to serve as your president, I will always keep my oath to the Constitution," Pence said Wednesday.
The former vice president tied his oath to the Constitution — "the framers wrote federalism directly into the Electoral College system" — to a conservative policy plan he unveiled that would, he said, empower state lawmakers and expand federalism.
Ticking through some highlights, Pence said he would eliminate the U.S. Department of Education, return block grants for federal health care funds back to the states, repeal all Affordable Care Act mandates, return millions of acres of federal land back to states and prohibit regulations that imposes mandates on states.
The plan, detailed on Pence's website, would also return control of highway trust spending back to states, convert all federal housing programs to state block grants and limit the federal use of eminent domain to seize private land for public use in exchange for payment.
"The plan is really just about freeing the states to lead," Pence said. "And I promise, should I have the opportunity to be your president, you will have a champion in the states in the Oval Office of the White House."
Taking a few questions, Pence was asked by an attendee how he'll win over Trump voters. He brought up the opportunity at next week's GOP primary debate, in Milwaukee, and said he hopes Trump shows up.
"And I hope it's the beginning of a vigorous debate about the future of the country, because while we've talked today about a difficult time in our recent past, elections are about the future. And candidly, the differences that I have with my former running mate have as much to do with different visions for the American future," he said.
Copyright © 2023, ABC Audio. All rights reserved.