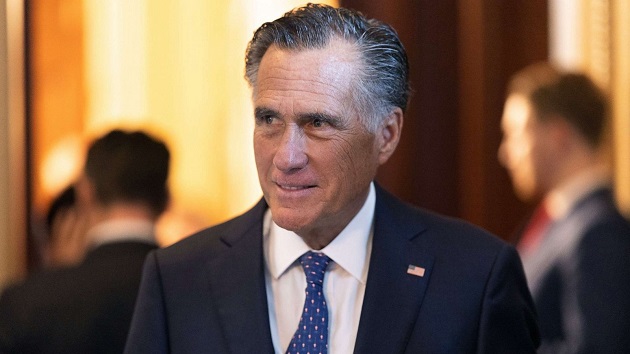 (WASHINGTON) — Utah Sen. Mitt Romney hasn't yet said if he'll run for a second term, next year — but if he does, he'll face a primary challenge from other Republicans who think he's vulnerable with the base because of his renunciation of former President Donald Trump.
Romney boasts a lengthy conservative record and deep ties to the party: A former Massachusetts governor, he was the 2012 GOP presidential nominee. (His father was a Republican governor of Michigan.)
But he has also been Senate Republicans' top Trump detractor, repeatedly lambasting Trump's character and voting to convict Trump after each of his impeachments, becoming the first lawmaker of a president's party to vote against him at trial.
That's thrust Romney's future into limbo, some party strategists in Utah say, because it's put him at odds with GOP voters who view Trump much more favorably than he does.
"I don't think it's set in stone either way right now. I think that he has a great advantage because of name recognition, money, people that are used to thinking about Romney in a great light," said one Utah GOP strategist, who asked not to be named to frankly discuss next year's Senate race. "But he also has the problem of my mother, every time she talks to me about politics, asking me when Mitt Romney is going to get defeated."
"I probably give him about a 60-40 shot right now," this person said. "I absolutely think it's a dogfight if he runs."
Seemingly sensing an opening, several conservatives in the state are mulling runs of their own.
Riverton Mayor Trent Staggs is the only Republican officially in the race so far, though state House Speaker Brad Wilson has launched a Senate exploratory committee, former Rep. Jason Chaffetz is weighing a campaign and state Attorney General Sean Reyes is thought to be considering a bid, too. (Reyes declined to comment.)
Staggs and Wilson both told ABC News that their efforts are fueled by what they view as frustrations from Utahns over a perceived lack of support from Romney for the party line.
"I know the majority of Utahns are highly conservative and that we deserve, Utah deserves, another conservative senator," Staggs told ABC News. "We're not getting that in Mitt Romney."
Liz Johnson, Romney's chief of staff, expressed confidence in a statement to ABC News that his "record of fighting for Utah speaks for itself" and that while the senator makes his decision on whether to mount a reelection campaign, "we're ensuring he's well prepared to run if he chooses."
But in a sign of grumbling about Romney among state lawmakers, over 60 of them recently signed a letter encouraging Wilson to jump into the primary and Wilson "continues to travel across the state and is constantly hearing that Utahns want a bold, proven and conservative leader as their senator," his spokesperson Chris Coombs said.
Chaffetz, meanwhile, suggested to ABC News that he's leaning against a run in favor of a possible future gubernatorial bid but said he's still considering a chance to join the Senate and sees Romney as somewhat at-risk.
"He's obviously formidable. He's the sitting United States senator. He enjoys a good base of support. But it's still an uphill battle," Chaffetz said. "A lot of conservatives have serious question marks."
Republicans in Utah who spoke to ABC News said much of the intraparty ire that Romney has drawn has focused on the fact that he's bucked Trump so consistently. Some contend that the conflict has overshadowed — or distracted Romney from — his policy work.
He also ruffled feathers last year when he didn't endorse fellow Republican Utah Sen. Mike Lee's reelection bid as Lee — a Trump critic who later embraced him — was facing a challenge from a well-funded independent candidate, Evan McMullin, who ultimately lost by about 10%.
"It's going to be an interesting dynamic, but I just think that ship has sailed for him [Romney]. … I don't think he survives the primary because you do still have to have that base, you have to have some of those Trump voters to make it work. And they're done with him," said Carson Jorgensen, a former chairman of the Utah Republican Party.
Trump could insert himself into the primary, rallying opposition to Romney. One operative in Trump's orbit told ABC News they believed the former president's operation would mobilize if a viable opponent to Romney were to appear.
"No matter what Mitt Romney decides to do, I'm sure Donald Trump will enjoy being right up in his grill," Chaffetz said.
At the same time, Trump has faced his own challenges among conservatives in Utah — more so than in many other red states. In both 2016 and 2020, though he still won Utah, he earned less overall share of the vote than any other GOP presidential candidate had since the '90s.
Among the likely reasons, experts say, is Utah's high concentration of people who are members of the Church of Latter-day Saints, widely known as the Mormon church, and who place a higher premium on moral conservatism and civility in contrast with Trump's personal scandals and habit for crude tbehavior.
A 2016 analysis by the Pew Research Center found voters who identified as Mormon shifted 4% to the left in the presidential race that year, compared to 2012, though Trump still won the vast majority of them.
Romney's allies maintain that Trump's potential involvement in the 2024 Senate primary could help rather than hurt.
"It would be a huge gift if he did" get involved, said one source familiar with the race. "He's never been as popular in Utah as he has been everywhere else. The morality, or lack thereof, of the man who Donald Trump is just doesn't sit well with a state that prides itself on moral issues."
Romney has his own built-in benefits, strategists said, including broad name recognition, incumbency and long-standing good will with the GOP's establishment flank, which could help gin up fundraising support.
"It's easy to say, 'Romney is done, he doesn't have a chance.' But if he decides to run, he's going to be quite formidable," said a former senior Trump administration official with experience in Utah politics.
"I would say a good majority of Republican voters would probably prefer somebody else. The question is, is it somebody else that can generate enough organization and excitement and what have you to actually pull it off? That I don't know. Could Wilson or Staggs do it? I have serious doubts that either of them have the ability to pull that off," the former senior Trump administration official said.
Without declaring his plans, Romney has filed paperwork with the Federal Election Commission to run for reelection, which allows him to continue receiving campaign donations and leaves the door open to a second term. He raised under $70,000 in the second quarter of 2023 but finished June with more than $1.5 million in the bank.
Privately, Romney is said to have signaled that he's not worried about his reelection chances — should he decide to jump in.
"It's definitely his race to lose. And he knows that," the source familiar with the race said. "He has never once raised, 'What if I don't win?'"
Copyright © 2023, ABC Audio. All rights reserved.