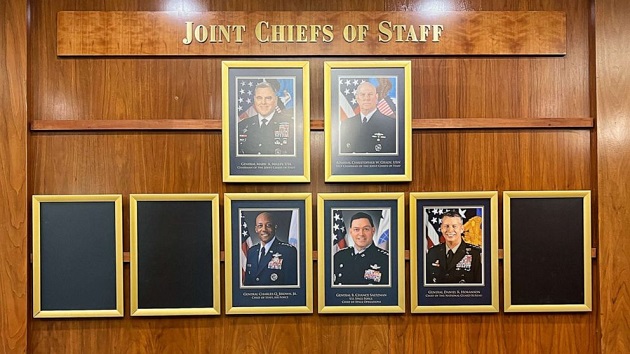 (WASHINGTON) — The Unites States is without confirmed chiefs for three of its military services. Defense Secretary Lloyd Austin called the situation "unprecedented," blaming it on Republican Sen. Tommy Tuberville's hold on high-level military promotions.
"Because of this blanket hold, starting today, for the first time in the history of the Department of Defense, three of our military services are operating without Senate-confirmed leaders," Austin said at a relinquishment of command ceremony for outgoing Chief of Naval Operations Adm. Mike Gilday in Annapolis on Monday. "This is unprecedented, it is unnecessary, and it is unsafe."
In December 2022, Tuberville pledged to block all senior Department of Defense nominations over a Pentagon policy that covers the travel costs of service members seeking abortions in states outside of where they are stationed if they are based in a state that bans the procedure.
A chain-of-command display in the E Ring of the Pentagon has black slates in place of photos for the leaders of the Army, Marine Corps, and now, Navy. The positions are being filled on an acting basis.
If nothing changes by the end of September, there will be another vacancy — and an additional back slate on the photo wall — when Chairman of the Joint Chiefs of Staff Gen. Mark Milley retires. President Joe Biden's chosen replacement for Milley, Gen. CQ Brown, would remain in the panel below as Air Force chief of staff until approved by the Senate.
Tuberville emphasized that his hold does not actually prevent confirmations, because Senate Majority Leader Chuck Schumer has the ability to force a vote on any nominee.
"[Tuberville] expects Gen. Brown to get a floor vote, just as Gen. Milley did, and just as Gen. Brown did when he was confirmed to his current position," Steve Stafford, spokesman for the Alabama senator, told ABC News on Tuesday.
Schumer has rejected this option, not wanting to cave to what he characterizes as a politicization of the military nomination process.
But while Schumer could feasibly force votes for the vacated chairman and service chief positions, it would not be tenable to hold separate votes on each of the hundreds of other officers awaiting promotion.
Austin remarked on what he called "a painful milestone" on Monday, saying, "more than 300 nominations for our outstanding general and flag officers are now being held up in the United States Senate. That includes our top uniformed leaders."
He didn't mention Tuberville by name, referring only to the hold itself when leveling his criticism.
"This sweeping hold is undermining America's military readiness. It's hindering our ability to retain our very best officers, and it is up-ending the lives of far too many American military families. Our troops deserve better, our military families deserve better, our allies and partners deserve better, and our national security deserves better," Austin said.
The Pentagon will not change its abortion travel policy, which it instituted after the repeal of Roe v. Wade, to placate Tuberville, according to deputy Pentagon press secretary Sabrina Singh.
"If you are a service member stationed in a state that has rolled back or restricted health care access, you are often stationed there because you were assigned there, it is not that you chose to go there. And so a service member in Alabama deserves to have the same access to health care as a service member in California, as a service member stationed in Korea. And so that's what that policy does," Singh said during a briefing Tuesday.
Tuberville's office claimed there are no military jobs left unfilled by the hold, saying, "instead, highly experienced acting officials are serving in these roles."
Singh pushed back on this notion during Tuesday's briefing, citing an example from Tuberville's home state of Alabama.
"We have the Defense Missile Agency that right now is being dutifully commanded by a one-star general, but he's filling the role of a three-star, right in Sen. Tuberville's backyard," she said.
ABC News' Allison Pecorin contributed to this report.
Copyright © 2023, ABC Audio. All rights reserved.