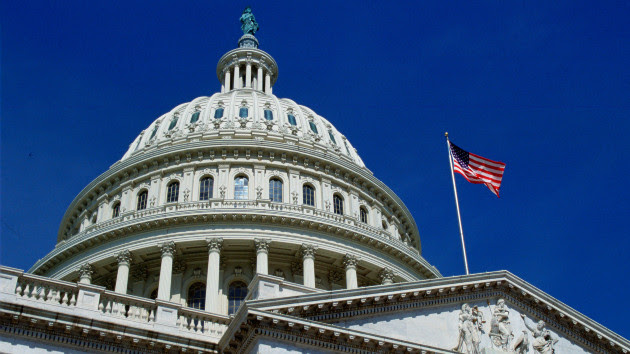 (WASHINGTON) — Many congressional Republicans are again coming to former President Donald Trump's defense after he was indicted a fourth time.
A Georgia grand jury late Monday issued a sprawling indictment against Trump and 18 others on charges related to alleged efforts to overturn the results of the 2020 presidential election in the state.
Trump has denied all wrongdoing and has attacked the prosecution as politically motivated, as he's done with the previous charges brought against him in New York and by special counsel Jack Smith.
Speaker Kevin McCarthy, R-Calif., and other GOP allies of the former president echoed his claim.
"Justice should be blind, but Biden has weaponized government against his leading political opponent to interfere in the 2024 election," McCarthy tweeted shortly after the Georgia indictment was handed up. "Now a radical DA in Georgia is following Biden's lead by attacking President Trump and using it to fundraise her political career. Americans see through this desperate sham."
Ohio Rep. Jim Jordan, a Republican and chairman of the House Oversight Committee, said that the charges are "just the latest political attack in the Democrats' WITCH HUNT against President Trump."
"He did nothing wrong!" Jordan added.
Rep. Elise Stefanik, the No. 3 House Republican, released a statement where she called the new charges "blatant election interference."
Fulton County District Attorney Fani Willis, in a press conference announcing the indictment, pushed back on Trump's claim that the prosecution was politically motivated.
"I make decisions in this office based on the facts and the laws," Willis said. "The law is completely nonpartisan. That's how decisions are made in every case."
Democrats, in response to the indictment, said it reinforced the idea that no one is above law.
"The fourth indictment of Donald Trump, just like the three which came before it, portrays a repeated pattern of criminal activity by the former president," Senate Majority Leader Chuck Schumer and House Minority Leader Hakeem Jeffries said in a joint statement.
"As a nation built on the rule of law, we urge Mr. Trump, his supporters, and his critics to allow the legal process to proceed without outside interference," Schumer and Jeffries said in the statement.
Rep. Bennie Thompson, a Democrat who chaired the House Jan. 6 Committee, said the Georgia charges are "part of a long journey to bring accountability for a multi-part conspiracy to overturn Georgia's election results, which threatened the lives and livelihoods of brave election workers, like Ruby Freeman and Shaye Moss, who make American democracy work."
"A fair trial in this case will demonstrate this Nation's commitment to the rule of law and show that the United States is not defined by those who would attempt to undermine its fundamental values," Thompson said.
Copyright © 2023, ABC Audio. All rights reserved.