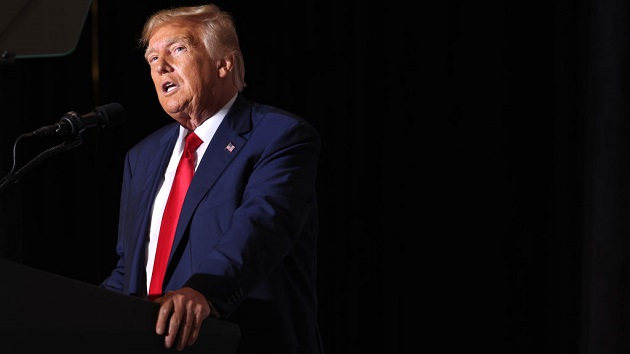 (ATLANTA) — With former President Donald Trump indicted on criminal charges for the fourth time, the pardoning process in Georgia has come into focus.
Trump and 18 other people were charged late Monday in a sweeping indictment under Georgia's racketeering, or RICO, law for alleged efforts to overturn the results of the 2020 presidential election in Georgia.
The indictment, which follows a yearslong probe by Fulton County District Attorney Fani Willis, alleges that Trump, who faces 13 charges, made 13 false statements in his effort to overturn the election results.
Because RICO is a state charge, it cannot be pardoned by any president.
ABC News legal contributor Dan Abrams called the Fulton County indictment "more dangerous" for Trump compared to the federal charges he's facing.
"It's effectively pardon-proof, in the sense that with a federal case, if he wins the election, he can kind of make it go away," Abrams said on "Good Morning America" on Tuesday. "This case, he can't do that."
Georgia's RICO charge carries a mandatory minimum sentence of five years in prison if convicted.
In Georgia, a pardon is an "order of official forgiveness" only granted to those who have completed their sentence, according to the State Board of Pardons and Paroles' website.
A pardon "does not expunge, remove or erase the crime from your record," the website states. "It may serve as a means for a petitioner to advance in employment or education."
A pardon will also restore civil and political rights.
In Georgia, pardon power does not rest with the governor (aka Gov. Brian Kemp, a Republican) but with the State Board of Pardons and Paroles, a board within the state's executive branch.
The State Board of Pardons and Paroles is made up of five members who are appointed by the governor and then confirmed by the state Senate for a seven-year term.
"Once confirmed, members would be insulated from political pressures by the fact that no one official could remove them from office until they completed their terms," the State Board of Pardons and Paroles' website states.
To qualify for a pardon in Georgia, according to the State Board of Pardons and Paroles' website, you must have completed your sentence at least five years before applying. You must not have committed any crimes in those five years or have any pending charges, among other qualifications.
After the Fulton County grand jury indicted Trump, the former president announced he will hold a press briefing on Monday to present a "Large, Complex, Detailed but Irrefutable REPORT" on alleged election fraud that took place in Georgia.
In response, Kemp refuted Trump's claims of election fraud.
"The 2020 election in Georgia was not stolen," he said on social media. "For nearly three years now, anyone with evidence of fraud has failed to come forward — under oath — and prove anything in a court of law. Our elections in Georgia are secure, accessible, and fair and will continue to be as long as I am governor."
ABC News' Olivia Rubin and Alexandra Hutzler contributed to this report.
Copyright © 2023, ABC Audio. All rights reserved.