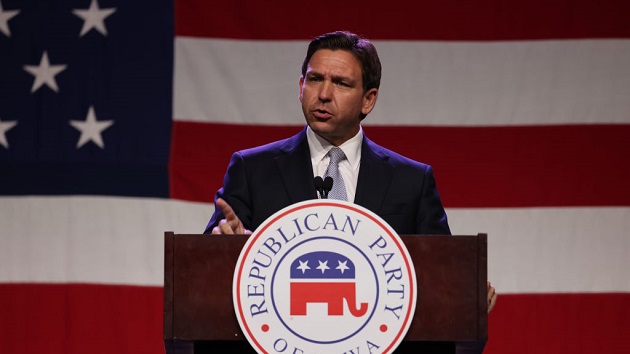 (TALLAHASSEE, Fla.) — Florida Gov. Ron DeSantis has "basically moved on" from his conflict with The Walt Disney Co., he told CNBC on Monday, contending that Disney should "drop the lawsuit" it filed claiming a "targeted campaign of government retaliation" by DeSantis' administration, which DeSantis denies.
Asked what he would tell Disney's CEO Bob Iger, DeSantis said, "I would just say, 'Go back to what you did well.' I think it's going to be the right business decision and all that."
"But where we are today, you know, we've basically moved on," he added. They're suing the state of Florida, they're going to lose that lawsuit. So what I would say is: Drop the lawsuit."
DeSantis said he has not talked to Iger about the legal battle but would be willing to.
The comments mark a shift in tone for the governor, who is seeking the 2024 Republican presidential nomination and who has seemingly relished his fight with the corporate giant, which is the largest private employer in the state (and the parent company of ABC News).
DeSantis has regularly brought up Disney while on the campaign trail.
While the company claimed in its lawsuit, filed in April, that DeSantis "orchestrated … punishment for Disney's protected speech" because Disney publicly opposed a state law restricting discussion of LGBTQ issues in the classroom, DeSantis has pushed back on that, arguing he is standing up to corporate overreach.
"There was a company in Central Florida that some of you may have heard of that wasn't too happy with us called Disney. And at the end of the day, in Florida, usually whatever Disney wanted would be done … until I arrived on the scene," he told a crowd in Oskaloosa, Iowa, last week.
At the same time, DeSantis has tied the clash with Disney to his larger criticism of so-called "woke" values, which is a key part of his presidential bid.
Iger has said Disney's goal "is to continue to tell wonderful stories and have a positive, positive impact on the world."
The bad blood dates to last year when Disney, under then-CEO Bob Chapek, opposed a new piece of legislation, titled the Parental Rights in Education Act, which sought to eliminate discussions of sexuality or gender identity in some K-12 classrooms. Critics denounced the legislation as the "Don't Say Gay" bill, which its supporters oppose.
The state Legislature went on to pass a law, signed by DeSantis, to revoke Disney's long-held special tax district in Florida.
DeSantis has maintained that he just wants a fair playing field for companies and that Disney's special status, which allowed it to essentially self-govern the area around its Orlando theme parks, gave it unfair advantages. Florida has numerous other special districts, but DeSantis has insisted Disney didn't need theirs.
"All we want to do is treat everybody the same and let's move forward. I'm totally fine with that," he said in the CNBC interview.
Some of his rivals for the Republican nomination have criticized DeSantis for butting heads with Disney.
"I don't think Ron DeSantis is a conservative, based on his actions toward Disney," former New Jersey Gov. Chris Christie said this spring.
Former President Donald Trump called it "so unnecessary."
Copyright © 2023, ABC Audio. All rights reserved.