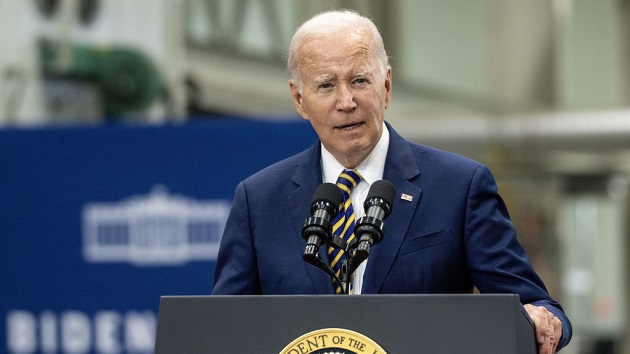 (WASHINGTON) — President Joe Biden on Tuesday pledged to help Maui recover from the devastating wildfires there "as long as it takes" and said he and the first lady would visit the state as soon as they can.
"We will be there in Maui as long as it takes," Biden said during unrelated remarks in Milwaukee. "As long as it takes. And I mean that sincerely."
The president listed ways the federal government had provided assistance for victims of the fires, which claimed at least 99 lives. According to the administration, 300 Federal Emergency Management Agency workers are currently on the ground, and the agency has provided approximately 50,000 meals, 75,000 liters of water, 5,000 cots and 10,000 blankets.
"Think about this: All that area they got to plow up, they can't do it now because they don't know how many bodies are there," Biden said. "They don't know what's left. Imagine being a mom or dad wondering where your child is. Imagine being a husband or wife, a mother, a father. It's really tough stuff."
The president said he is planning to visit the state with first lady Jill Biden, but said he doesn't want to impede the ongoing clean up and recovery efforts.
"My wife Jill and I are going to travel to Hawaii as soon as we can. That's what I've been talking to the governor about it. I don't want to get in the way," Biden said. "I've been to too many disaster areas. But I want to go, make sure we got everything they need. I want to be sure we don't disrupt the ongoing recovery efforts."
Biden's comments followed criticism from conservatives in recent days that he has remained relatively silent about the wildfires' impact despite the increasing death toll.
While he did comment on the fires on Thursday – also at the start of an unrelated speech – Biden hadn't spoken publicly about them since.
He spent the weekend at his beach home in Rehoboth Beach, Delaware, where the White House said Biden had been in touch with the head of the FEMA, as well as Hawaii's governor.
But on Sunday, as he returned from the beach in Delaware and was about to enter his vehicle, a reporter asked him if he would comment on the death toll in Maui. With a smile, he replied, "No, no comment."
Former President Donald Trump, who is running for the Republican nomination for president, slammed Biden in a campaign video Monday, noting Biden had "been spending a great deal of time" at the beach.
"To say no comment is oftentimes fine, but to be smiling when you say it, especially again, such a tragedy as this, is absolutely horrible and unacceptable," the former president said.
Trump drew a line between Maui and the train derailment in East Palestine, Ohio, which Biden never visited despite pledging to do so.
"It is a disgraceful thing that Joe Biden refuses to help or comment on the tragedy in Maui, just as he refused to help or comment on the train derailment in East Palestine, Ohio, for a very, very long time."
In the face of criticism Monday, White House press secretary Karine Jean-Pierre argued that Biden had stayed engaged with FEMA and Hawaii's elected leaders and that the federal government has continuously fulfilled Hawaii's requests for assistance.
"What the president wants to make sure is that … the government of Hawaii has everything that they need to support the people on the ground," Jean-Pierre said.
Several other lawmakers have weighed in Biden's response to the Maui wildfires.
Senate Majority Leader Chuck Schumer said on a press call Tuesday morning that his "heart goes out to everyone who has been impacted by the fires in Maui" and that the Biden administration is working to secure additional disaster funding for this and other disasters. Schumer said he has spoken to Hawaii Sens. Mazie Hirono and Brian Schatz — both Democrats — and has "committed to them to have the Senate do everything we could to help Hawaii."
Hirono tweeted her gratitude to Biden in the aftermath of the wildfires.
"To be clear, @POTUS and his administration have been incredibly helpful over the past week. I'm glad to see so many on the right are so concerned about what's happening in Hawaii though – I look forward to them supporting the robust federal relief funding our state will need," Hirono wrote.
ABC News' Soorin Kim and Allison Pecorin contributed reporting to this article.
Copyright © 2023, ABC Audio. All rights reserved.