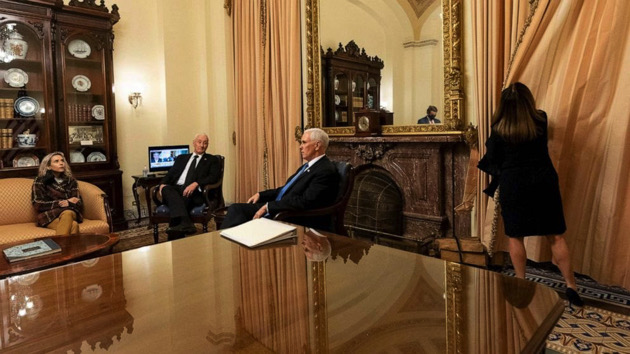 (NEW YORK) — On Jan. 6, 2021, when then-second lady Karen Pence drew the curtains of the vice president's ceremonial office on Capitol Hill, shielding her family from the unfolding attack moments after their evacuation from the Senate chamber, she says she never feared for her life.
"Never," Karen Pence told ABC News Live Prime Anchor Linsey Davis in a new interview, marking some of her first public comments on the day. "I just was discussing this with someone here in Iowa a few minutes ago, I never felt afraid."
"I really felt like we just had such a peace and God's presence," she said during the interview — part one of which airs Monday night on ABC News Live Prime at 7 p.m., 9 p.m. and 11 p.m. ET. "And just a sense of purpose and determination that I don't think any of us in the whole group – all the staff and everyone with us — I don't think any of us felt fear. I think we felt like a sense of resolve."
Asked specifically by Davis about closing the curtains, a moment cemented in history by the former vice president's photographer, the former second lady pinned the move on "conditioning" from years in public life.
"I think once you become, you know, second lady, life changed a lot for us. In fact, during the transition, we rented a home near D.C. And I remember walking in that home the first day — and Secret Service had put a butcher block paper, you know, all over the windows — and you couldn't even see outside," she said.
"And every time we traveled, they would have bulletproof glass in every hotel room. So it's a conditioning thing that I just knew. Whenever you're in a situation where someone might be able to shoot through the window, just close the drapes," she continued. "That was my thinking at the time was like, 'Wait a minute. Things are starting to happen out there. Let's close the drapes.'"
"You say things were starting to happen," Davis followed up. "But at what point did you realize my family could be in danger?"
"Well, the Secret Service are phenomenal men and women," she replied. "And they made it clear to us right away that, you know, there might be a point where we would need to move to a different location.
"And so that was pretty clear to us from the very beginning because they had come and gotten us out of the Senate chambers and taken us back to Mike's office and in the Senate. So, it was clear pretty early on that we might need to vacate that room and go somewhere else," she added.
In his memoir released last November, So Help Me God, the former vice president similarly described feeling grounded by God when they were evacuated from the Senate chamber with their daughter Charlotte.
"We stood together in that cramped office and watched the mayhem unfolding inside and around the Capitol on a small television set. The scenes were alarming," Pence wrote. "I have often told our three children that the safest place in the world is to be in the center of God's will. I knew in my heart that we were where we were supposed to be, doing what we were supposed to be doing. I felt resolve and at peace informed by my upbringing in Indiana, my faith, my family, a lifetime of service and lifelong love of the Constitution."
"Responding to a muffled roar in the distance, my wife closed the drapes over the large windows facing outside to the north, as our lead Secret Service agent returned to make one more urgent plea for us to leave," he continued. "I pointed my finger at his chest and said, 'You're not hearing me. I'm not leaving.'"
Not long after the photo was snapped, the Pences were rushed below the Capitol complex to a loading dock — where the vice president then refused to get in the car with the Secret Service.
"It wasn't my first rodeo," Pence wrote in his book. "I just knew that if I got into the car and that 200-pound door shut, somebody was going to tell the driver to get us out of the building."
Karen and Charlotte Pence stayed at the Capitol until the early morning hours of Jan. 7, 2021, when the gavel finally fell, and President Joe Biden's victory was affirmed. Noting this fact, Pence has called himself "truly blessed."
When he launched his campaign for president in June, Pence said it came after prayer and deep reflection with his family — and two and half years after Trump "demanded" he choose him over the Constitution.
"As I've said many times, on that fateful day, President Trump's words were reckless. They endangered my family and everyone at the Capitol," he said on June 8, 2023, in Iowa. "But the American people deserve to know that on that day, President Trump also demanded that I choose between him and the Constitution. Now, voters will be faced with the same choice: I chose the Constitution, and I always will."
Pence has since leaned into his criticism as Trump faces criminal charges around alleged efforts to overturn the 2020 election. Pence's campaign says it received 7,400 donations the day after Jack Smith's latest indictment, which mentioned the former vice president's role more than 100 times, came down.
As Pence lays out his differences with Trump, which he says extend beyond Jan. 6, Karen is never far.
He fondly introduces her on the stump as "the highest-ranking official in the room: a Marine Corps mom, a lifelong schoolteacher, accomplished artist, bestselling author and the best second lady in the United States of America has ever had."
More than 38 years after meeting at church in Indiana, the Pence couple's faith continues to guide their marriage, and offered guidance on Jan. 6, like any other day.
More of former second lady Karen Pence's interview will be running this September as part of ABC News Live Prime's "running mates" series highlighting the spouses of presidential candidates.
Copyright © 2023, ABC Audio. All rights reserved.