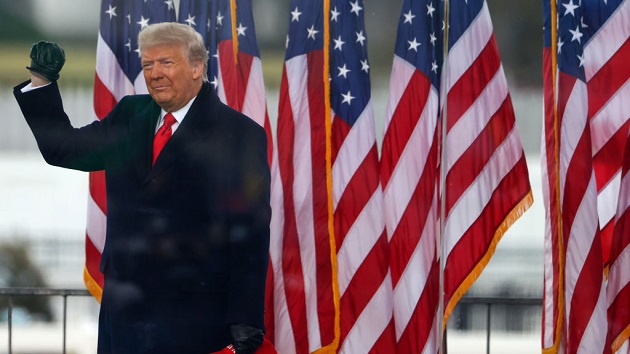 (WASHINGTON) — A newly revealed memo from December 2020 offers new insight into efforts by then-President Donald Trump's legal team to keep Trump in power following his loss to Joe Biden in the 2020 election.
The Dec. 6, 2020, memo, authored by attorney Kenneth Chesebro, lays out a plan to pursue slates of supposedly "alternate" electors in order to prevent Biden from amassing 270 electoral votes.
The memo, which was obtained by ABC News, was referred to in the Aug. 1 four-count indictment of Trump as the "Fraudulent Elector Memo."
Trump pleaded not guilty last week to charges of undertaking a "criminal scheme" to overturn the results of the 2020 election by enlisting a slate of so-called "fake electors" targeting several states; using the Justice Department to conduct "sham election crime investigations"; and trying to enlist the vice president to "alter the election results" — all in an effort to subvert democracy and remain in power.
He has denied all wrongdoing and dismissed special counsel Jack Smith's probe as politically motivated.
Prosecutors say Chesebro was working with the Trump legal team to find ways to challenge the outcome of the election in order to keep Trump in office.
The Dec. 6 memo, which was first obtained by The New York Times, advocates for Trump electors in six contested states, including Arizona, Georgia, Michigan, Nevada, Pennsylvania and Wisconsin, to meet, vote and send in their certificates to be counted during the certification of the vote on Jan. 6.
Prosecutors describe the memo as a plan to "mimic as best as possible the actions of the legitimate Biden electors, and that on January 6, the Vice President open and count the fraudulent votes, setting up a fake controversy that would derail the proper certification of Biden as president-elect."
The memo recommends launching a messaging effort that presents the plan as a "routine measure," while also acknowledging it is a "bold, controversial strategy, and that there are many reasons why it might not end up being executed on January 6."
A lawyer for Chesebro did not immediately respond to an ABC News request for comment.
Copyright © 2023, ABC Audio. All rights reserved.