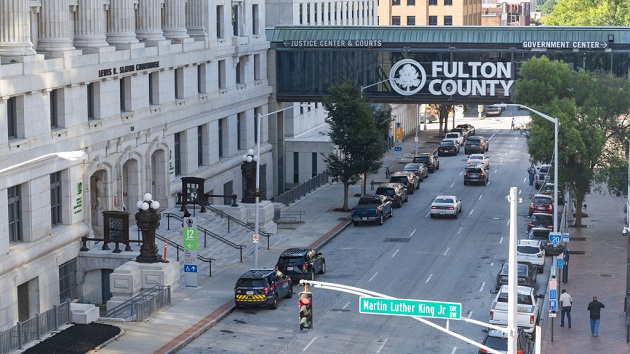 (ATLANTA) — Fulton County District Attorney Fani Willis, the Georgia prosecutor who has been leading an investigation into efforts by former President Donald Trump and his allies to overturn the 2020 election results in the state, is likely to go before the grand jury next week to present her case, sources familiar with the matter tell ABC News.
Willis, who has been investigating the case for over two and a half years, launched the probe after Trump's Jan. 2, 2021, phone call to Georgia Secretary of State Brad Raffensperger in which Trump urged him to "find 11,780 votes" — the exact number Trump needed to win Georgia.
Last week Willis signaled that an indictment of the former president could be imminent, telling a local news outlet, "We've been working for two and a half years — we're ready to go."
After Fulton County Judge Robert McBurney last week denied Trump's motion to have Willis removed from the probe, Trump's attorneys filed a notice of appeal, signaling their intent to appeal the decision to the Georgia Supreme Court.
Another indictment of Trump would be the fourth for the former president, who is currently facing charges in the special counsel's Jan. 6 investigation, the special counsel's classified documents probe, and the Manhattan DA's hush money case.
Trump has pleaded not guilty to all charges and has denied all wrongdoing.
A spokesperson for the Fulton County DA's office declined to comment when contacted by ABC News.
Copyright © 2023, ABC Audio. All rights reserved.