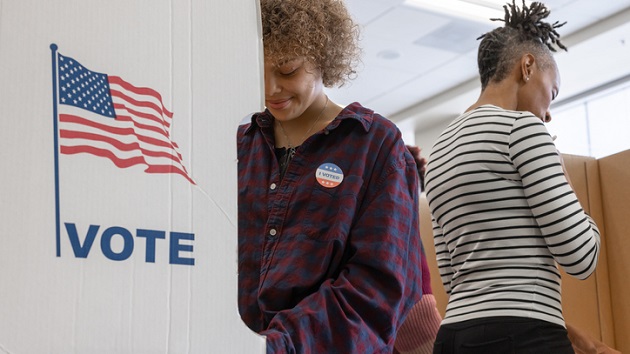 (WASHINGTON) — Looking ahead to 2024, Democrats concede some cause for concern — including President Joe Biden's anemic approval rating and early polls forecasting a repeat race against former President Donald Trump in which Biden either ties or trails, due in part to a notable chunk of undecided voters and apprehension over Biden's age and acuity, which he has repeatedly dismissed.
But Democrats also say that based on 2023 so far, they see plenty of reason for optimism about their chances with voters.
An analysis from FiveThirtyEight found that in 38 special elections held so far this year, Democrats have outperformed the partisan lean — or the relative liberal or conservative history — of the areas where the races were held by an average of 10%, both romping in parts of the country that typically support the party while cutting down on GOP margins in red cities and counties, too.
For instance, the Democratic candidate in a Wisconsin State Assembly special election last month lost by just 7 points in an area where Republicans have a 22-point edge and where Trump beat Biden by almost 17 points in 2020.
In a New Hampshire special election in May for a state House seat, the Democrat won by 43 points, far beyond the party's estimated 23-point edge in the district.
The data from FiveThirtyEight does not include regularly scheduled off-year elections, including the Wisconsin Supreme Court race earlier this year in which the liberal candidate, now-Justice Janet Protasiewicz, won by 11 points — in a state famous for its wafer-thin election margins.
"I think when you when you look at things like this, one special election doesn't mean much on its own. But when you start to see real consistency, it can certainly become predictive of the next election cycle," said Ben Nuckels, a Wisconsin Democratic strategist who consulted on Protasiewicz's campaign.
For comparison, according to FiveThirtyEight, Democrats outperformed the weighted partisan lean by about 4% in special elections held between the 2018 midterms and the 2020 elections, when Biden won the White House by 4.5% but Democrats underperformed in House races.
Conversations with eight Democratic and Republican operatives in swing states show some repeated explanations for this success: the public's general support for abortion access after the Supreme Court reversed the national guarantee for the procedure last year along with angst and anger over Trump's comeback bid, given how divisive he remains — two factors which might even overcompensate for Biden's sagging approval ratings.
"Republicans have not had a good election night since before the Supreme Court overturned Roe v. Wade. And, honestly, it seems like post-Roe Republicans couldn't find their groove even if a DJ played their favorite song on repeat," Nuckels said. "So I think Democrats are in a very good position here going forward."
Special and off-year elections are not perfect predictors of major election cycles. Now-Virginia Gov. Glenn Youngkin, a Republican, earned a surprise victory in 2021 — before Democrats' surprisingly strong performance in the 2022 midterms.
However, similar elections held in 2017 and 2019 did precede Democratic successes in 2018 and 2020.
"I think what we're seeing is that the Dobbs decision has fundamentally rewired our politics, and almost every other measure than actual votes cast has yet to figure out how to bake that in. And so, whether you're talking about traditional approval ratings, whether you're talking about polling, the ground has shifted," said Wisconsin Democratic strategist Joe Zepecki.
"Almost all of these elections keep ending up different than what you would have expected — in the same direction. And so, that, to me, suggests that there's some stickiness to this," he added. "And the only thing that might change it is clarity on this issue, something like a federal codification of [abortion rights]. And you and I both know we're not going to see that between now and next November."
Republican operatives also sounded some alarm, telling ABC News the trend cannot be ignored.
"If you're looking at this plus-22 [pro-GOP] seat and you want to know why this guy won by a lot smaller percentage than what you would have thought … it's because this issue is still there. Republicans still have to figure out how to address the abortion issue," said Wisconsin GOP strategist Brandon Scholz.
"I think you have to be very concerned."
Other Republicans pointed to the current lack of party unity over Trump — amid the 2024 primary — to help explain the special election results.
"You could probably make a connection a little bit to the presidential race, that there's a lot of candidates in right now. There's the Trump folks and folks that are backing somebody else, and the party's not united nationally around one candidate right now, or at least not completely. Sometimes that affects turnout and funding and stuff like that," said GOP consultant Josh Novotney, who is based in Pennsylvania, where Democrats flipped the state House in special elections earlier this year.
Other conservatives cautioned against taking too much away from how the 2023 results could predict who wins next year.
Special elections are notorious for funky turnouts, sometimes relying on only the most motivated groups and with other voters at times even unaware they're happening at all, especially in an odd-numbered year. On top of that, less money is often spent on special elections rather than regularly scheduled races, impacting the outreach campaigns can do to win over voters.
"I am someone who, over the years, has always cautioned about reading too much into specials, regardless of whether they help your cause or hurt your cause," said veteran Pennsylvania GOP strategist Chris Nicholas.
However, whether or not this year's special elections are forecasts of next year's results, strategists on both sides of the aisle expected the Democratic drumbeat over abortion and Trump to continue.
"They thought it could juice their turnout, and they were they were successful in that regard. And they weren't subtle about it at all. They're just like, 'We know this is a hot-button issue for us, and we're gonna keep milking it till it runs dry.' I think you'll see that a lot in the fall and next year as well," Nicholas said, referencing one special election in Pennsylvania earlier this year.
Democrats who spoke to ABC News were torn over whether the trend is strong enough to last until November 2024, with some pumping the brakes and others appearing more bullish.
"I think it's less of a tea leaf and maybe an inspiration, that if Democrats are able to control the narrative in these races, where they're able to talk to voters about the stakes around abortion and then also contrast the Republicans' focus on the culture war with the real kitchen table issues that a lot of these Democratic candidates are also focusing on — that there's a path to be able to both motivate more Democrats to turn out and win the swing voters," said Pennsylvania Democratic strategist J.J. Abbott.
Zepecki, another Democrat, said that "the rules have been rewritten, we don't know what they are."
"We're using old benchmarks to try to forecast going forward. And I think what we need to look at is less of the noise and more of signal," he said. "Right now, the noise is [what] you see on cable news, and it's people tweeting all day. The signal, what we should be looking for, are election results. That's what ultimately is telling the story."
Outside of 2023's special elections, Democrats still face a range of high-profile regular races this year that are expected to be competitive — including for Virginia's entire state Legislature and governorships in Kentucky and Louisiana.
Susan Stancill, the chair of the Democratic Party in Washington County, Va., said she has "a lot" of confidence after this year's special election results, including in rural counties like hers where Democrats aren't winning but are cutting down Republicans' margins.
"We have five constitutional and party candidates on our ballot, and then an additional four school board candidates, and I'm optimistic we're gonna run the table," she said. "And you might tell me I'm crazy. But ask me in November."
Copyright © 2023, ABC Audio. All rights reserved.