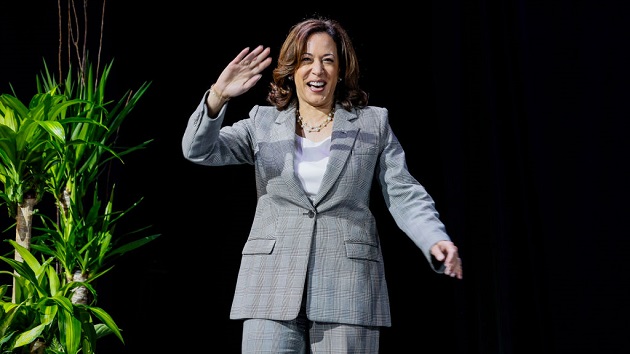 (ORLANDO, Fla.) — Vice President Kamala Harris returned to Florida Tuesday and continued to take aim at the state's widely panned new Black history curriculum standard that suggests enslaved people learned skills that could later benefit them.
"Right here in Florida, they plan to teach students that enslaved people benefitted from slavery," Harris said in remarks at a Women's Missionary Society of the African Methodist Episcopal Church convention in Orlando. "They insult us in an attempt to gaslight us, in an attempt to divide and distract our nation with unnecessary debates."
The state board last month unanimously approved the new standards, including a portion of "benchmark clarifications," one of which calls for the instruction of "how slaves developed skills which, in some instances, could be applied for their personal benefit."
"And now they attempt to legitimize these unnecessary debates with a proposal that most recently came in of a politically-motivated roundtable," Harris added.
On Monday, DeSantis sent a letter to Harris, obtained by ABC News, inviting her to visit Tallahassee and discuss the state's new standards, while also attacking the Biden administration for taking "cheap" shots.
"One would think the White House would applaud such boldness in teaching the unique and important story of African American History," DeSantis wrote in the letter. "But you have instead attempted to score cheap political points and label Florida parents 'extremists.' It's past time to set the record straight."
"Well, I'm here in Florida, and I will tell you, there is no roundtable, no lecture, no invitation we will accept to debate an undeniable fact: there were no redeeming qualities of slavery," Harris shot back without mentioning DeSantis by name, eliciting applause from the audience.
The state board last month unanimously approved the new standards, including a portion of "benchmark clarifications," one of which calls for the instruction of "how slaves developed skills which, in some instances, could be applied for their personal benefit."
In a sit-down interview on Friday with "ABC News Live Prime" anchor Linsey Davis, the vice president said it was "ridiculous" she has to say enslaved people did not benefit from slavery.
"This is just a matter of whether one chooses to speak fact and truth or not, and it's pretty much that simple" Harris told Davis.
Tuesday's trip to Florida is Harris's second to the Sunshine State is the past two weeks. Harris made a previously unscheduled stop Jacksonville on July 21 to rail against the new standards just two days after it was approved.
This summer, Harris has logged many miles crisscrossing the country and going on offense on many political battle fronts, including on the issue abortion.
On Friday, moments before Republican presidential candidates took the state across town in Des Moines, Iowa, Harris lambasted abortion bans, including one in the state.
"How dare these supposed leaders, these supposed leaders have decided they're in a better position to tell her what's in her best interest than she is to know," she said.
Iowa GOP Gov. Kim Reynolds signed a six-week abortion ban just two weeks earlier.
"We have a responsibility not only to protect the unborn in law, but to change the destructive culture of abortion that still exists in a post-Roe world," Reynolds said in statement at the time of the signing.
Harris was also deployed to North Carolina in June to cap the Biden administration's week-long effort to center abortion in the political debate and deliver remarks exactly one year after the Supreme Court overruled its Roe v. Wade decision legalizing abortion nationwide.
In her remarks, Harris also took aim at the state's 12-week abortion ban that would into effect a week later, and those like it.
Harris told the crowd in Charlotte that since the Court's decision women were suffering the consequences of "Laws that in design and effect have created chaos, confusion, and fear. Laws that have denied women of our country care even when their life and health were at risk."
State Rep. Anna Eskamani, a Democrat who represents parts of Orlando in the Florida Legislature, said Harris's distinction as the first woman and first Black and South Asian vice president makes her the ideal face of the administration's fight.
"I think she fits in all these intersections that are under attack right now and she can really offer that — not just that clear opposition, but a clear vision for the future," Eskamani told ABC News.
Harris also appears to be having more success at galvanizing Democrats' base than President Joe Biden.
A New York Times/Siena College poll out Tuesday found that six percent more Democrats would be more enthusiastic if Harris led the ticket compared to Biden, 26% to 20%.
The critical bloc of independent voters the president needs to attract in what will likely be another close election were twice as likely to view a Harris nomination enthusiastically than a Biden one, at 16% and 8% respectively, the poll also found.
Eskamani says she understands Harris' appeal.
"To have our voice and our concerns be elevated to what is essentially an international platform because of her leadership, it helps us hold the line…" Eskamani said.
ABC News' Hannah Demissie, Olivia Osteen, Will McDuffie, and Ben Gittleson contributed to this report.
Copyright © 2023, ABC Audio. All rights reserved.