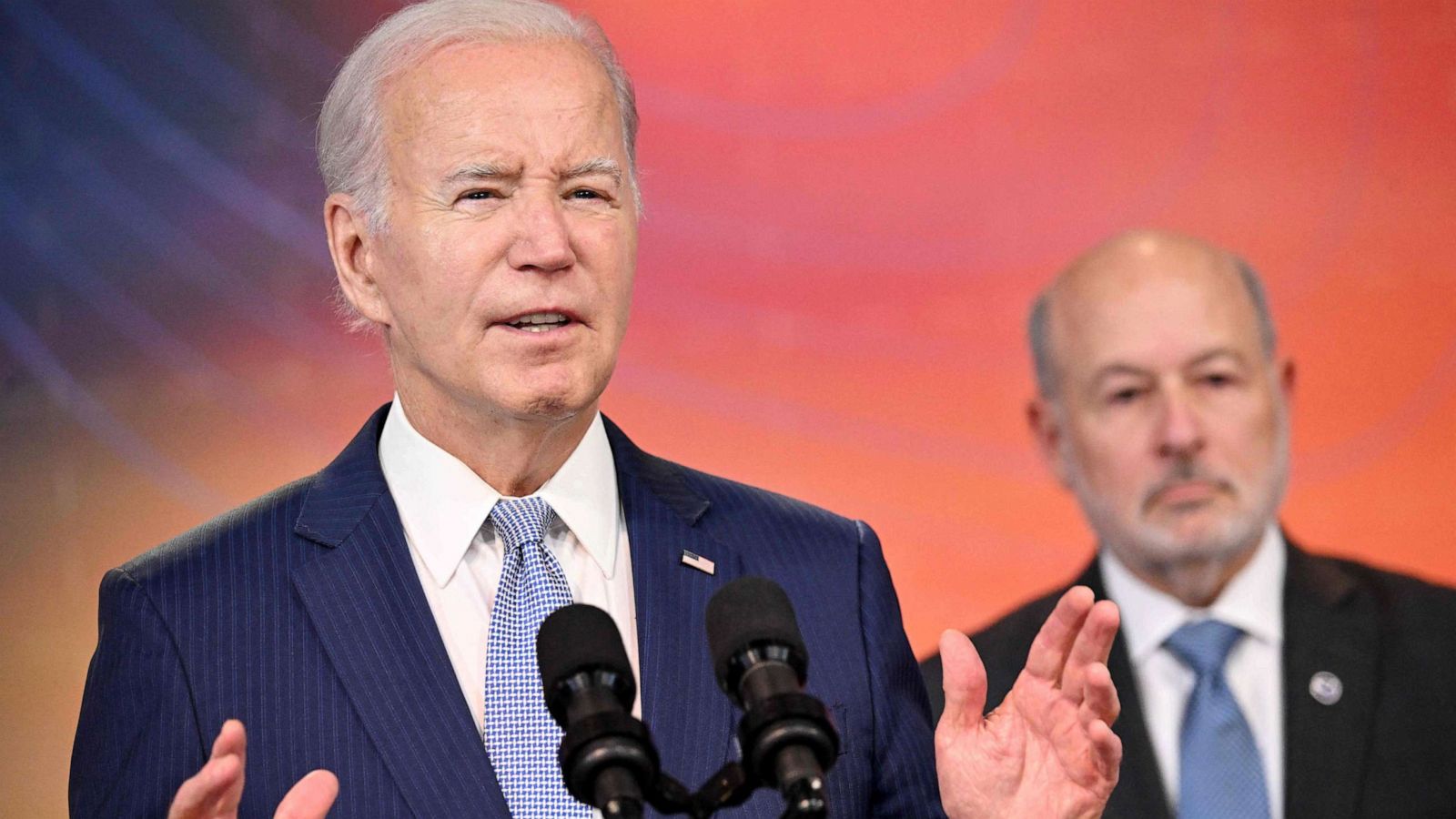 (WASHINGTON) — President Joe Biden on Thursday announced steps to help communities keep cool and stay safe as deadly heat continues to blanket much of the U.S.
Biden met virtually with the mayors of Phoenix and San Antonio, whose cities have endured record-breaking triple-digit temperatures, at the White House for a briefing on extreme heat conditions by the leaders of the Federal Emergency Management Agency and the National Oceanic and Atmospheric Administration.
Biden said the officials were there to talk about the "existential threat" of climate change.
"I don't think anybody can deny the impact of climate change anymore," Biden said, pointing to other extreme weather events that have recently plagued the U.S., such as severe flooding and wildfire smoke.
July is poised to become the hottest month on record, according to global scientists. On Thursday, more than 174 million Americans — nearly half the country — were under heat-related alerts across 35 states from coast to coast. Washington, D.C., could hit 100 degrees for the first time in years this week. Earlier this week, Phoenix hit 119 degrees, breaking a daily record of 116 degrees set in 2018.
"The No. 1 weather-related killer is heat," Biden said. "Six hundred people die annually from it; it affects more than from floods, hurricanes and tornadoes in America combined."
The actions announced by the administration are aimed at providing relief, increasing resiliency and protecting workers' rights. Biden also announced a new resource, a website called heat.gov, where people can get "life-saving" information.
"We're gonna outline steps we're taking to help communities who, right this minute — as both the mayors can tell you, are facing a real crisis in their cities," Biden said. "We're also gonna talk about steps we're taking to help communities prepare, plan and recover, and make our nation more resilient in future heatwaves — and there will be more."
The president directed the Labor Department to issue a first-ever Hazard Alert to reaffirm the heat-related protections workers are provided under federal law.
The alert will inform employers on their responsibilities to protect workers from extreme heat and make employees aware of the rights they have to workplace safety and protection from retaliation.
Biden pledged to "call out" states that don't protect workers from hazardous conditions.
The Labor Department is also said to be accelerating its "inspections in high-risk industries like construction and agriculture," according to the administration, and increasing enforcement of heat-safety violations.
Additionally, collaborating with universities, the National Oceanic and Atmospheric Administration (NOAA) will invest up to $7 million to develop more sophisticated forecasts to better prepare for extreme weather events.
Plus, the administration will invest $152 million by the interior department to boost water storage capacity and lay conveyance pipelines in California, Colorado and Washington State to boost their climate resilience.
The money will come from the Inflation Reduction Act, passed by Democrats last year, which Biden touted on Thursday as the "most significant climate investment ever anywhere in the world."
Biden criticized "MAGA extremists" in Congress trying to repeal some of the law's climate provisions.
"Not a single one of them, not a single Republican, voted for the inflation Reduction Act that had all this money for climate to combat climate change," he said. "And now many of them are trying to repeal those provisions. We're not going to let that happen."
Copyright © 2023, ABC Audio. All rights reserved.