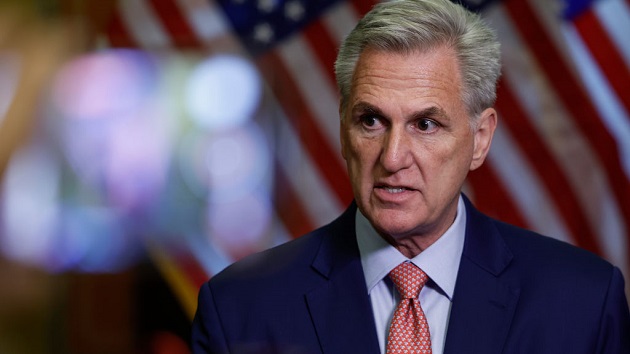 (WASHINGTON) — In a closed-door meeting with House Republicans on Wednesday morning, Speaker Kevin McCarthy reiterated to his conference that an impeachment inquiry into President Joe Biden is on the table but suggested it is not yet imminent, according to multiple sources in the room.
McCarthy, who earlier this week floated the possibility of an impeachment probe of the president, took time at the conference meeting to explain how that inquiry would differ from an impeachment vote, describing the investigation as an escalated formal probe that would give Republicans more tools to examine the president and his family, sources said.
This is the furthest the speaker has gone on this issue, but it is still extremely vague.
As recently as last month, McCarthy suggested he didn't see value in impeachment-related proceedings because "we're already having investigations."
Last fall, before winning the speakership, he said impeachments are unpopular when "used for political purposes" and "if anyone ever rises to that occasion, you have to, but I think the country wants to heal and … start to see the system that actually works."
In an interview on Fox News on Monday, however, McCarthy pointed to subsequent testimony from two Internal Revenue Service whistleblowers as well as an FBI report containing unverified corruption claims from an anonymous source. "We've only followed where the information has taken us. … This is rising to the level of impeachment inquiry, which provides Congress the strongest power to get the rest of the knowledge and information needed," he said, charging the president with using the government to "benefit his family."
The White House has denounced Republican-led probes as politically motivated and baseless.
"Instead of focusing on the real issues Americans want us to address like continuing to lower inflation or create jobs, this is what [the House GOP] wants to prioritize," White House spokesperson Ian Sams tweeted this week. "Their eagerness to go after [Biden] regardless of the truth is seemingly bottomless."
McCarthy has not indicated what his threshold would be for launching an impeachment inquiry and he has not given any timeline for when it could happen.
As speaker, he presides over a five-seat majority in which in any single member can force a vote to oust him. McCarthy also deals with different wings of his party: both the hard-line members pushing him forward on Biden investigations and the more cautious moderates who don't want to rush into a sensitive and potentially explosive proceeding without concrete evidence.
Sources told ABC News that Republicans have realized they have a lot of ongoing House investigations and not a lot of time — with the next elections now slightly more than a year away.
Some members have privately called on McCarthy to focus on an impeachment of Biden over any other administration official.
"There are still some things we need to get information on that this administration has been stonewalling on," House Majority Leader Steve Scalise maintained on Wednesday. "An inquiry gives us more ability to find out the facts, to get those facts out to the American people."
Copyright © 2023, ABC Audio. All rights reserved.