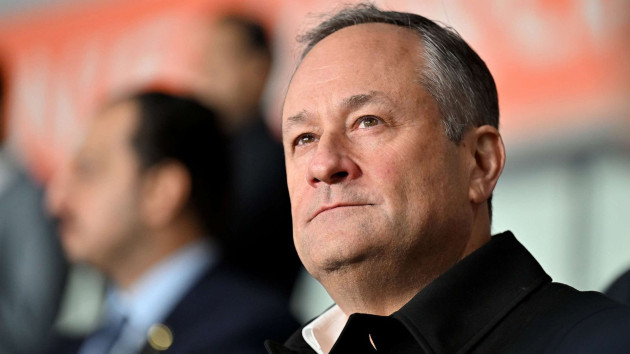 (WASHINGTON) — Second gentleman Doug Emhoff became the highest-profile U.S. official to visit Samoa Monday, looking to underscore the Biden administration's commitment to Pacific island nations in an effort to curb China's influence in the region.
"President Biden and Vice President Harris are committed to our partnership with Samoa. Our relationship has never been stronger. And we will strengthen it further. We are neighbors and friends," Emhoff said, according to a transcript of remarks released by the White House.
"We have shared goals: tackling the climate crisis, investing in economic development and empowering women. And we have long standing people-to-people ties. I am here to help strengthen these ties," he said.
The historic trip to Samoa came on the heels of Emhoff's visit to New Zealand, where he led the Presidential Delegation for the Opening Ceremony of the 2023 FIFA Women's World Cup, currently underway.
During the visit, Emhoff participated in a meeting with the leadership and entrepreneurs of Women in Business Development, Inc. to learn about its programs and products, the White House said.
Emhoff also met with Acting Prime Minister of Samoa Tuala Tevaga Iosefo Ponifasio. The pair discussed climate change and the need for resilience, as well as the importance of empowering women.
"The second gentleman reiterated the United States' commitment to continue to expand engagement with the region and grow the U.S.-Samoan partnership," the White House said of the meeting.
Since taking office, the Biden administration has sought to enhance engagement in the Indo-Pacific region as part of the strategy to counter China's growing military and economic influence.
During the visit, the Biden administration announced it will provide $2.6 million from USAID's Bureau of Humanitarian Assistance to increase disaster risk reduction in Pacific region countries including Samoa.
That announcement builds on other earlier ones from the administration, such as returning the Peace Corps to Samoa after it was evacuated worldwide in early 2020 because of the COVID-19 pandemic.
For the first time in 52 years, The White House has also committed to placing an ambassador in the country.
Copyright © 2023, ABC Audio. All rights reserved.