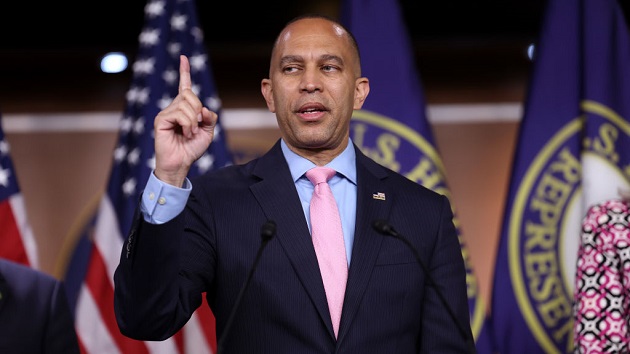 (WASHINGTON) — Democrats are salivating at their prospects to flip the House next year — but even as party operatives boast of having "the full recipe" for success, they acknowledge they're still gathering all the needed ingredients.
"Republicans are, for one reason or another, holding some seats that are really tenuous, and the math is pretty favorable," said former Democratic Congressional Campaign Executive Director Tim Persico. "But there's a lot of work to be done between now and then."
Conservatives won control of the House in 2022 but have only a five-seat majority. In next year's election, 18 Republicans will be defending seats in districts that President Joe Biden won in 2020, and recent court rulings on redistricting have given hope to Democrats of drawing more advantageous seats in states like Louisiana and New York.
At the same time, Democrats believe Donald Trump's continued sway over his party's base will limit the ability of GOP candidates to moderate on the trail.
But, operatives said, winning back the House in 2024 — and potentially winning back unified control of Congress and the laws it writes, or serving as a check on Republicans who could retake the Senate — will mean recruiting serious contenders in each of these races while avoiding potentially ugly primaries.
None of the eight Democratic strategists working on or familiar with House races who spoke to ABC News for this story said they were losing sleep over the work ahead, noting the many months remaining to find strong candidates. All agreed the party shouldn't rest on its laurels, though.
Democrats' recruitment push is already underway, setting up several likely rematches between potentially vulnerable Republican incumbents and challengers whom they narrowly beat last year.
Like the strategists who spoke with ABC, aides for the targeted conservatives also projected confidence, with one slamming his possible opponent as "extreme."
Among the expected do-overs — primaries pending — are Rudy Salas versus Rep. David Valadao, R-Calif., who won by about 3 points in 2022 when Biden took his district by 13 points; and Adam Gray versus Rep. John Duarte, R-Calif., who won last year by 0.4 percentage points in a district Biden won by nearly 11 points.
Still, the field remains up in the air in several other districts around the country. Democrats have yet to nab top-tier recruits to take on other Biden-district Republicans like California Reps. Young Kim and Michelle Steel, Virginia Rep. Jen Kiggins, New York Rep. Nick LaLota and New Jersey Rep. Tom Kean.
"If they had a really good candidate running against them, they should be sweating bullets. But that hasn't happened yet," said Democratic strategist Jon Reinish, referencing incumbents like Kim and Steel.
Recruitment efforts are anticipated to ramp up as the calendar narrows, with filing deadlines starting later this year.
"It's already started. You're seeing folks announce, you're seeing folks take meetings in D.C. The motors are working, and I think it's gonna probably become a bit more heated in the fourth quarter of this year. And we'll see a lot of announcements happening between the fourth quarter and the first quarter of 2024," said one Democratic strategist involved in House races, who like some others in this story asked not to be quoted by name to discuss internal matters.
Still, Democrats said they can only do so much to shape the primary fields to their liking.
Several operatives voiced worries about candidates who may be too progressive — or merely perceived that way — to win in their districts, even if Biden repeats his victories there.
These strategists said that top of mind for Democrats is Oregon's Jamie McLeod Skinner, a progressive candidate who unseated then-Rep. Kurt Schrader in last year's primary and then went on to lose to now-Rep. Lori Chavez-DeRemer by 2 points in a district Biden won by 9 points.
"In a suburban district … you want a moderate, business-friendly Democrat to run that's far more in step with the district. Otherwise, Republicans are just going to say, 'This is a far, far, far to the left candidate,'" Reinish said. "They'll talk about socialism, etc., and that resonates — and then you've taken yourself out of contention."
In a statement to ABC News, McLeod defended her "pragmatic leadership" on affordable housing and disaster preparedness and accused "Lori Chavez-DeRemer's MAGA agenda" of "undermining our fundamental freedoms, like banning access to abortion." A spokesperson for Chavez-DeRemer told ABC News, in part, "The congresswoman remains focused on rising above the partisan noise and delivering results for Oregonians. She is confident that voters will send her back to Congress."
Crowded nominating contests elsewhere could also pose a risk to Democrats.
The party is fielding several nominees in several primaries in Biden-won districts, including races for the chance to take on Arizona Rep. David Schweikert, New York Rep. Mike Lawler and Chavez-DeRemer.
Candidates in those contests could have to empty significant chunks of their war chests to emerge as their party's nominee — though strategists insisted that's not necessarily a bad thing.
"Spending money that far out may not help you that much in the general election. But if you spend the money for a primary that's in August or in July, that can sometimes just bleed into the general election. So it doesn't necessarily put you behind the eight ball. Not all primaries are created equal," said J.J. Balaban, a Democratic ad maker.
Party experts said the competition required in contested primaries also presents a double-edged sword, offering hopefuls the chance to cut their teeth ahead of a tough general election — or get punched in the mouth.
Among the Democratic primaries that boast prominent candidates is the one to take on Lawler. It already includes former Rep. Mondaire Jones and Liz Gereghty, the sister of Michigan's Democratic governor, Gretchen Whitmer.
Jones, who used to represent the district before running for a different seat in 2022 due to redistricting, is expected to boast broader name ID. Gereghty, though, has won the endorsements of groups like Emily's List and it's still unclear if Whitmer's new PAC, designed to help federal candidates, will weigh in on the race.
Balaban, whose client list includes Jones, said he does not anticipate the race for that nomination to get too ugly — but strategists conceded bruising primaries pose long-term risks.
"Primaries create the opportunity in particular for strong candidates to refine their message, build their donor base early, to become battle-born, ready for tough general elections. It gives them all of those opportunities. Where it gets much more challenging and dicier is when Democrats start to beat each other up," said former Democratic Congressional Campaign Committee Executive Director Dan Sena.
Some in the party also recognize that they're trying to unseat strong Republican candidates who have been able to win at least one term in inhospitable territory, in part by establishing brands separate from that of the national GOP. A House Democratic strategist likened it to a "façade" that the party must pierce with voters.
"We're gonna need to continue what has already been a strong recruitment cycle here in order to match up well against some of these Republicans," this person said. "I hate complimenting Mike Lawler, but he's done a really good job of putting on this façade as a moderate while voting as a pretty extreme person. But the façade is maintained for the moment, so you need a strong challenger who can challenge him."
Lawler's campaign spokesman Chris Russell pushed back, saying, in part: "The only facade being perpetuated in this race is courtesy of Mondaire Jones, who's trying to hide his extreme record." Russell also contended that Lawler was the moderate choice.
Democrats are nonetheless staying upbeat about their chances of flipping the House.
While there are still pending questions like Biden's strength heading into reelection — given many voters' continued apathy about his age and concerns over the economy — and ongoing redistricting fights, Republicans in swing districts are being squeezed by tough votes forced by the GOP's right flank, including on third-rail issues like abortion, and Trump is pushing a controversial agenda that helped Biden win in precisely the same districts Democrats are targeting now.
"I think the Democrats have all of the tools and a battlefield that can deliver the House for them. I don't think there's any question about that," Sena said. "There are still multiple X factors that that will ultimately play a significant role in whether the Democrats take the House. However, right now, they seem to have the full recipe to be able to take it back."
Copyright © 2023, ABC Audio. All rights reserved.