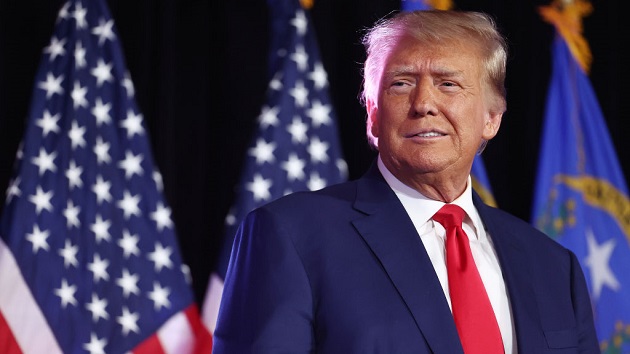 (WASHINGTON) — Republican candidates for president and lawmakers on Capitol Hill largely fell in line, again, behind former President Donald Trump on Tuesday after he was informed that he is a target in special counsel Jack Smith's investigation into efforts to overturn the 2020 election.
The target letter indicates that Trump, who is already facing New York state charges over hush money payments to a porn star during his 2016 campaign and a federal indictment in Florida over his handling of classified documents after leaving office, will likely be indicted for a third time — which is unprecedented for any current or former president.
While it is not yet clear what specific charges Trump could be accused of, and he has adamantly denied wrongdoing and pleaded not guilty in Florida and New York, Republicans on Tuesday defended him as being victimized by federal law enforcement.
Attorney General Merrick Garland previously defended Smith, the independent prosecutor overseeing the Department of Justice investigations of Trump, as a "veteran" committed to "integrity."
No specific evidence of politicization has emerged. Even so, it has become a key talking point among critics of the cases against Trump.
Florida GOP Gov. Ron DeSantis, considered Trump's strongest primary rival, told ABC News' Rachel Scott at a news conference on Tuesday that the former president "should have come out more forcefully" as the Jan. 6, 2021, insurrection unfolded but directed sharper criticism at law enforcement.
"Criminal charges is not just because you may have done something wrong. It's — did you behave criminally? And I think what we've seen in this country is an attempt to criminalize politics and to try to criminalize differences. So, I don't know what was all about that," DeSantis said.
Former Vice President Mike Pence offered his first reaction Tuesday night on NewsNation's "Elizabeth Vargas Reports," continuing to condemn the events of Jan. 6 while being careful not to alienate Trump's base.
After calling former Trump's words on Jan. 6 "reckless" and repeating his standard lines that "Trump was wrong" and "history will hold him to account for his actions," Pence said his conduct shouldn't result in criminal charges.
"With regard to the prospect of an indictment, I hope it doesn't come to that. I'm not convinced that the president acting on the bad advice of, of a group of crank lawyers that came in into White House in the days before January 6, is actually criminal," he said.
Tech entrepreneur and GOP primary Vivek Ramaswamy, in a statement of his own, also claimed partisanship is at work and called "the pending Jan 6 indictment of Trump is arguably the most dangerous of all to our Constitutional Republic."
Some GOP lawmakers on Capitol Hill sounded similar notes.
"If you notice recently, President Trump went up in the polls and was actually surpassing President Biden for reelection," House Speaker Kevin McCarthy of California told reporters, without specifying to which polls he was referring. "So what do they do now? Weaponize government to go after their No. 1 opponent."
"This shameful witch hunt against President Trump by Joe Biden's corrupt Department of Justice is just the latest chilling chapter in the Far Left's unAmerican weaponization of the justice system against their leading political opponent," New York Rep. Elise Stefanik, chair of the House GOP Conference, said in a statement.
"There is no greater tyranny than that which is perpetrated under the shield of the law and in the name of justice," said Rep. Byron Donalds, R-Fla.
Trump also got backup from the main super PAC supporting his comeback bid.
"This is election interference. … Fortunately, President Trump will not back down. He will be back in the White House and he will restore greatness to our beloved nation," Make America Great Again Inc. spokesperson Karoline Leavitt said in a statement.
What polls show is that, according to FiveThirtyEight, Trump's support in the GOP presidential primary actually rose after his two impeachments, with the former president currently boasting a nearly 30-point lead over DeSantis.
Trump has also boasted strong second-quarter fundraising numbers, suggesting his campaign isn't losing financial support from his party's base. (His campaign sent out a fundraising email Tuesday after news of the target letter broke.)
More broadly, however, many voters have said Trump's legal troubles are a problem for him.
For example, in the wake of his federal indictment in Florida, 48% percent of Americans said Trump should have been charged with crimes, while 35% said he should not have been and 17% said they didn't know, an ABC News/Ipsos survey found. And 46% said then that Trump should suspend his bid for the White House, while 38% said he should not and 16% didn't know.
Tuesday's supportive reactions on the right reflect a trend as many figures in the Republican Party defended the former president after his two indictments so far, with only some voicing concerns about the seriousness of the allegations against him.
"Two things can be true at the same time. One, the DOJ and FBI have lost all credibility with the American people. … The second thing can also be true if this indictment [in Florida] is true, if what it says is actually the case, President Trump was incredibly reckless with our national security," former South Carolina GOP Gov. Nikki Haley said in June.
Haley on Tuesday chose to ignore the target letter, instead seeking to focus on her own campaign.
"The rest of this primary election is going to be in reference to Trump, is going to be about lawsuits, is going to be about legal fees, it's going to be about judges and it's going to continue to be a further and further distraction," Haley said on Fox News. "And that is why I am running. It's because we need a new generational leader. We can't keep dealing with this drama. We can't keep dealing with the negativity."
Some Republican leaders have supported investigations into the 2021 riot, with Senate GOP Leader Mitch McConnell, Ky., saying in 2021 that "it was a horrendous event, and I think what they are seeking to find out is something the public needs to know," referencing the then-select House committee probing the insurrection.
McConnell, in a floor speech in February 2021, soon after the Capitol attack, said, "President Trump is still liable for everything he did while he was in office as an ordinary citizen. He didn't get away with anything yet."
The Kentuckian, who has not yet commented on the new target letter, rebuked Trump after voting to acquit him in his second impeachment trial. "Impeachment was never meant to be the final forum for American justice," the lawmaker said then.
On Tuesday, though, few Republicans directly took on Trump, leaving longshot presidential candidates as the loudest voices criticizing the primary frontrunner.
Former Arkansas Gov. Asa Hutchinson, who is polling at the back of the GOP primary field and who has consistently criticized Trump, came out with full-throated condemnation of Trump's efforts to overturn the 2020 election and incitement of the Jan. 6, 2021, insurrection.
"I have said from the beginning that Donald Trump's actions on January 6 should disqualify him from ever being President again. As a former federal prosecutor, I understand the severity of Grand Jury investigations and what it means to be targeted by such an investigation," Hutchinson said in a statement.
Former Rep. Will Hurd, R-Texas, another Trump critic and long shot candidate for the GOP nomination, echoed that.
"Jan. 6 was a dark day for democracy. Trump's inaction then, and now being a target in the investigation, proves he's not fit for office," Hurd wrote in a tweet. "Our country deserves leaders who will put the Constitution and the American people above all else."
ABC News' Libby Cathey and Lauren Peller contributed to this report.
Copyright © 2023, ABC Audio. All rights reserved.