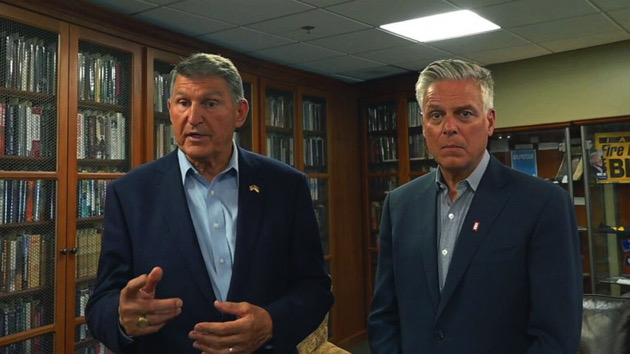 (NEW YORK) — Sen. Joe Manchin isn't running for president on a third-party ticket in 2024, he said on Monday in New Hampshire — and while he played down the possibility of changing his mind, his appearance at No Labels' Common Sense town hall alongside Jon Huntsman Jr. continued to fuel speculation that the two could be on a future "unity" ticket against Donald Trump and Joe Biden.
That wasn't what either Manchin and Huntsman wanted to talk about at the event, however.
"I think people are getting ahead of the game, put[ting] the cart before the horse," Manchin, D-W.Va., said at the town hall when asked if Huntsman, a Republican, might be his 2024 running mate. "We're here to make sure that the American people have an option, and the option is can you move the political parties off their respective sides. They've gone too far right and too far left."
Monday's town hall is the first of what No Labels intends to be a yearlong tour, with more speakers to come.
Over the weekend, No Labels also released a policy manual called Common Sense which serves as the group's platform and includes centrist solutions on a range of issues, from Social Security to the national debt, abortion and guns.
No Labels is openly weighing whether to launch a third-party "unity" ticket in next year's race that would feature both a Democrat and Republican, arguing that their research shows voters may have an appetite for an outside bid.
That strategy has drawn criticism, particularly from Democrats who say it could "spoil" the outcome.
"I've never been in any race I've ever spoiled. I've been in races to win," Manchin said at Monday's town hall. "And if I get in a race, I'm gonna win."
He and Huntsman, a former governor of Utah whom Manchin called a "dear friend," were appearing at Saint Anselm College in Manchester — a popular stop in the early-voting state for candidates running for president.
"We're here basically trying to explain to you to the real options, and the options may be new parties who basically haven't receded to their logical extreme right and extreme left," Manchin said.
Speaking with ABC News ahead of the town hall, the senator brushed off a question about a possible No Labels candidacy.
Manchin has so far been coy about his plans for the 2024 election cycle. ABC News has reported that he is considering running for reelection in his current Senate seat, retiring or running for president.
"This is not [about] my politics or whatever my future will be," he said on Monday, of supporting No Labels. "This is about uniting the country."
Both he and Huntsman also said they do not believe if they were to enter the presidential race that it would help former President Trump's chances against President Biden.
"I don't believe it for one second," Huntsman said. "First of all, it's the preseason. Second of all, who would argue with the importance of expanding democracy and choices and ideas? That's what this country is all about."
At the town hall, Huntsman took a sharper tone, saying that he had gotten fed up with the potential ticket conversation occupying the initial 15 minutes of their time on stage. But he also criticized the potential rematch between Trump and Biden next year, which polls show voters are apathetic about.
"If we end up in 2024 with the same set of nominees that we did in 2020, is that insanity? Is that the definition of insanity or what?" Huntsman said.
New Hampshire Gov. Chris Sununu was a notable figure in the audience, with Huntsman joking that he should be on stage with the co-hosts.
Prior to the town hall, Sununu spoke with reporters and said he is unsure if No Labels will be on the ballot in New Hampshire, which historically holds the country's first primaries, but believes the group has a plan to get there.
He also encouraged the group to continue what they're doing, saying, "Most Americans don't want Trump or Biden, so there is going to be a vacuum to fill the void."
"It's very interesting that they are launching everything here," Sununu said. "They know where the conversation is going to be, and they want to be a part of it."
New Hampshire voters in attendance — who spilled into three overflow rooms — were interested in what the politicians had to say, but most of the conversation was focused on Manchin's future, not on the newly released Common Sense policy booklet.
He closed the town hall by reiterating he is not currently seeking the White House.
"I'm not here running for president tonight. I'm not," he said. "I'm here trying to basically save the nation."
Speaking with ABC News earlier in the day, he declined to say whether he would seek reelection in the Senate instead.
Not dampening speculation is the fact that No Labels' platform, released over the weekend, bears a striking resemblance to Manchin's. The "Common Sense" theme is evocative of Manchin in both content and strategy, repeating his stances on several key issues, like energy, abortion and immigration.
Among other similarities, the platform opens with a call to "fix Social Security," echoing Manchin, and it argues for "a balance" between abortion rights and certain restrictions, as Manchin has advocated.
No Labels also brands its energy strategy with the coal-state senator's catchphrase on the issue — "all-of-the-above" — in embracing both efforts to help address climate change through encouraging renewable energy production while not, as Manchin contends, too quickly pivoting away from the use of fossil fuels.
Manchin said Monday that No Labels had interviewed him when crafting their platform document but that any similarities beyond that were "maybe a coincidence."
He and Huntsman said they did not draft the Common Sense booklet themselves.
"I think most people in America have a commonsense approach to how they run their life or how they expect to be governed," Manchin said. "I gave my input, basically, as one person giving my response."
A potential No Labels ticket could affect the electoral chances of both major parties — as has happened in some past presidential races. Analysis from FiveThirtyEight suggests that a No Labels candidacy in the 2024 presidential race would marginally harm Biden over Trump.
No Labels' leadership insists the organization's main purpose is to push the two major parties towards greater consensus in the center rather than to sway the race to one candidate or the other. No Labels' founding chair, former Sen. Joe Lieberman, told ABC News' George Stephanopoulos on Sunday that the group would abstain from the 2024 presidential race if they realized they would tip the results.
"If the polling next year shows, after the two parties have chosen their nominees, that, in fact, we will help elect one or another candidate, we're not going to get involved," Lieberman said.
Former Alabama Sen. Doug Jones, a Democrat who opposes No Labels, appeared with Lieberman on Sunday and was blunt about his assessment: "There is no way on God's green earth that they can get to 270 electoral votes, which means they will be a spoiler, one way or another."
The problem wasn't No Labels, Lieberman said then. "The problem is the American people are not buying what the two parties are selling anymore. And I think the parties would be wiser to think about that."
Copyright © 2023, ABC Audio. All rights reserved.