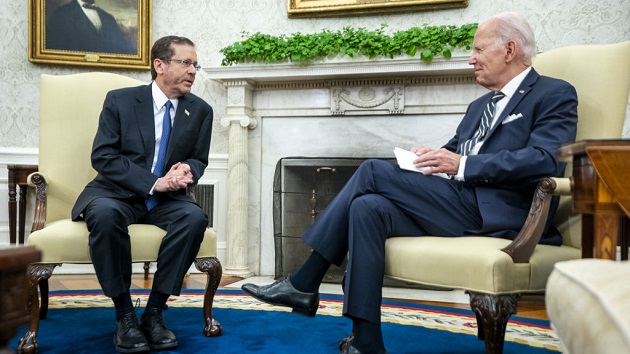 (WASHINGTON) — President Joe Biden hosted Israeli President Isaac Herzog at the White House on Tuesday amid continued tension with Prime Minister Benjamin Netanyahu and his right-wing government.
The meeting with Herzog, whose role as president is largely ceremonial, and Biden's recent invite to Israeli Prime Minister Benjamin Netanyahu to meet with him in the United States reflected the strength of the U.S-Israeli alliance despite the two nations' recent, public disagreements over the rightward tilt of Netanyahu's government and nationwide protests opposing him.
"As I told Prime Minister Netanyahu yesterday," Biden told Herzog at the start of their meeting, "America's commitment to Israel is firm, and it is ironclad."
The meeting with Herzog came one day after Biden extended the invitation to Netanyahu to meet on American soil. The offer stalled for months as Biden criticized Netanyahu's attempts to overhaul Israel's judicial system and support for building more Jewish settlements in the West Bank.
Despite his figurehead status, Herzog has urged compromise in recent months as Netanyahu attempts to weaken Israel's judiciary, which the prime minister contends has too much power but critics warn is critical to preserving the country's system of checks and balances.
"Israeli democracy is sound, strong, and resilient," Herzog said Tuesday. "We are going through pains, we are going through heated debates, [and] we are going through challenging moments, but I truly, truly believe — and I would say this to you, Mr. President, as I've said it as head of state to the people of Israel — we should always seek to find amicable consensus, and I agree with you on that, as well."
Biden, in an interview with CNN earlier this month, called Netanyahu's government "one of the most extremist" in Israeli history.
But Netanyahu's office described the Monday call between the two leaders during which Biden extended the invite to Netanyahu as "warm and long."
Still, Biden "expressed concern about continued settlement growth" and "reiterated in the context of the current debate in Israel about judicial reform the need for the broadest possible consensus, and that shared democratic values have always been and must remain a hallmark of the US-Israel relationship," the White House said.
Tuesday's meeting also came after Rep. Pramila Jayapal, the chair of the Congressional Progressive Caucus, called Israel a "racist state." After receiving blowback, the Democrat from Washington state apologized, and the White House said it was "glad" she did so.
But several Democrats said they planned to skip a speech Herzog is scheduled to deliver to Congress on Wednesday to protest the government's policies.
On Tuesday, House Republicans sought to capitalize on Jayapal's comments by introducing a resolution to reaffirm Israel is not a racist state and to condemn antisemitism — an attempt by the majority to drive a wedge between Democrats as the party contends with differing stances within its ranks toward Israel.
"It was truly shameful to see so many left-wing Democrats spending time spewing venom and vitriol at our most cherished ally," former Vice President Mike Pence, who is running for the Republican nomination for president, told a conference of Christian Zionists on Monday.
Lauren Peller and Alexandra Hutzler contributed reporting to this article.
Copyright © 2023, ABC Audio. All rights reserved.