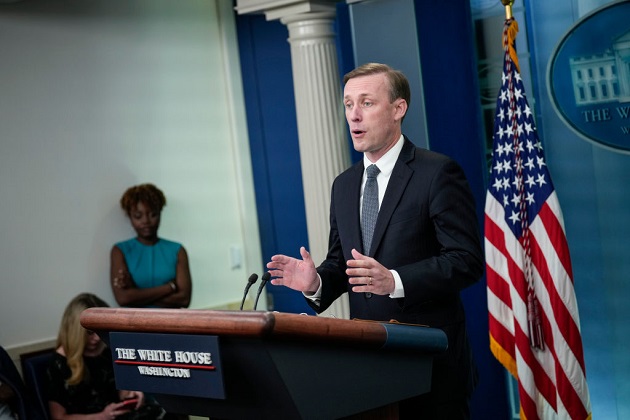 (WASHINGTON) — White House national security adviser Jake Sullivan said Sunday that the war in Ukraine hasn't devolved into a stalemate but he acknowledged it remains "hard going" against Russia.
"We said before this counteroffensive started that it'd be hard going, and it's been hard going," Sullivan said in an interview with ABC "This Week" anchor George Stephanopoulos, referring to a new push by the Ukrainians that began this summer. "That's the nature of war, but the Ukrainians are continuing to move forward."
"We're continuing to supply them with the necessary weaponry and capabilities to be able to do that and they will keep attempting to take back the territory that Russia has illegally occupied," Sullivan continued, pointing to what he called "progress both in the east and the south."
He said the Biden administration is also confident that congressional Republicans will not waver on aid to Ukraine, despite divisions in the party and among GOP presidential candidates over how involved the U.S. should be.
Last week, a majority of Republicans rejected proposed amendments to the National Defense Authorization Act that would have curtailed Ukraine assistance. One such change only got 89 GOP votes.
But major conservative figures outside of Congress have voiced skepticism over the scope of U.S. support. Florida Gov. Ron DeSantis, a 2024 White House hopeful, said last week, "I think that right now you have an open-ended blank check. There's no clear objective for victory. And this is kind of dragging on and on." Other prominent voices, like former Fox News host Tucker Carlson, contend that the U.S. should focus on domestic problems rather than look abroad.
At an event in Iowa on Friday, Carlson pushed former Vice President Mike Pence, who is also running in 2024, on Ukraine — with Pence at one point being booed. He told Carlson that the U.S. can tackle its own problems while still backing Ukraine.
Sullivan on Sunday singled out "a small cadre of Republicans who stand up and say we should stop helping Ukraine in the face of Russian aggression."
But, pointing to a joint statement from Senate leaders Mitch McConnell and Chuck Schumer, he said, "I actually think there is a strong backing for Ukraine in the Congress, not just among Democrats, but among Republicans as well."
The public, too, is still generally pro-Ukraine, Sullivan said: "The American people have really hung in there and supported the Ukrainian people."
Longer-term, Sullivan said that the U.S. plans to help Ukraine join NATO once the country has made "certain democratic reforms" and after the Russian invasion is ended.
Despite Ukrainian President Volodymyr Zelenskyy's anger at the lack of a more concrete timeline for his country to enter the alliance, Sullivan said on Sunday that Zelenskyy had a "great conversation" with President Joe Biden at last week's NATO summit in Europe and was "very satisfied with the support that he's getting from his Western partners."
Back at home, Sullivan had sharp words for how the House's Republican majority has handled this year's National Defense Authorization Act, which they modified with some hot-button amendments, including on abortion access and transgender service members.
Asked by Stephanopoulos to respond to GOP criticism of Democrats who largely voted against the military spending bill in light of those changes, with conservatives arguing that Democrats were walking away from America's troops, Sullivan maintained that it was "just the opposite."
"Trying to mix up domestic political issues into support for America's military and America's troops, that's what the set of amendments that the Republicans brought forward did," Sullivan said.
He said lawmakers who opposed Republican amendments that took aim at abortion, transgender medical procedures and diversity, equity and inclusion programs were the ones who were focused on "what's real."
"What's real is the necessary capabilities, technologies and fundamental social support for our troops and their families," Sullivan said. "That's what this all should have been about, not these domestic political issues."
But the fight over the NDAA was "of a piece … with the larger challenge that we're facing," he said, referring to Sen. Tommy Tuberville, R-Ala., who for months has blocked many military nominations because of his opposition to the Pentagon's policy on supporting members who travel for abortions.
"For the first time in 150 years, we don't have a commandant to the Marine Corps., we are very soon not going to have a chairman of the Joint Chiefs of Staff or a chief of naval operations," Sullivan said. "This is making America less safe. Any why? Because of the attempt to score domestic political points."
"It's just got to stop," Sullivan said.
Copyright © 2023, ABC Audio. All rights reserved.