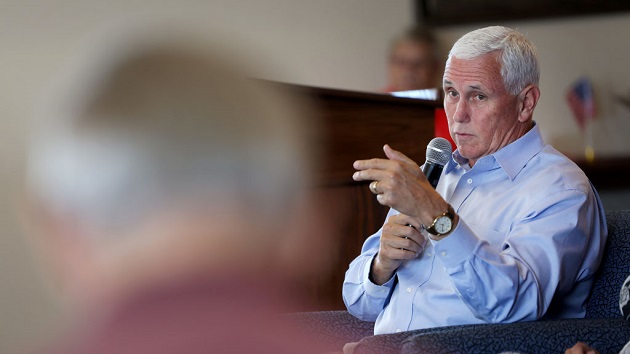 (WASHINGTON) — Former Vice President Mike Pence is making clear that his opposition to abortion extends beyond some of his most conservative 2024 White House rivals.
He told the Associated Press in an interview that he supports banning abortions in cases where the pregnancy isn't viable and the baby wouldn't survive outside the womb, as in the case of extreme fetal abnormalities.
"I'm pro-life. I don't apologize for it," Pence told the AP, also saying, "I want to always err on the side of life. I would hold that view in these matters because … I honestly believe that we got this extraordinary opportunity in the country today to restore the sanctity of life to the center of American law."
Members of the medical community have criticized his comments, saying that abortion services can be critical for women facing pregnancy complications.
Pence, who was Indiana's governor before serving as vice president in the Trump administration, has been staunch in his support for sweeping abortion restrictions, citing his Christian faith and principles.
He has called for a nationwide abortion ban starting at least at 15 weeks of pregnancy but possibly sooner — after six weeks, before many women know they are pregnant. He has supported the availability of abortion in cases of rape and incest and the pregnant woman's health.
"I want to say from my heart, every Republican candidate for president should support a ban on abortion before 15 weeks as a minimum nationwide standard," he said last month.
Former President Donald Trump also supports abortion bans with exceptions for cases of rape, incest and the life of the mother, he has said. Although Trump has suggested the federal government should play a role "in protecting unborn life," he has avoided backing a specific federal abortion ban.
Florida Gov. Ron DeSantis, who trails Trump in early polls but is the No. 2 most popular primary candidate so far, recently signed into law a six-week abortion ban in Florida — which Trump argued was "too harsh" — including exceptions for unviable pregnancies and rape, incest and the mother's health. DeSantis also has not endorsed a federal abortion ban.
GOP candidates' views on abortion are likely top of mind for evangelicals in Iowa, a critical bloc in the early-voting state in the 2024 primary.
On Wednesday, the Iowa Legislature passed a six-week abortion ban, which is being challenged in court by abortion access advocates. Gov. Kim Reynolds is set to sign the bill into law on Friday.
"I am also committed to continuing policies to support women in planning for motherhood, promote the importance of fatherhood, and encourage strong families. Our state and country will be stronger because of it," she said this week.
The ban, which was passed during a two-day special session, comes less than a month after the Iowa Supreme Court, in a split decision, prevented a previous six-week abortion ban from going into effect.
In stressing his strict views on abortion as he campaigns in Iowa, Pence could be aiming to get early momentum in the primary race.
During a three-day tour of Iowa last week, he sought to differentiate himself from the former president regarding abortion. He criticized Trump for Trump's characterization of the U.S. Supreme Court's decision to overturn Roe v. Wade last year as well as his lack of support for a stringent federal abortion ban.
"I take issue with the former president and with others who had suggested that the Supreme Court only returned that question to the states," Pence said. "What the Supreme Court did was essentially return the question of abortion to the states and the American people."
"But for the president to be unwilling to commit to a minimum national standard and attempt to relegate this issue exclusively to the states I think is an example of shying away from the cause of life when we led the most pro-life administration in history," he added.
ABC News' Isabella Murray contributed to this report.
Copyright © 2023, ABC Audio. All rights reserved.