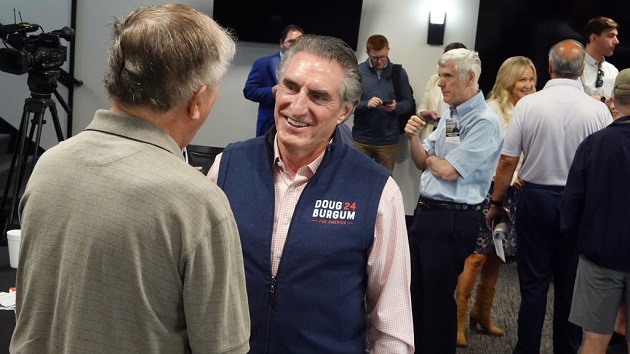 (WASHINGTON) — People might not immediately be inclined to donate a dollar to Doug Burgum, the North Dakota governor now running for president. But would a $20 gift card sweeten the deal?
That's the offer the long shot candidate is making to potential supporters, as he recently announced a pledge to provide the gift cards to 50,000 people who donate at least $1 to his campaign.
The unusual move is part of Burgum's push to meet the Republican Party's requirement for candidates to have at least 40,000 unique donors in order to appear on the debate stage in August — which his campaign openly admits.
Burgum is one of several GOP White House hopefuls to unveil quid-pro-quo campaign finance strategies this week, as they double down on their efforts to rack up cash and donors ahead of looming filing deadlines from federal regulators and the debate cutoff from the Republican Party.
Another candidate, biotech entrepreneur Vivek Ramaswamy, is offering supporters a 10% commission on funds they bring in for his campaign — a strategy that one outside expert said appeared to be the first of its kind.
And Miami Mayor Francis Suarez's presidential super PAC announced on Thursday morning that donors who contribute more than $1 to his campaign can enter a raffle to win $15,000 of college tuition.
"Our goal is to help the Mayor get to 40,000 donors to qualify for the first Republican debate," the Suarez political action committee wrote in an email to ABC News. "When Republican voters learn about Mayor Suarez and his record in Miami, they like him."
Suarez's strategy is not so unusual: Campaigns frequently give away perks, such as yard signs, campaign T-shirts or raffle prizes, in exchange for donations. But experts say it is extremely rare either to directly compensate donors or to deputize ordinary contributors to do campaign fundraising, as Ramaswamy and Burgum are doing. (Later on Thursday, Suarez also tweeted a chance to win front-row tickets to see soccer legend Lionel Messi's debut as a player for Miami's soccer team — if people donated $1.)
Daniel Weiner, director of the nonprofit Brennan Center's elections and government program, said he couldn't think of any campaign using those strategies in the past.
"Typically, the little sign of gratitude is not something that's basically fungible [or usable as something else]," Weiner said regarding Burgum's strategy. "Essentially, you're buying the grassroots support that's supposed to demonstrate that you belong on the debate stage."
Multiple experts who spoke with ABC News said they had questions about the legality of Burgum's strategy, though some said there could be arguments to be made to the FEC in its favor. Paul Seamus Ryan, a campaign finance lawyer, views it as a clear violation of the Federal Election Commission's ban on what are known as straw donations, which prohibits individuals from accepting reimbursement for a donation they've made to a political campaign.
"Reimbursement schemes are illegal, and that's what this is," Ryan said. "The motivation, to put it bluntly, seems to be to commit fraud on the [Republican National Committee] and to violate federal campaign finance law of straw donor ban in the process. Neither of those things are good for democracy, in my view."
Ryan argued that while a small-dollar donation to the Burgum campaign may be harmless, the strategy, if left unchallenged, could pave the way for more egregious rule-breaking. "My concern is this sets a precedent that will make future versions of this [strategy] very difficult to roll back," he said.
But he said an opposing viewpoint could argue that it does not violate the spirit of the law, which is to prevent corruption in campaigns and to ensure that donors are disclosed. Michael Toner, who chaired the FEC under President George W. Bush, named a different issue: that Burgum's strategy might run up against the FEC's prohibition on using campaign funds for non-campaign needs.
Unlike for typical merchandise giveaways, Toner speculated, donors might well use their $20 gift cards on expenditures that have nothing to do with politics — in contrast with, say, donors receiving campaign-branded merchandise or campaign-related travel in exchange for donations.
"I don't know how the FEC would treat [that argument]," he said. "What I do know is that it would be many, many months from now, in all likelihood after the campaign."
The Burgum campaign said Thursday that they have given out 20,000 gift cards so far: "That's halfway to the debate stage."
Because Ramaswamy's strategy will hire donors as contractors, according to his campaign, they do not run into those same potential legal issues. In that case, experts said, the concerns are more procedural and ethical, like properly documenting donors' status as contractors and notifying donors that their name will be publicly disclosed if they raise a certain amount of money.
The sheer complexity of that operation could create the risk of the campaign falling out of compliance with the law, said Joe Birkenstock, former chief counsel for the Democratic National Committee.
"Whether the upside outweighs the downside is really not obvious," he said. "I think they're gonna find that the juice really isn't worth the squeeze."
Birkenstock told ABC News that to his knowledge these tactics hadn't been used by Democrats before.
The FEC said it could not comment on "specific activities" for this story and the Ramaswamy campaign did not immediately respond to a request for comment.
Toner emphasized that it is still unknown whether any of the strategies will face a legal challenge and how the FEC would respond. He said his opinion is that this could be a good development in campaign finance, as it could get more people involved in politics.
"What I love about presidential campaigns is that you're always seeing innovation," Toner said. "We tend to see it first on the fundraising side and then as the primary season unfolds. And certainly as we get into the general election season, you see innovation in terms of campaign organizing, advertising and reaching voters in new ways."
Weiner agreed that the tactic might get more donors involved, but he remains wary.
"You still have a system that is largely dominated by the very wealthiest donors, and I think it's generally a good thing for campaigns to want to attract more small donations," he said. "But it matters how they do that."
ABC News' Hannah Demissie, Will McDuffie, Kendall Ross and Kelsey Walsh contributed to this report.
Copyright © 2023, ABC Audio. All rights reserved.