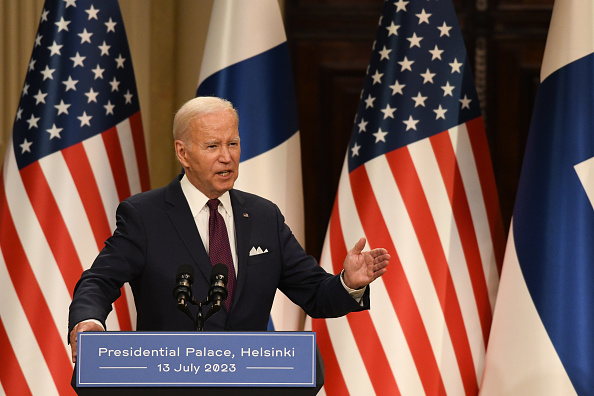 (WASHINGTON) — President Joe Biden's campaign announced Friday that it, along with the Democratic National Committee and their joint fundraising committees, raised a collective $72 million since the president launched his reelection bid in April.
The groups say they finished the quarter with a massive $77 million on hand.
The campaign said 97% of all donations came from small-dollar donors donating under $200, and that money flowed in from all 50 states.
It said teachers, nurses, and retirees were the most common occupations among donors this quarter.
The campaign also said 30% of its donors were first-time donors to the Biden operation, compared to when he ran in 2020. They add that the campaign held 38 fundraisers last quarter.
The haul came from 394,000 donors who made over 670,000 contributions, the campaign said.
Biden was slow to kick off campaign events after his announcement, holding his first — and so far his only — campaign rally nearly two months after he declared. But the president and his team have made a big push on fundraising.
In the final days before the filing deadline, Biden barnstormed the donor circuit, holding big-dollar fundraisers in New York, California, Connecticut, Illinois, and Maryland.
He held nine fundraisers over 11 days in the final stretch of the quarter.
Vice President Kamala Harris, first lady Jill Biden, and second gentleman Doug Emhoff also made the rounds to collect money from deep-pocketed donors.
Biden's haul falls short of the $86.8 million former President Barack Obama and the DNC raked in at the same point in his bid for a second term. Biden announced his reelection campaign on April 25, meaning Obama had only a three-week head start over his former lieutenant.
Biden's net approval has remained below that of Obama's over the same period of their presidencies, according to tracking poll data analyzed by FiveThirtyEight. Biden is currently 13.7% underwater, compared to Obama having a positive 1% net approval rating at this point in 2011.
Unlike Obama, however, Biden is facing potentially serious, albeit long-shot, primary challenges in anti-vaccine activist Robert F. Kennedy Jr. and thought-leader and New York Times bestselling author Marianne Williamson, who also ran in 2020 but dropped out before the first votes.
The 2020 presidential election was the most expensive in American history, with $5.7 billion spent in that race, according to the Center for Responsive Politics. Biden's campaign made history that year, becoming the first to raise more than $1 billion.
The 2024 election, as of now, is gearing up to be a rematch of the last, with Biden and Trump comfortably leading their respective fields in every national poll, and it could be another costly contest.
Presidential campaigns have until Saturday to disclose how much money they raised in the second quarter of 2023, offering an early gauge of their war chests and how much enthusiasm they've been able to gin up from the public so far.
Former President Donald Trump's joint fundraising committee says it took in over $35 million from April through June, roughly doubling the $18.8 million it raised in the first three months of 2023.
Copyright © 2023, ABC Audio. All rights reserved.