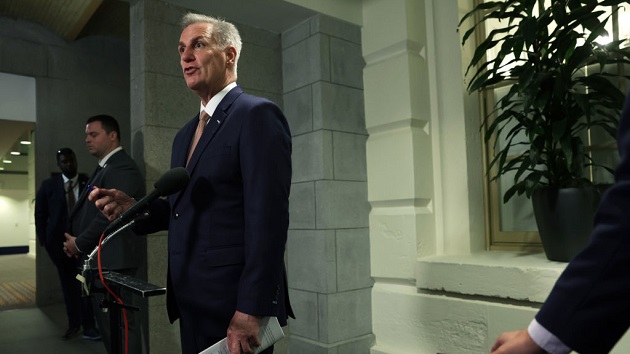 (WASHINGTON) — Led by Republicans, the House on Thursday approved several controversial amendments to the annual National Defense Authorization Act — guaranteeing a fight with Democrats during final passage, which Speaker Kevin McCarthy said he expects to be on Friday.
With more votes to come Thursday night, the House approved changes to the NDAA that included banning the Pentagon from covering travel costs for out-of-state abortions and prohibiting medical procedures for openly transgender service members. The votes were almost all along party lines.
However, the chamber overwhelmingly expressed support for continued U.S. assistance to Ukraine. The amendment to strike $300 million in funding proposed by Rep. Marjorie Taylor Greene, R-Ga., failed with only 89 votes.
Earlier Thursday, the full House began working through 80 controversial amendments to the must-pass military spending and budget bill. While hard-line members of the Republican Party backed these additions, they were rejected by the Democratic minority and McCarthy urged patience for his conference as his leadership team sought to satisfy the right flank without dooming the legislation in the divided chamber.
Debate was ongoing as of early Thursday evening, with more amendments set for votes in the coming hours.
"It's outrageous that a small minority of MAGA extremists is dictating how we'll proceed," Rep. Jim McGovern, the top Democrat on the Rules Committee, said.
Some of the Republicans backing the amendments, however, took another view.
Rep. Mary Miller, R-Ill., tweeted in celebration of the successful amendment to reverse a Pentagon policy to reimburse service members for travel expenses if they get an abortion. "Great news!" she wrote. Rep. Keith Self, R-Texas, called the military's policy "radical."
On Wednesday, facing yet another test of whether he can corral his party, McCarthy said Republicans were seeking to navigate the numerous proposed NDAA amendments.
"We did the first part now. You know we have 1,500 amendments. It takes a lot of time to work through all of it," he said then.
The changes would include gutting military diversity programs, stopping the policy to reimburse service members seeking abortions, reinstating troops who refused to comply with the Pentagon's COVID-19 vaccine mandate and limiting the funds for Ukraine, like providing cluster bombs, which are banned by numerous other countries.
Some of those amendments were taken up Thursday while others were still awaiting a vote.
Five amendments related to the war in Ukraine, the majority of which concerned limiting aid, received voice votes Thursday afternoon. All were defeated, with bipartisan coalitions of more than 300 members voting against them in each vote.
Republican Rep. Chip Roy of Texas said Wednesday that the House GOP was still "trying to figure out how we're going to pull all that together and get it across the finish line."
"There's obviously a lot of hot-button issues you all know that need to be addressed and dealt with," he said, listing items like abortion access, climate change and the transgender community.
House Majority Leader Steve Scalise said Wednesday that leadership was having ongoing discussions with right-wing lawmakers including Rep. Scott Perry of Pennsylvania about the proposed amendments.
"We're going to work through the process. If we can finish it all this week, we will. If it takes more time we'll take it, right?" Scalise said.
During the weekly GOP conference meeting, McCarthy had warned against amendments that could complicate or slow down the NDAA.
Rep. Nancy Mace, R-S.C., said this week that Republican leaders and members have been encouraging the conference to push the NDAA forward.
"There's nothing more that we need to do as a nation other than to prepare and ready our defense forces, whether it's here or abroad. We need to do this, we need to do it this week, and I hope that we can get there," Mace said.
Some Democrats have said they will vote against the NDAA if it includes the right-wing amendments. McCarthy has said he hopes Democrats still back the bill, while House Democratic Caucus Chair Pete Aguilar has said members "will vote their districts" and "their conscience. … the details of these policies matter."
Beyond the NDAA, the House also faces a looming government shutdown later this year. Hard-line Republicans have already demanded McCarthy agree to their limits on spending if he wants their votes on future appropriations bills.
ABC News' Noah Minnie contributed to this report.
Copyright © 2023, ABC Audio. All rights reserved.