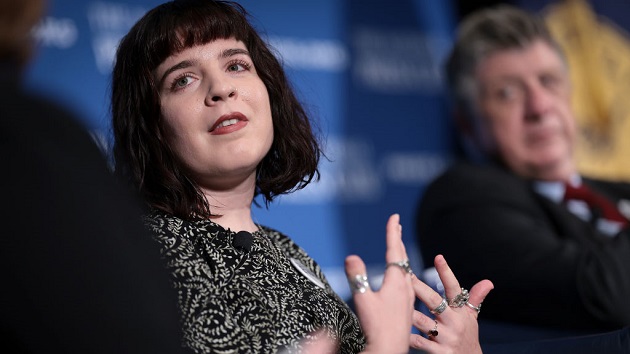 (WASHINGTON) — Danielle Gershkovich, the sister of detained Wall Street Journal journalist Evan Gershkovich, said Thursday she is heartened by efforts to keep his case in the spotlight, even as while dealing with his being held in Russia has been challenging.
Appearing on a panel at the National Press Club in Washington to mark more than 100 days since her brother was detained on espionage charges, she spoke out on the same day President Joe Biden said the U.S. is "serious" about a possible prisoner swap.
"I just try to take it day by day. It still feels unreal sometimes. So, for my parents, it's a full-time job … There's not really a lot for us to know, but we're just trying to learn everything that we can, and just try to, mostly, stay strong; try to keep the spotlight on Evan's case," she said.
Evan Gershkovich, the Wall Street Journal, and the U.S. government have strongly denied Russia's allegations. On Thursday, President Joe Biden, asked about his case, told reporters in Helsinki, Finland, that he is "serious about a prisoner exchange."
"I'm serious about doing all we can to free Americans who are being illegally held in Russia, or anywhere else for that matter. And that process is underway," Biden said.
The White House had previously said that efforts to secure the release of Gerskovich and detained former U.S. Marine Paul Whelan are continuing, and that the administration is in contact with high-level Russian authorities. The administration also warned that there was no clear path forward yet to securing their release.
As her brother's detention stretches on, Danielle said, she has been receiving letters from him about once a week.
"It's a really tough position to be in, because you have to steel yourself to know that it's going to be a long time, and you don't really know what is coming next… we passed the 100-day marker. And seeing Evan's face in the news was just really heartening. At such a dark time, it's wonderful to see his face again."
The Journal marked 100 days since Gershkovich's detention with a front-page wrap with his picture and the hashtag #IStandWithEvan.
Danielle Gershkovich spoke about growing up with her brother, whom she called a "great listener," even though she quipped she was a classic "bossy older sister."
"Not only is he just so talented, but he's just — he's a great listener, he gives the best presents," she said. "He just somehow, like, sees into your soul … He would be the person I'd be talking to, to make sense of this right now. So, yeah, really miss him."
When asked if her family has had any contact with Whelan's family — Gershkovich said they had not, but that "our hearts go out to any family who's dealing with something like this, and we just want all Americans who are unjustly detained abroad to be brought back home."
Jason Conti, general counsel at the Wall Street Journal's parent company Dow Jones & Co., said that the company has lawyers and others both working in Russia and the United States to help secure Evan's release and provide support to the family. This includes navigating the Russian legal system as well as helping with diplomatic efforts.
"The frustrating part, which — it's hard to describe it — it's like, lots and lots of action — unclear how much progress. And that's wildly frustrating for everybody … You don't know you've made progress until, all of a sudden, you've made progress," Conti said.
Thursday's event in Washington came as the Gershkovich family has begun to speak out more openly about bringing home their son and brother.
In an interview with ABC News that aired on Tuesday, Gershkovich's parents Ella Milman and Mikhail Gershkovich told "Good Morning America" co-anchor George Stephanopoulos that they are confident the U.S. government is working hard to get him home.
President Joe Biden "told us he understands our pain," Millman told Stephanopolous.
"I'm so proud of him. I'm sure most of you have seen the video of him talking to my parents in the courtroom, just that little glimpse of it," Danielle Gershkovich said on Thursday. "And just to see him waving his hands in such a familiar way and making them laugh … I don't know how he's staying so brave, but it means I have to stay brave for him, too."
And what does she wants to do the most when she sees him again? "Well, first I'm going to hug him so hard he won't be able to breathe," she said, and then hopes the two of them and their parents will take a family vacation.
"I'd love to have a beer with him," she said.
ABC News' Justin Gomez, Cheyenne Haslett, Molly Nagle, and Cindy Smith contributed to this report.
Copyright © 2023, ABC Audio. All rights reserved.