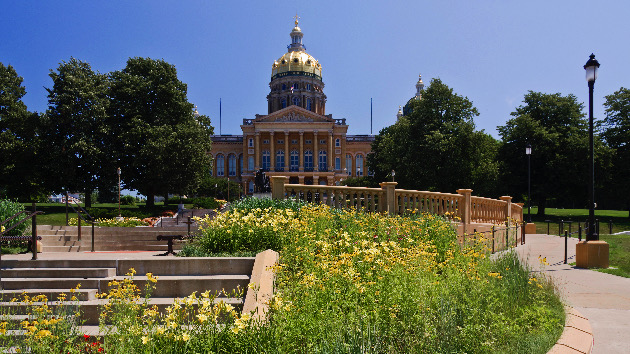 (DES MOINES, Iowa) — The Iowa Legislature on Tuesday night passed legislation that would restrict abortion, now sending the bill to Gov. Kim Reynolds after 14 hours of committee meetings and testimony from the public.
Lawmakers kicked off a special session Tuesday morning with the "sole purpose" of passing the legislation.
"The Iowa Supreme Court questioned whether this legislature would pass the same law they did in 2018, and today they have a clear answer," Gov. Reynolds said in a statement, announcing her plans to sign the bill on Friday, the day she is set to speak at Family Leadership Summit, a conference hosted by evangelical Christian conservative Bob Vander Plaats' group, the Family Leader.
It comes less than a month after the state's Supreme Court was deadlocked on whether a lower court's injunction of a six-week abortion ban should be dissolved, leaving the procedure legal in Iowa.
In response, Reynolds had blasted the court's decision — saying it had failed to exercise its authority — and called for the special session.
"I believe the pro-life movement is the most important human rights cause of our time," Reynolds said in a statement. "Not only will I continue to fight against the inhumanity of abortion, but I will also remain committed to supporting women in planning for motherhood, promoting fatherhood and parenting, and continuing policies that encourage strong families."
Because Republicans hold a majority in both the state Senate and the House of Representatives, the new legislation was likely to pass.
The bill would limit abortion once cardiac activity can be detected, which typically occurs around six weeks of pregnancy, before many women know they're pregnant. Abortion in Iowa is currently legal up to 20 weeks.
There are exceptions for medical emergencies and for rape and incest, as long as they are reported to law enforcement or to a health agency within 45 days and 145 days, respectively.
If the ban is passed, Iowa will join several other states that have passed so-called "heartbeat bills," including Alabama, Georgia, Kentucky, Louisiana, Missouri, North Dakota and Texas.
Ohio and South Carolina have also passed six-week abortion bans. Both are currently facing legal challenges and Iowa could be next.
"The ACLU of Iowa, Planned Parenthood, and the Emma Goldman Clinic remain committed to protecting the reproductive rights of Iowans to control their bodies and their lives, their health, and their safety–including filing a lawsuit to block this reckless, cruel law," ACLU of Iowa Executive Director Mark Stringer.
Impassioned abortion rights demonstrators rallied in protest of the bill, during and after Tuesday's proceedings.
Planned Parenthood Advocates of Iowa tweeted Monday, calling for demonstrators to protest the special session at the Iowa State Capitol.
"Now is the time to get loud and show up in force at the Capitol to fight back against attacks on abortion access," the group wrote. "Together, we will make our voices heard and hold elected officials accountable for any vote they take to restrict abortion."
The previous abortion ban, signed into law by Reynolds in 2018, also prevented abortion after six weeks. However, the law was permanently struck down by a district court in January 2019, which ruled that the law violated the Iowa constitution and that there was no state interest in banning abortions so early in pregnancy.
Since the Supreme Court overturned Roe v. Wade last summer, at least 15 states have ceased nearly all abortion services, according to an ABC News tally.
Copyright © 2023, ABC Audio. All rights reserved.