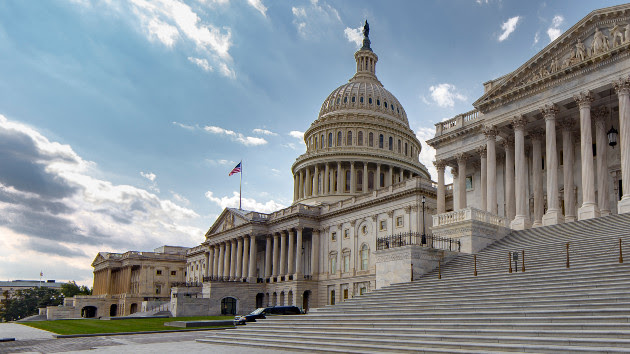 (WASHINGTON) — FBI Director Christopher Wray is set for a grilling when he appears before the House Judiciary Committee on Wednesday morning.
The committee, chaired by Rep. Jim Jordan, R-Ohio, has been critical of Wray and the Justice Department, accusing it of misuse of resources for political purposes.
Jordan's committee released a report on Tuesday about U.S. social media companies facilitating "censorship requests to American social media companies on behalf of a Ukrainian intelligence agency infiltrated by Russian-aligned actors."
Director Wray will focus his remarks on the good work of the FBI to protect the American people and the professionalism, patriotism and dedication to public service of FBI employees, an FBI spokesperson tells ABC News.
Wray is expected to highlight the "sheer breadth and impact" of the 38,000 FBI employees according to an excerpt of his opening remarks obtained by ABC News.
"The work the men and women of the FBI do to protect the American people goes way beyond the one or two investigations that seem to capture all the headlines," he is expected to say, while highlighting the work the FBI does in taking violent criminals off the street and going after the cartels who traffic drugs across the southern border.
Jordan also has also accused the FBI of overreaching when executing the search of former President Donald Trump's home last August. In a letter to Wray's boss, Attorney General Merrick Garland, Jordan called the raid a "serious appearance of a double standard and a miscarriage of justice."
The director has defended the Bureau's actions in the face of some Republicans calling on Congress to reduce funding for the FBI. Jordan plans to attach riders to appropriations bills which state the FBI is to move to Hunstville, Alabama, or get defunded, per a source briefed on the plan. The plan was first reported by the Wall Street Journal.
Wray is also set to face questions on the investigation into Hunter Biden. Last month, Biden agreed to plead guilty to a pair of tax-related misdemeanors and enter into a pretrial diversion agreement that would enable him to avoid prosecution on one felony gun charge.
Jordan, along with Oversight Chairman James Comer and Ways and Means Chairman Jason Smith, has raised questions about the way the investigation was handled.
Delaware U.S. Attorney David Weiss has pushed back on allegations of political interference to benefit Biden, the son of President Joe Biden.
"To clarify an apparent misperception and to avoid future confusion, I wish to make one point clear: in this case, I have not requested Special Counsel designation," Weiss wrote in a letter to Sen. Lindsey Graham of the Senate Judiciary Committee.
In earlier testimony to Congress, IRS whistleblower Gary Shapley claimed that Weiss was unsuccessful in persuading federal prosecutors in Washington, D.C., and California to bring charges against Biden, so Weiss then requested to become a special counsel, which — according to Shapley — was denied.
Wray is also expected to face questions about Section 702 of the Foreign Intelligence Surveillance Act, a surveillance program set to expire at the end of this year. While Jordan has argued against reauthorization for Section 702, citing cases when officials have been found to have misused the Section 702 program, Wray has argued the program is invaluable to law enforcement, noting its utility in nabbing terrorists and other foreign adversaries who have used email accounts serviced by U.S. companies.
Copyright © 2023, ABC Audio. All rights reserved.