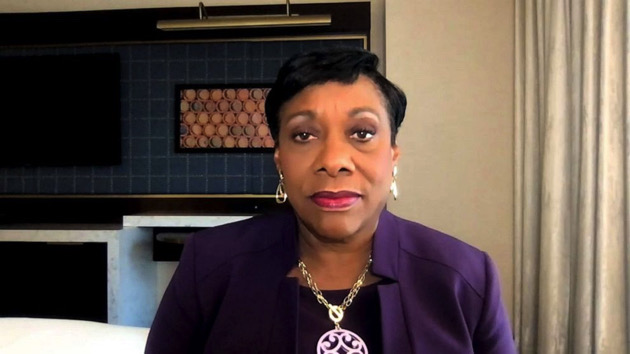 (WASHINGTON) — As President Joe Biden moves forward with a second attempt at student loan debt forgiveness, following a 6-3 defeat at the Supreme Court, his administration has also been touting the benefits of the Public Service Loan Forgiveness (PSLF) program as another option for some borrowers — and teachers are sharing how they are among those benefiting.
The PSLF program was first congressionally authorized in 2007, during the Bush administration, to cancel student debt for government employees like educators, firefighters and police officers as well as not-for-profit employees and others providing public services who make at least 10 years of payments on their loans.
However, the original PSLF program was "poorly implemented" and many borrowers weren't successfully able to receive forgiveness, according to U.S. Education Undersecretary James Kvaal.
Between 2017 and 2021, 1.8% of those eligible received forgiveness through PSLF, Kvaal told ABC News earlier this year. "In many cases, that's because of the fine print in the program," he said.
In October 2021, for one year, the Biden administration issued what it called a limited waiver temporarily changing the rules of PSLF. Kvaal likened the temporary changes to a "reset" of a flawed system.
Since then, more than 615,000 borrowers have been approved for $42 billion in relief. (Officials don't track how many people from each profession are approved through PSLF.)
Those canceled loans can mean a lot for people working in education, according to advocates and teachers.
"That's a miracle," Jamie Walker-Sallis, a teacher leader in Iowa who used PSLF in 2021, told ABC News, adding "almost $100,000 — you know what kind of relief that is? That's like having a monster on your back. Not a monkey, a monster."
Educators have been grappling with staffing shortages across the country. There have also been increased challenges since the start of the COVID-19 pandemic. And financial stress only makes it harder for them to stay in the classroom, advocates say.
"Too many educators leave the profession because they can't start families on a teacher's pay," National Education Association President Becky Pringle told ABC News last summer. "This [student debt] impacts our educators directly. That's why we are fighting alongside our students to cancel all debt. And we won't stop until that's done."
Black women like Walker-Sallis hold more student debt than any other demographic, according to the nonprofit advocacy organization The Education Trust. Walker-Sallis said she hopes to obtain her doctorate soon but she doesn't want another financial barrier.
"Now that I have no college debt, I'm struggling to go back," she said. "You want to continue to grow, you want to continue to develop, but not with that hurdle. You don't want to create another problem for yourself as you try to climb."
Gregory Bargeman has been a librarian and assistant principal at Jackson-Reed High School in Washington, D.C., for more than 20 years. He was worried that he'd live with $230,000-plus in student loan debt for the rest of his life.
After receiving a notice in the mail this year that said his loans had been forgiven through PSLF, he told ABC News he couldn't believe his eyes.
"It's like winning the lottery," he said. Having that debt canceled means he can pass on his new home to his daughter and ensure his family's financial security.
"When I leave this world, I want to be able to give my daughter something," he said. "I know that whatever I'm investing in or whatever I'm doing — when I leave this life — it will be for my daughter."
For other educators, the mere possibility of PSLF offers relief.
"Before this PSLF program, and temporary PSLF change, I thought I would be burdened with it [student loan debt] but now I am not stressed," said Calvin Coolidge's Michelle Calhoon, who is seeking to have $329,000 in loans forgiven.
Calhoon is a single mom of a teenage daughter who goes to private school in Baltimore. The D.C. educator doesn't know how she will qualify for a home loan and pay tuition once her student debt payments restart.
But she's holding out hope, having worked in public service for multiple school systems.
"The idea of having to pay for my daughter's education and pay for my own [education] is preventing me from owning a house," Calhoon told ABC News. "I'm hoping that they get discharged. I'm going to buy a home."
Nick Fuller, 27, doesn't yet qualify for PSLF. He earns just under $50,000 in the upper peninsula region of Michigan and is part of a generation of younger teachers who could be facing even tougher decisions when repayments start.
"It makes getting a second job more likely," said Fuller, who has $16,000 left in student loan debt.
"I've actually been applying for some different jobs as well — still in the teaching field — but in districts that pay more money," Fuller said in an interview from a cabin at his summer camp counseling job. "A lot of this money is just stockpiling away in my bank account to use to either move or to pay down my student loans a little bit once they come back and out of forbearance."
Copyright © 2023, ABC Audio. All rights reserved.