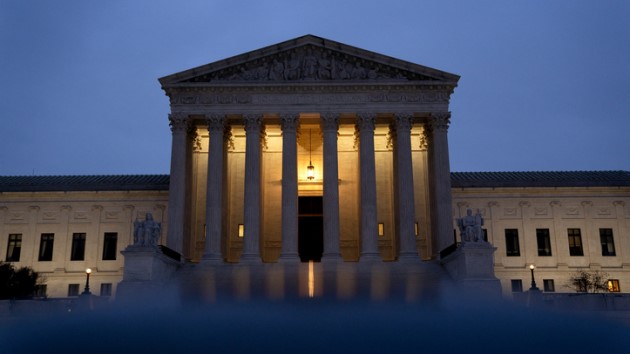 (WASHINGTON, D.C.) — It's a conservative Supreme Court that has acted with confidence and conviction, but one that seems increasingly aware of its image problem.
Since the addition of the three justices nominated by President Donald Trump, the court's six-justice conservative supermajority has set into motion the most significant changes in American law and society in a generation — overruling Roe v. Wade; expanding concealed carry gun rights; bolstering free speech and advancing religious liberty.
The biggest and most controversial decisions of this year effectively ended 45 years of affirmative action in higher education; struck down President Biden's $400 billion student debt forgiveness plan; and, carved out an exception to anti-discrimination laws for opponents of same-sex marriage.
The major rulings were predictably praised by Republicans and condemned by Democrats. A majority of Americans say they believe the justices have ruled mainly on the basis of politics, not the law, according to a new ABC News/Ipsos poll.
But while the headline-grabbing decisions and ideological divisions may define it, the nation's highest court was significantly less divided in 2023 than it has been in recent years. In several cases where conservatives could have made big gains, the court showed surprising restraint.
Of the 58 opinions the court issued since October 2022, more than half were unanimous or near-unanimous, either 9-0 or 8-1. More than 9 out of 10 cases had one of the court's liberal justices in the majority.
The justices forcefully rejected the independent state legislature theory for election law, embraced by Trump and his allies; rebuffed Texas' challenge to the Biden administration's immigration and deportation plan; upheld Section 2 of the Voting Rights Act, preserving protection against race discrimination in redistricting; and upheld the landmark Indian Child Welfare Act, celebrated by Native American tribes.
Perhaps most remarkable, only five cases were decided by a 6-3 ideological split — conservatives versus liberals. That's down from 14 last term and the lowest number of straight ideological split decisions in the past six years, according to Adam Feldman at Empirical SCOTUS.
Many of these outcomes appear to reflect the extraordinary influence and strategy of Chief Justice John Roberts, who was pushed aside as a central power broker during the Trump years, but still wields significant power.
One year ago, Justice Clarence Thomas appeared to be emerging as the dominant influence on the court, joined by Justices Samuel Alito and Neil Gorsuch in a project to push ahead on a maximalist approach to the law.
But this term, the tables appeared to turn, many veteran court watchers say.
Chief Justice Roberts and Justice Brett Kavanaugh were the most common alignments of any pairing of justices in the decisions this term, according to Feldman. Kavanaugh was in the majority 96% of the time, Roberts 95% of the time.
Both Roberts and Kavanaugh have signaled publicly and in their writings a desire for a more incremental approach to the law – one that has an eye on bolstering legitimacy of the court as an institution in the public eye.
Near-record low public approval, compounded by growing concern over ethics and impartiality, has fed bipartisan debate about the state of the court and what steps may need to be taken from the outside to improve its credibility.
While the justices frequently insist that they do not decide cases based on public opinion, they are also not blind to it.
And through it all, the nine justices have shown surprising cohesion. In the midst of a partisan firestorm over alleged ethics lapses by two conservative justices — Thomas and Alito — the entire court released a signed public statement attesting to its ethical practices and unanimously rebuffing Democrat-led efforts to legislate "reform."
One potential wild card at the center of it all was the court's newest member, Justice Ketanji Brown Jackson. The nation's first black woman justice publicly showed outsized engagement and impact from the start: She spoke during oral arguments more than any other new justice in history — and more than any justice sitting during this period, according to Feldman. Her influence behind the scenes will take years to come into focus.
Where does it all go from here?
The justices will take the summer to cool off — and hope the public disaffection with them does as well. Meantime, they have filled their docket with another list of blockbuster cases for the fall: on gun rights, social media censorship, government regulation and voting rights that will give them plenty to chew on heading into an election year.
Copyright © 2023, ABC Audio. All rights reserved.