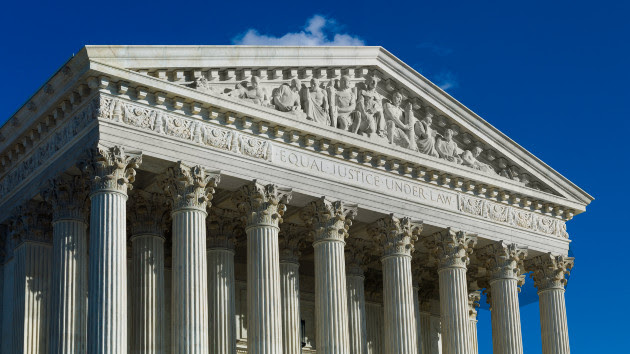 (WASHINGTON) — The Supreme Court on Friday ruled for an evangelical Christian website designer in a case involving whether creative businesses can refuse to serve LGBTQ+ customers because of First Amendment free speech rights.
In a 6-3 decision for the conservative majority written by Justice Neil Gorsuch, the court said wedding websites are a form of speech and Colorado and its anti-discrimination law cannot force a designer to express something she does not wish to express.
"The First Amendment's protections belong to all, not just to speakers whose motives the government finds worthy," Gorsuch wrote. "In this case, Colorado seeks to force an individual to speak in ways that align with its views but defy her conscience about a matter of major significance."
"The First Amendment envisions the United States as a rich and complex place where all persons are free to think and speak as they wish, not as the government demands. Colorado cannot deny that promise consistent with the First Amendment," he wrote.
Justice Sonia Sotomayor, in a dissent read from the bench, said this is the first time in history the court has granted a business open to the public a right to refuse service to members of a protected class.
Sotomayor warned the effect of the decision is not limited to the LGBTQ+ community, writing "the decision's logic cannot be limited to discrimination on the basis of sexual orientation or gender identity."
"The decision threatens to balkanize the market and to allow the exclusion of other groups from many services," she said. "A website designer could equally refuse to create a wedding website for an interracial couple, for example."
Copyright © 2023, ABC Audio. All rights reserved.