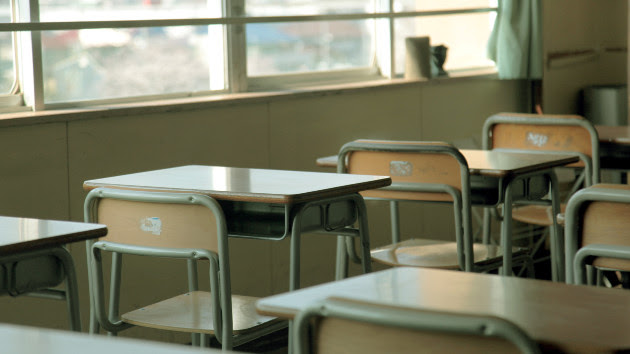 (NEW YORK) — A handful of Republican presidential candidates hope to boost their bona fides with a prominent conservative parents' rights group this weekend, as the appropriateness of school curriculum and how kids are taught become top priorities for GOP voters.
Former President Donald Trump, Florida Gov. Ron DeSantis, former U.N. Ambassador Nikki Haley, tech entrepreneur Vivek Ramaswamy and former Arkansas Gov. Asa Hutchinson will attend this weekend's Moms for Liberty conference in Philadelphia.
There they will to speak to "an army of moms" who, as the group's leaders sees their mission, hope to defend parental rights at all levels of government.
Critics take a much harsher view — contending the group is behind a wave of campaigns seeking to curtail content on race, LGBTQ topics and more. Group leaders dispute the argument they spread hate.
The original Moms for Liberty was founded in Florida in 2021, by Tina Descovich, Tiffany Justice and Bridget Ziegler, all of whom were school board members. Among early initiatives were challenges to COVID-19 public health restrictions.
Zeigler, who is married to Florida Republican Party Chairman Christian Ziegler, has since stepped away from the organization due to other commitments and now chairs the Sarasota school board while remaining close to the group and its founders.
Over the past two years, the organization has seen tremendous growth and currently has 300 chapters in 44 states and 120,000 active members, according to Descovich, who said the broadening has been organic and grassroots.
Two-hundred and seventy-five of their endorsed school board candidates won last cycle.
"I absolutely believe that we've grown into an army of moms on the ground and their local communities working to impact change," Descovich said.
Yet Moms for Liberty has not charged forward without controversy — last year's summit drew protesters and this year's is expected too as well. The civil rights watchdog Southern Poverty Law Center (SPLC) also recently labeled them an anti-government group, saying they spread "hateful imagery and rhetoric against the LGBTQ community."
Descovich said such a designation is "nonsense."
"They labeled us an anti-government extremist group when we endorsed in 500 school board races. That is getting involved in your government at the most basic level," she said.
A DeSantis aide tells ABC News that the governor's remarks at the national conference will be like those he gave at last year's gathering, in Tampa — emphasizing what he has done as governor, on education policy, and what he could continue to do as president.
"Now is not the time to be a shrinking violet. Now is not the time to let them grind you down," DeSantis told the audience last year. "You've got to stand up and you've got to fight."
As governor, DeSantis has thrust himself into the nexus of legislation and the broader political debate surrounding parents' involvement in schools and what should be taught to students, particularly on discrimination and issues around race, gender and sexual orientation.
Last March, he backed a sweeping ban on classroom instruction on sexual orientation and gender identity for some K-12 students through the Parental Rights in Education bill, which supporters said was about letting them decide what their children were exposed to but which opponents labeled as the "Don't Say Gay" law.
A majority of conservative school board candidates DeSantis endorsed last August were also victorious in their races.
This weekend provides another opportunity for his wife, Casey DeSantis, to connect with a like-minded constituency. Ron DeSantis has featured his wife prominently on the campaign trail, and her remarks Friday come after her solo headline of two campaign events in Illinois on Wednesday.
Tech entrepreneur Vivek Ramaswamy noted that he was "deeply allied" with Moms for Liberty, a group he said shares many values with that of his campaign: emphasis on the nuclear family, parents determining their children's' education and a focus on family as the foundation for American life.
He told ABC News he was "proud" of his support of the group, even in the face of their recent designation by the SPLC.
He said he'd be using his speech at the conference to detail his "visions for educational reform in the United States," including the proposed disbanding of the U.S. Department of Education, which would require a huge number of logistical and political hurdles.
"Our focus is going to be on reviving the revival of American national identity, the role of parents in the revival of American national identity and the specifics of how, as … president, I'll put the power to control or determine their children's education back in the hands of parents rather than the hands of government," he said.
A spokesperson for Haley said the former South Carolina governor was also excited about attending.
"As the only mom in the race, and as a strong supporter of liberty, Nikki Haley looks forward to addressing this great gathering. From day one of this campaign, Nikki has spoken of a strong and proud America. That's what she'll talk about on Friday," said spokesperson Ken Farnaso.
Democratic candidate Robert F. Kennedy Jr. was previously scheduled to speak at the conference and his campaign initially told ABC News that he had to cancel due to "family reasons."
Yet, when asked at a town hall in Chicago on Wednesday why he accepted an invitation to speak at the summit, Kennedy claimed that it was a staffer who did so on his behalf.
"I didn't speak in front of that group. And when somebody on my staff accepted that invitation, I was unaware of it," he said, later telling the same questioner that he doesn't plan on condemning the group.
"I'm not going to issue a denunciation," he said.
But, echoing criticism that Moms for Liberty is supportive of efforts to ban anti-LGBTQ content, he said, "I'm telling you right now, I don't agree with anybody who says that we shouldn't respect gay rights, you know, or anybody else's rights."
Moms for Liberty said they extended an invite to President Joe Biden as well but did not hear back.
ABC News' Abby Cruz, Hannah Demissie, Nicholas Kerr and Isabella Murray contributed to this report.
Copyright © 2023, ABC Audio. All rights reserved.