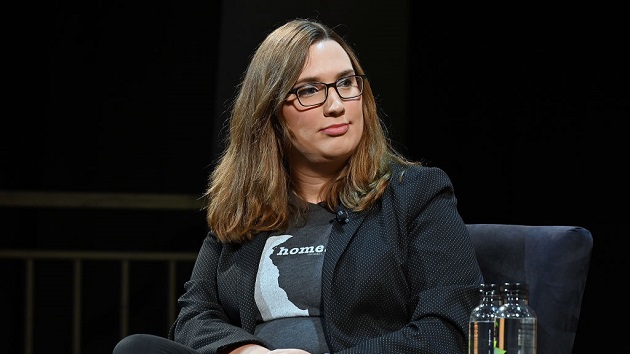 (DOVER, Del.) — Sarah McBride is used to being first. She was the first openly transgender person to work in the White House, the first to speak at the Democratic National Convention and the first to become a state senator, in Delaware.
If the campaign she announced on Monday is successful, she will be the first transgender person to serve in Congress — representing Delaware's sole congressional district — and the first openly transgender person to be elected at the federal level.
Because Delaware's at-large district is solidly Democratic, competition in the race will likely play out during the primary next fall. The seat is currently held by Rep. Lisa Blunt Rochester, who announced last week that she is running for the U.S. Senate to fill the seat held by retiring Tom Carper.
McBride, 32, enters the race with endorsements from high-ranking Delaware lawmakers, support from LGBTQ advocacy groups and relationships with the Biden family. President Joe Biden wrote the foreword to her 2018 memoir, and she has called his late son, Beau, one of her mentors.
"I'm incredibly confident and optimistic going into this campaign that we will win in September of 2024 [during the primary] and then win in November of 2024," McBride said. "I believe that Delaware is ready. We've shown that small states can do big things, and it's time for us to do that again."
On the day she launched her campaign, she told ABC News that she has been happy to answer questions about her trans identity. But, she said with a smile, gender is not at the core of her job description as an elected official and she didn't seek office to be "the trans senator."
"My day-to-day focus is not explaining gender identity to people," she said. "My day-to-day focus is delivering tangible results for the constituents that I serve."
McBride is aware that trans candidates face increased scrutiny of their electability at the same time that the number of trans officeholders is growing, she said. She's also running at a time of rising anti-LGBTQ extremism across the U.S., according to recent assessments from the Institute for Strategic Dialogue, the Anti-Defamation League and GLAAD.
Conservative lawmakers have backed a wave of trans-related restrictions across the country, particularly around gender-affirming care for minors, which many Republicans say is inappropriate.
McBride sees in these trends a theme that cuts across civil rights movements in the U.S., she said: the "dual story of progress and pain."
"This is absolutely a difficult moment for many in our country, including trans people," she said. "But as has been the case before, we can turn that pain into progress as long as we summon the hope necessary to see this fight through."
Electoral window widens for trans candidates
When she became a state senator in 2021, McBride joined the so-called "rainbow wave" of LGBTQ public officials who have taken office in recent years. There are currently 57 sitting U.S. elected officials who are openly transgender or nonbinary, up from 25 in 2019, according to the LGBTQ+ Victory Fund, an advocacy group.
Albert Fujii, a spokesperson for the Victory Fund, believes that as LGBTQ issues have become more and more mainstream, a candidate's queer identity can be an asset. He pointed to the increasing number of trans and nonbinary elected officials as evidence that voters in blue and purple districts believe these candidates bring an important perspective to the table.
"Being LGBTQ+ is a strength," Fujii said. "Not only are they running in record numbers, but they're also winning in record numbers."
Polling appears to back this up. About eight in 10 Americans say they are willing to vote for a well-qualified gay or lesbian candidate, up from 55% in 2007, Gallup polling in 2020 found.
But favorability varies widely across partisan lines, with Democrats significantly more likely to support the social acceptance of transgender people, according to Pew Research Center data from 2021.
In McBride's ideal world, her candidacy — and other identity "firsts" — wouldn't be historic.
"Ultimately, we should have a world where it's not noteworthy that a person of any particular identity is able to fully participate in our democracy, including running for office and winning," she said.
McBride's vision of progress
"I think of myself as a Delawarean. I think of myself as a doer. I think of myself as someone who believes very deeply that we have to make government work better for people, both because they need it and also because it's the only way to save our democracy," she said.
She also mentioned her role as a caregiver in her personal life, telling ABC News that she helped care for her late husband, Andy Cray, who died in 2014 from cancer.
"And yes, I think of myself as a trans person. But that is just one aspect of who I am," she said.
McBride expects her record on the issues is what would get her elected. Although there is more than a year until her primary, she has emerged as a strong contender in the race with a series of high-profile endorsements, including from state Attorney General Kathy Jennings and in the Delaware Legislature — from state Senate Majority Leader Bryan Townsend and 11 of her 14 Democratic colleagues.
She is also backed by the Human Rights Campaign, where she previously worked as national press secretary, the LGBTQ+ Victory Fund and the Equality political action committee.
Another candidate, Alexander Geise, has filed paperwork to run against McBride in the Democratic primary. So far, no Republicans have announced a bid for the seat.
While McBride avoids questions about specific political labels within the Democratic Party, her time in office indicates progressive bona fides. She played a leading role in passing laws for statewide family and medical leave and to ban housing discrimination for trans people.
She has named a host of progressive priorities on the campaign trail — including on health care, climate change and gun restrictions — and though she did not directly respond to questions about proposals like Medicare for All or a "Green New Deal" to address the warming climate, she said: "I will support any measure that expands access to health care. And I support any measure that's going to reduce the threat of climate change in our society."
"Voters are judging candidates based on their ideas and not their identities," she said. "And I think it fundamentally undersells and undervalues Delaware voters to think that they care more about my gender than they do who's going to deliver for them."
ABC News' Sherby Perez contributed to this report.
Copyright © 2023, ABC Audio. All rights reserved.