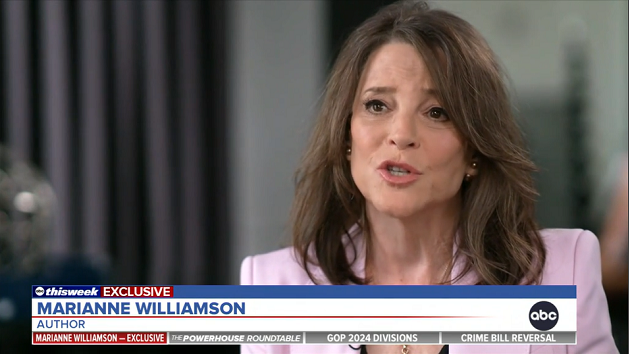 (WASHINGTON) — Marianne Williamson, the Democratic presidential candidate, popular speaker and bestselling author of self-help books who is mounting a dark horse primary challenge to President Joe Biden, is returning to her campaign in earnest after a monthlong stay in England for the birth of her first grandchild.
"Now that I'm back, I'm going to be hitting the ground running," Williamson told ABC News.
It's a campaign trail that is markedly different. In that time, Williamson lost a second campaign manager, former President Donald Trump was indicted on federal charges that he denies, the president's son Hunter reached a plea deal with prosecutors and six major candidates entered the Republican primary.
As Williamson reappears on the trail, with a slew of events scheduled in New Hampshire, Michigan, Massachusetts and Illinois, she addressed some of those topics in an interview with ABC News.
This month, Roza Calderón departed Williamson's team as campaign manager just weeks after acting campaign manager Peter Daou left. It's a shake-up that comes after some staffers on Williamson's 2020 campaign detailed their experiences working with a candidate who allegedly exhibited "uncontrollable rage" and made staff cry, according to Politico.
"Somebody doesn't like my blunt personality, my directness, then I'm sorry. Then, obviously, this wasn't the right campaign for them," Williamson said in response to these staffers' accounts. "There are a lot of people who have worked for me who had nice things to say and with whom I get along very well."
Williamson's campaign argues the kinds of criticism she is facing usually only plagues other women. When ABC News asked Williamson what the fairest criticism of her is, she seemed to embrace her bluntness.
"Probably that I can be tough, but not tough like they say," she said, adding, "I'm running for president after all. I think you need somebody who's tough."
However, the spiritual adviser said the reported comments attributed to her by former staff, and the top-level turnover plaguing her campaign, are not a reflection of her leadership abilities.
"We've got a good team," she maintained. "And it takes time to get all that. Abraham Lincoln went through 12 generals to get to Ulysses S. Grant, and I don't think anybody would say he wasn't a good manager."
Williamson faces an uphill battle against Biden, who has brushed off her calls for primary debates, something incumbent presidents have not participated in since the modern debate circuit began 75 years ago.
Biden continues to outpace her in polling by a yawning margin, according to FiveThirtyEight; and he is expected to easily lap her in the money race, too, having held eight big-dollar fundraisers this month, with two more planned in New York on Thursday. Notably, a lack of money troubled Williamson's campaign in 2020, forcing her to lay off her entire staff before the first primary contest, as ABC affiliate WMUR reported at the time.
But she is holding out hope.
"American politics is very, very unpredictable," she said.
Williamson said she's not going to make the race personal. For her, that includes not weaponizing the agreement that Hunter Biden struck with prosecutors — still awaiting a judge's approval — in which he would plead guilty to two misdemeanor tax charges and enter into a pretrial diversion program to avoid prosecution on a felony gun charge.
"I think what we need to remember is that Hunter Biden is not running for president," Williamson said. "Hunter Biden is not his father and so Hunter Biden's legal problems aren't my business and they shouldn't be yours."
She later added that "it really has nothing to do with this race."
Instead, Williamson said she will focus on Joe Biden's job as president and what she criticizes as his administration's "incremental approach" to addressing issues facing Americans, saying legislation the Biden campaign touts as victories — including the Inflation Reduction Act — don't go far enough.
Williamson's platform includes championing "fundamental economic reform," universal health care, tuition-free college and free child care.
Biden's reelection bid has received the backing of politicians whom Williamson herself aligns with, including Sen. Bernie Sanders of Vermont. Her 2024 campaign website states that Sanders was the only candidate in 2016 who acknowledged there was a "rigged" system and "wanted to do something about it."
"If Sen. Sanders thinks that the incremental approach getting there that way is enough, I respect that that's his opinion," Williamson told ABC News. "But it's not mine."
Taking a swipe at a theme of Biden's 2020 run and one he's deploying once again in his reelection bid, Williamson said, "We're not going to repair America until we help people repair their lives, and in order to do that you can't just say we're going to heal the soul of America."
She wouldn't assign a grade to Biden's performance, though she said gives him an "A" for defeating Donald Trump in the 2020 election.
The prospect of a second Trump presidency is "really terrifying," she said, in light of comments he made appearing to acknowledge and show off a sensitive military document after leaving office, according to an audio recording obtained by ABC News and other outlets.
She said she was "not shocked" by what Trump said, who has denied he had classified material in the interaction on the recording.
"What was, I think, most stunning about it is his lack of intellectual sobriety, you know, about something so important," Williamson said. "These documents were about very, very serious military matters. And this man doesn't even take seriously that democracy itself, the traditions of the presidency, or obviously the responsibilities of the president."
Williamson also said she feels she should be taken more seriously. She resents her campaign being labeled a "long shot" by those, she said, seeking to delegitimatize her candidacy. She said she believes the biggest misconception of her is that she is a "crazy, crystal lady shrew."
Williamson, who has never served in elected office, believes her lack of political experience is not an obstacle but rather an asset.
"The problem is not that we don't have good political car mechanics in Washington," she said, quoting a part of her pitch to voters. "The problem is that we are on the wrong road. And that's what I know about."
But asked if she would pick an elected official to be her vice presidential running mate, Williamson said, "Absolutely."
"I think that would be a good idea, yes" she said. "Because we do need somebody in the room who knows those political mechanics."
Copyright © 2023, ABC Audio. All rights reserved.