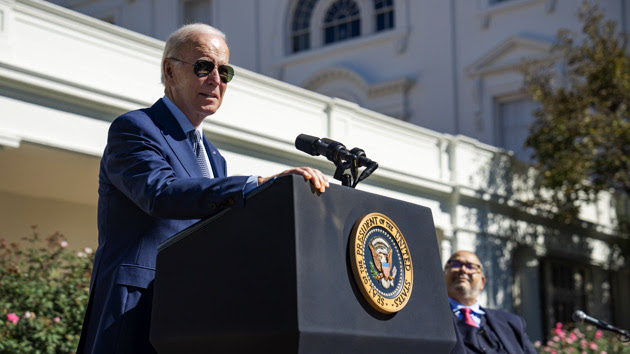 (WASHINGTON) — The White House is going all in on "Bidenomics" branding as the 2024 election cycle heats up.
President Joe Biden is taking his economic philosophy, which emphasizes building the economy from the middle out and bottom up, on the road with the first stop being in Chicago on Wednesday.
There, he's expected tout his "Investing in America" agenda and significant pieces of legislation passed in his first term.
"Now is the time where with all of those accomplishments, the president can take this message to the American people and say, this is what 'Bidenomics' is and here's what we have to show for it," White House principal deputy press secretary Olivia Dalton told reporters Tuesday.
"Let's put our foot on the gas and keep moving forward instead of returning to these failed trickle-down policies that never seem to ever trickle down," Dalton continued.
The official push by Biden and Vice President Kamala Harris comes as polls show the president under water with voters on economic issues after a year of persistent inflation, which has recently eased, and high interest rates.
Republican presidential hopefuls frequently hit Biden over the economy, accusing him of fueling higher prices with big spending packages and harming corporations through so-called "woke" policies.
An ABC News/Washington Post poll last month found Americans 54-36% said former President Donald Trump did a better job handling the economy when he was in office than Biden has done so far.
The branding could carry some political risk, if the economy worsens.
Dalton defended Biden's economic message, a rebranding of the ideas he's articulated for years, when pressed on the poll numbers by ABC News Chief White House Correspondent Mary Bruce.
"Well, what I would say to you is look at where we were when we came into office after four years of Donald Trump," Dalton responded, citing a near historic low unemployment rate and a cooling in inflation.
The administration's recently been buoyed by a May jobs report that showed payrolls grew by 339,000, beating expectations. Consumer prices rose 4% in May compared to a year ago, also a better figure than anticipated, and down from the 40-year high of more than 9% last year.
And the White House asserts the nation is just starting to see the positive impacts of its major legislative wins, including massive investments in semiconducter production, domestic manufacturing and clean energy initiatives.
Biden on Monday rolled out how more than $40 billion from the Bipartisan Infrastructure Law will be used to expand high-speed internet access across the nation, specifically in underserved areas and rural communities.
During remarks in the East Room, Biden said the announcement represented what his economic vision is all about.
"I ran for president with a fundamentally different vision: to build the economy from the middle out and the bottom up instead of the top down; to grow the economy by educating and empowering workers, by promoting competition to support small businesses, and investing in ourselves again for the first time in a long time," he said.
-ABC News' Alexandra Hutzler contributed to this report.
Copyright © 2023, ABC Audio. All rights reserved.