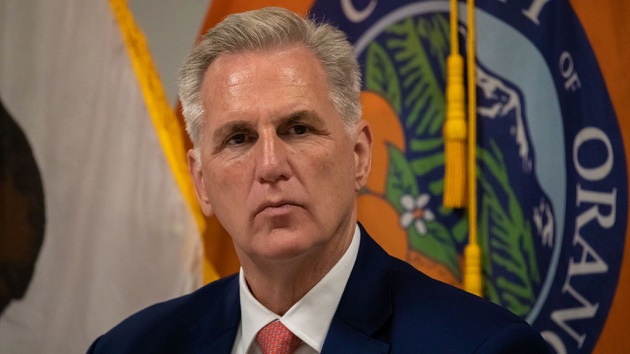 (WASHINGTON) — As the 2024 election gets underway, House Speaker Kevin McCarthy, who hasn't yet endorsed anyone in the Republican presidential primary, was quick this week to walk back a comment casting doubt on Donald Trump's reelection chances.
McCarthy called Trump on Tuesday to explain what he said earlier that day on CNBC — highlighting the fact that the speaker still has loyalty to the former president, a source told ABC News.
"Can he win that election? Yeah, he can win that election. The question is, is he the strongest to win the election? I don't know that answer," McCarthy had said during an interview with CNBC's Joe Kernen. "But can anybody beat Biden? Yeah, anybody can beat Biden. Can Biden beat other people? Yes, Biden can beat them. It's on any given day."
McCarthy also said then that "Trump's policies are better" than Biden.
The speaker quickly backtracked the part of his remarks about Trump's chances, initially telling Breitbart that "Trump is stronger today than he was in 2016" and pointing to a Morning Consult poll that showed Trump beating Biden. (Other recent surveys have showed Biden with an edge over Trump.)
"As usual, the media is attempting to drive a wedge between President Trump and House Republicans as our committees are holding Biden's [Department of Justice] accountable for their two-tiered levels of justice," McCarthy told the right-wing outlet.
ABC News' Rachel Scott — who was one of two reporters on a plane with Trump to New Hampshire on Tuesday — said Trump was taking note of what McCarthy said: While on the plane, he pulled out a stack of papers, which included McCarthy's comments.
This is not the first time the two were at odds. After the Jan. 6 attack on the U.S. Capitol, McCarthy said Trump "bears responsibility" for what happened.
Weeks later, McCarthy visited Trump at Mar-a-Lago in Florida and posed together for a picture. "I can talk to anyone," McCarthy said at the time. "Just as I can go talk to Joe Biden if President Biden wants to talk."
Trump supported McCarthy during the House speaker race in January and made calls to several GOP holdouts to help change votes in McCarthy's favor. In order to keep his slim majority, McCarthy has also, at specific moments, pledged to take actions in the House to defend Trump.
The speaker said last week that he supports two resolutions to "expunge" Trump's two impeachments — the most of any former president — and has publicly slammed the DOJ for Trump's indictment after allegedly mishandling government secrets while out of office.
McCarthy said the House GOP will also use its power to, in his words, hold Manhattan District Attorney Alvin Bragg accountable and had the Judiciary Committee chairman push for documents and information from the prosecutor, who brought charges against Trump for falsifying business records, to which Trump pleaded not guilty.
Bragg's attorney has said McCarthy and other lawmakers "have chosen to collaborate with Mr. Trump's efforts to vilify and denigrate the integrity of elected state prosecutors and trial judges."
Copyright © 2023, ABC Audio. All rights reserved.