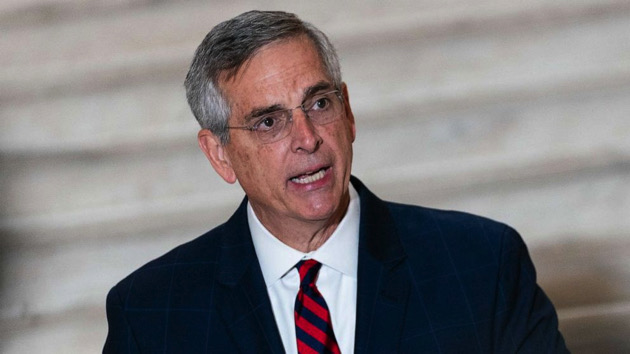 (WASHINGTON) — Georgia Secretary of State Brad Raffensperger is expected to sit for an interview on Wednesday with investigators in special counsel Jack Smith's office, the secretary's spokesperson confirmed to ABC News.
Raffensperger, the top election official in Georgia, was the recipient of former President Donald Trump's infamous phone call in January 2021, during which the then-president asked Raffensperger to "find" the exact number of votes he needed to win the state. Trump has repeatedly defended the call, calling it "perfect."
Smith, who is overseeing the Justice Department's investigation into efforts to overturn the 2020 election, issued subpoenas to election officials in Georgia and states across the country in late 2022 for communications with or involving Trump, his 2020 campaign aides, and a list of Trump allies involved in his efforts to overturn the results of the 2020 election, ABC News previously reported.
A steady drumbeat of witnesses involved in the Jan. 6. Insurrection and other efforts to stymy the peaceful transition of power in early 2021 have been spotted in recent weeks entering the federal courthouse in Washington, D.C., where a grand jury has been convened by Smith's office.
Smith is also investigating Trump's handling of classified documents after leaving the presidency. That investigation has resulted in a 37-count indictment against Trump for allegedly refusing to return hundreds of documents containing classified information ranging from U.S. nuclear secrets to the nation's defense capabilities. The former president has pleaded not guilty to all charges.
Fulton County District Attorney Fani Willis has launched a separate investigation into efforts by Trump and his allies to overturn the results of the 2020 election.
News of the interview was first reported by the Washington Post.
Copyright © 2023, ABC Audio. All rights reserved.