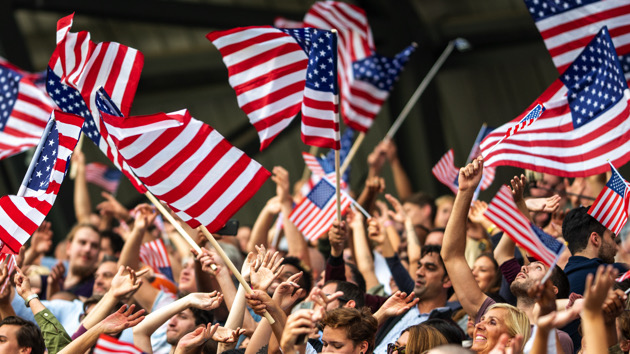 (CONCORD, N.H.) — The focus of the Republican primary has turned to New Hampshire on Tuesday, with former President Donald Trump and Florida Gov. Ron DeSantis holding competing events.
The scheduling pileup in the first-in-the-nation state has some primary voters excited about the front-runners' campaign activity while others are disappointed with the simultaneous stops — which stirred drama in a locally influential GOP group.
DeSantis spoke first, on Tuesday morning, in a stump speech in Hollis a few hours before Trump headlines the New Hampshire Federation of Republican Women's (NHFRW) Lilac Luncheon an hour north in Concord. Trump is also set to open his state campaign office on Tuesday.
When news broke last week that DeSantis had added a visit to the key primary state, the NHFRW put out a statement citing their disappointment with him for scheduling a campaign event during their event with Trump.
The organization's president, Elizabeth Girard, claimed the move was a slight: "This attempt to pull focus from our Lilac Luncheon only diminishes the efforts of Republican women in New Hampshire who are volunteers, working hard to provide opportunities for our membership to have access to all of the candidates."
However, Girard's statement was not agreed upon by all members of her group, and two of them resigned.
Kate Day, who had been the public relations chair for the NHFRW, wrote on Twitter that the statement violated the group's neutrality policy in the primary.
She echoed that to ABC News. "We often have same day multiple campaign events. It is not an issue. In this case, the DeSantis event was not announced until after the NHFRW luncheon was sold out. There was no foul by the DeSantis campaign whatsoever," Day said. "However, beaching neutrality is."
The back-and-forth underlines New Hampshire's continued importance in the GOP primary campaign. Whomever wins there next year heads into the following primary contests with the boost of voter approval — something DeSantis hopes to win in his quest to defeat Trump. Early polls show the former president is still leading the primary nationwide and in the Granite State.
DeSantis' campaign declined to comment on the dust-up over his Tuesday event. A spokesperson for the pro-DeSantis political group Never Back Down said in a statement, however, that they feel he has momentum building "across the country, and Never Back Down's historic grassroots efforts are accelerating his support in the first four primary states."
"Our canvassers have knocked nearly 84,000 in New Hampshire alone, turning votes to the Governor as more Republicans learn his story and record of fighting for American families. By mid-July, we expect to have talked to every one of our primary targets," the spokesperson said. "No other candidate's on-the-ground efforts come anywhere close to ours, which is why you'll continue to see Gov. DeSantis' support grow."
Trump campaign spokesman Steven Cheung shot back in a statement of his own: "DeSantis is drawing tiny crowds and micro poll numbers. If he's not careful, he could kill his chances in 2028."
Outside Republican operatives are encouraging the flurry of activity, with many believing the split-screen provides an opportunity for undecided or independent voters, who make up 41% of New Hampshire voters, an ability to shop around.
Greg Moore, a conservative activist and state director for the group Americans for Prosperity, described the events as a "big day for the primary."
"Obviously, we'll be comparing their styles, their messaging and watching how the crowds react," Moore said. "That's particularly true for Gov. DeSantis, who's still introducing himself to Granite Staters."
Democrats also weighed in.
"The Trump people believe that there shouldn't be anyone else in the state when Trump's in the state," New Hampshire Party Chair Raymond Buckley said. "And the DeSantis people are going to do whatever they can to try to goad him into behaving badly with the hope that that might garner some votes for DeSantis."
New Hampshire state Sen. Donna Soucy was more succinct, joking that the snafu has been "kind of fun to watch."
Since announcing their respective presidential runs, Trump has visited New Hampshire three times while Tuesday's speech by DeSantis will mark his second official visit to the state.
Fellow GOP candidate Nikki Haley will also make an appearance in New Hampshire on Tuesday, hosting a town hall.
ABC News' Hannah Demissie and Soo Rin Kim contributed to this report.
Copyright © 2023, ABC Audio. All rights reserved.