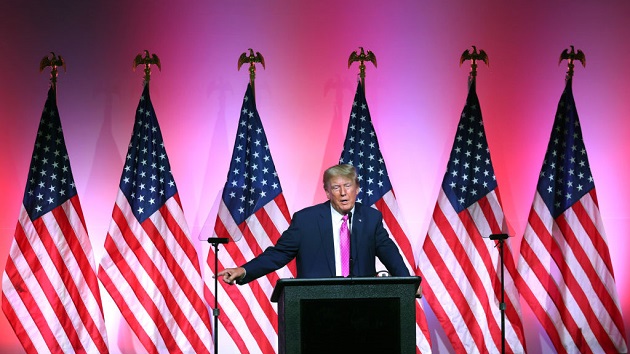 (WASHINGTON) –Donald Trump this weekend insisted that he viewed his two indictments as a "badge of honor," telling supporters in Washington that "I'm being indicted for you."
The remarks, made during a Saturday speech at the Faith and Freedom Coalition conference, echo how the former president has described his reelection campaign, urging voters to see him as their avatar.
"In 2016, I declared: I am your voice. Today, I add: I am your warrior. I am your justice," he said in March. "And for those who have been wronged and betrayed, I am your retribution."
His Saturday comments drew pushback from one Republican primary rival.
"He had the audacity to say that he got indicted for us," former New Jersey Gov. Chris Christie said on ABC's "This Week," later adding, "It's absurd."
Trump is charged in two cases and has pleaded not guilty in each. In New York state court, he is accused of falsifying business records related to hush money paid to an adult film actress before the 2016 election. He is separately accused by federal prosecutors in Florida of holding onto government secrets after leaving the White House and refusing to give them back.
On Saturday, Trump, as he often does, cast the criminal cases against him as an escalating campaign of political persecution — a claim that prosecutors have disputed.
"I consider it a great badge of courage. I'm being indicted for you," Trump said, "and I believe the 'you' is more than 200 million people that love our country that are out there, and they love our country. This is a continuation of the greatest witch hunt of all time."
Earlier this month, after Trump was indicted by a federal grand jury, prosecutor Jack Smith said, in part, "This indictment was voted by a grand jury of citizens in the Southern District of Florida, and I invite everyone to read it in full to understand the scope and the gravity of the crimes charged."
In his Saturday speech, Trump also again falsely invoked the Presidential Records Act as giving him the authority to take the government documents with him after leaving office in 2021.
"What the hell are we talking about with this phony case?" he said.
Prosecutors have said they recovered several hundred classified records that were in Trump's possession — some of which he returned after the government demanded them back and others which the FBI found in a court-authorized search of his home last year.
He faces 37 federal charges, including 31 counts of willful retention of national defense information.
Christie, one of Trump's primary opponents — whom Trump has dismissed as a "failed" governor and candidate — on Sunday slammed Trump's latest reaction to his indictments.
"I don't know how it benefited the American people for him to take highly sensitive intelligence and secret documents out of the White House, to stonewall the government on returning them for over a year and a half, to subject himself to a raid by the FBI, even though they asked him voluntarily to return this stuff, and to then be subject to an indictment which is obviously going to be one of great trouble for the country because no one wants to see this happen," Christie said on "This Week."
Elsewhere in his speech on Saturday, Trump criticized President Joe Biden and Biden's son Hunter and touted his record on Supreme Court nominations, leading to the overruling of Roe v. Wade last year, as he called himself "the most pro-life president in American history."
However, while stressing a "vital role of the federal government," Trump stopped short of pointing to any specific anti-abortion legislation unlike some of his 2024 rivals, like Florida Gov. Ron DeSantis and former Vice President Mike Pence.
Trump also made a number of promises about what he will do if elected to another term, including seeking to end so-called "birthright" citizenship as described in the Constitution, which includes children born in the U.S. if their parents enter the country illegally.
Copyright © 2023, ABC Audio. All rights reserved.