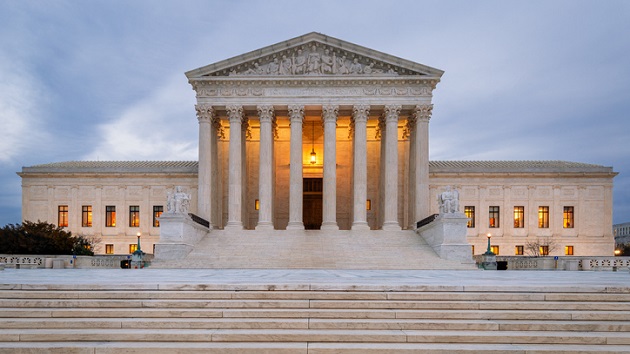 (WASHINGTON) — The Supreme Court has left this term's blockbuster decisions for last, with rulings expected this week on student loans, affirmative action and more.
The justices will hand down their next round of opinions on Tuesday at 10 a.m. ET. There are 10 total cases remaining from the term that began back in October.
Their rulings will decide the fate of millions of Americans with federal student loans, a 40-year precedent of race-conscious college admissions processes, how federal elections are run in the U.S. and LGBTQ+ rights.
Already this term, the Supreme Court has weighed in on cases involving the Voting Rights Act, the Biden administration's deportation policy, the Indian Child Welfare Act and social media liability.
Here's a closer look at four major issues left to be resolved by the month's end.
Affirmative action
A conservative advocacy group is asking the justices to reverse decades of precedent and ban the use of race-conscious admissions policies, arguing they discriminate against Asian-American applicants, in Students for Fair Admissions v. University of North Carolina and Students for Fair Admissions v. Harvard.
The universities, in their respective cases, insisted race is one factor among many used in a holistic assessment of student applicants and that their processes adhere to precedent.
The court's conservative majority appeared poised to roll back affirmative action after hearing more arguments in both cases last fall.
Election law and the 'independent state legislature' theory
In Moore v. Harper, a redistricting case out of North Carolina, the justices are being asked to consider a controversial legal theory about who oversees elections — a decision that could have major implications for the 2024 cycle.
The "independent state legislature" theory contends state lawmakers have ultimate power to regulate federal elections free from traditional constraints such as state constitutions or courts. The theory is being backed by conservative advocates, though democracy and election experts contend the theory could upend election laws around the country if embraced in its most extreme application.
The court appeared dubious of the theory during oral arguments late last year and later issued an order for both sides to submit explanations on why they should continue to weigh the case in light of developments at the state level.
LGBTQ+ rights and free speech
In 303 Creative LLC v. Elenis, a Colorado wedding website designer is asking the Supreme Court to strike down Colorado's public accommodation law, arguing it infringes on her First Amendment right to free speech.
The designer, who opposes gay marriage, said the law — which requires her to serve LGBTQ+ customers or face a fine — compels her to go against her religious beliefs.
Lower courts ruled in Colorado's favor but the Supreme Court seemed sympathetic to the designer's case during arguments late last year.
Student loans
The court will determine whether President Joe Biden's $400 billion plan to forgive student loan debt will move forward. The plan, announced by the administration last September, would wipe out up to $20,000 in federal student loan debt for more than 40 million Americans.
The move was challenged by six Republican-led states, which argued the administration exceeded its authority while also unfairly excluding Americans who don't qualify and costing loan servicers revenue. Two student-loan borrowers denied relief under the program also sued.
The two cases are Biden v. Nebraska and Department of Education v. Brown.
The court's conservative bloc seemed skeptical during February oral arguments of the Department of Education's power to waive billions in debt because of the COVID-19 pandemic. However, there were also questions about whether the states had legal standing to sue and how they would be harmed by the policy.
ABC News' Devin Dwyer contributed to this report.
Copyright © 2023, ABC Audio. All rights reserved.