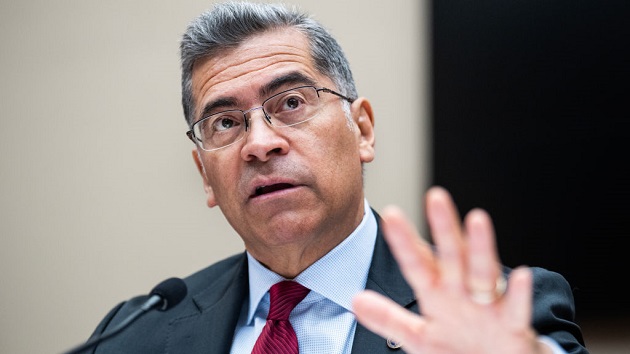 (WASHINGTON) — One of the nation's top health officials is calling attention to the disparity between states on abortion access one year after the U.S. Supreme Court overturned Roe v. Wade, the landmark 1973 ruling that guaranteed the right to an abortion.
In an interview on "GMA 3" Friday, Xavier Becerra, secretary of the U.S. Department of Health and Human Services, said there is a "tale of two cities in America: one where you have rights, another where you don't, 15 miles apart. And it's a totally different world."
Becerra was visiting two Planned Parenthood clinics Friday – one in Fairview Heights, Illinois, a state where abortion is still legal, and a second clinic less than 20 miles away in St. Louis, Missouri, a state where abortion is almost completely banned.
Abortion in Missouri "requires an 'affirmative defense,' meaning a provider has to prove in court that an abortion met the criteria for a legal exception," according to the Guttmacher Institute, a research group that focuses on sexual and reproductive health.
The landscape of abortion access has shifted dramatically over the past year, with the decision of access now left up to each individual state. As of June 2023, 15 states have near-total or total bans on abortion access, according to the Guttmacher Institute.
Becerra, speaking from the Fairview Heights Planned Parenthood, told ABC News that the clinic is seeing patients not only from states that have imposed bans and restrictions on abortion but "people from all across America."
"Not just the patient, but the families as well, because those patients, when they come here, can't just leave their family behind," Becerra said.
Even before Roe was overturned, 9% of abortions in the United States in 2020 were obtained by people who traveled out of their state of residence, according to the Guttmacher Institute. That's up from the 6% who traveled out of state for an abortion in 2011.
"This increase corresponded with the enactment of a record-breaking number of state abortion restrictions over the same period. The main driver of the increase was the larger number of people traveling out of states with highly restrictive abortion laws," the Guttmacher Institute wrote in an article last year.
The data from 2020 provides a "baseline of interstate travel for abortion care" before the dramatic shift in abortion access from 2021 to 2022, the article said.
Becerra said his "biggest concern" is ensuring Americans know their rights regarding accessing reproductive care, including birth control.
President Joe Biden issued an executive order on Friday that aims to increase access to low-cost contraception.
"The president has asked us from the very beginning to do everything we can at the federal level to protect the rights of Americans to (get) the care that they need and to enforce those rights if they happen to be discriminated," Becerra said.
Copyright © 2023, ABC Audio. All rights reserved.