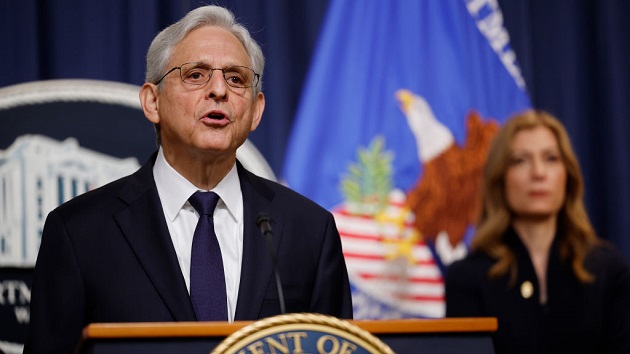 (WASHINGTON) — Attorney General Merrick Garland on Friday gave his most detailed and direct defense yet to allegations raised by IRS agents of potential wrongdoing and political influence in the Justice Department's probe of Hunter Biden.
For the first time, Garland disputed outright one of the main allegations leveled by the purported whistleblowers: that Trump-appointed U.S. Attorney David Weiss had requested to be named a special counsel and was turned down by Garland.
"The only person with authority to make somebody a special counsel or refuse to make somebody a special counsel is the attorney general," Garland said. "Mr. Weiss never made that request to me."
Garland further said that the level of authority he had chosen to grant Weiss in determining to bring charges actually gave him "more authority than the special counsel would have had" to bring a case against Hunter Biden.
Garland also emphasized that Weiss was never prohibited from bringing charges in jurisdictions other than Delaware — another one of the accusations put forward by the IRS agents.
"I don't know how it would be possible for anybody to block him from bringing a prosecution, given that he has this authority was never told no," Garland said.
ABC News then pressed Garland as to whether he would authorize Weiss to speak directly to some of the more specific allegations put forward by the IRS agents, given Weiss has all but declined any requests to comment on the matter other than his letter sent to House Judiciary earlier this month.
"I would support Mr. Weiss explaining or testifying on these matters when he deems it appropriate," Garland said.
Congressional Republicans on Thursday released transcripts of their interviews with the two IRS whistleblowers who in April accused the Justice Department of granting Hunter Biden "preferential treatment" during its yearslong probe of his tax affairs.
House Ways and Means Committee Chairman Jason Smith promoted the whistleblowers' testimony as evidence that senior Biden administration officials stymied Weiss' investigation — a sentiment at odds with the Trump appointee's own affirmation that Garland granted him "ultimate authority" to investigate the younger Biden.
Hunter Biden this week agreed to plead guilty to a pair of tax-related misdemeanors and enter into a pretrial diversion agreement that would enable him to avoid prosecution on one felony gun charge, potentially ending the DOJ's yearslong probe.
Garland of Friday was asked about allegations of the Justice Department's politicization becoming a major campaign issue and theme among Republicans in Congress.
"I certainly understand that some have chosen to attack the integrity of the Justice Department and its components and its employees by claiming that we do not treat like cases alike," Garland said. "This constitutes an attack on an institution that is essential to American democracy, and essential to the safety of the American people. Nothing could be further from the truth."
He added, "You've all heard me say many times that we make our cases based on the facts and the law. These are not just words. These are what we live by. They're the foundation of the way we make these decisions. "
Copyright © 2023, ABC Audio. All rights reserved.